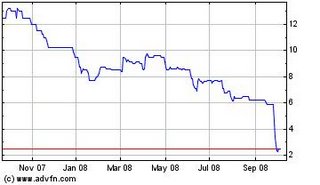 In the last few days, vitamin pill company Neutrahealth (NUT.L), has seen a precipitous drop in its share price. Its investors look like they believe the company is going to have a difficult time weathering the credit crunch.
Neutrahealth is known to us through its involvement with Patrick Holford. He sold his online pill company to them for £464,000. He then joined their team as Head of Science and Education at Biocare as they believed he was "a leading figure in the industry with wide recognition amongst informed consumers". Readers of this blog, badscience and HolfordWatch will be well aware of the many doubtful aspects of Holford's science and just how well informed those consumers must be.
When Neutrahealth floated on the stock market in 2005 its shares were sold at 10p. This year, pharmaceutical company Elder invested heavily in the company at 16p per share, already a significant premium over their then current price. Now the stock is trading at about 2p after collapsing last week.
The reasons for this are twofold. The company has a stated dual strategy of growth through increased sales of its pills to consumers and by acquisition of other companies to add to its market share. So, firstly, the subsidiary companies of Neutrahealth are struggling to increase sales for a number of reasons. Even before the current financial turmoil, it was becoming obvious to them that consumers were not going to nutritionists to buy expensive pills from the 'Practitioner channel'. Despite rule changes to the code of 'ethics' at BANT that allowed registered nutritional therapists to take kick backs on pills they sold to their customers without disclosing them, it would appear that consumers of vitamins would prefer to take their advice from the Internet than pay for a consultation. Neutrahealth have then been hoping for a pick up in their 'direct to consumer channels', principally Patrick Holford's 'Health Products for Life' website. We shall come on to the very simple reasons why this will be a vain hope.
Neutrahealth issued a profits warning on the 25th of September, saying that it will fall short of the market's expectations. The market has not taken kindly to this news. It cites consumer spending as a problem and the raised cost of raw materials, such as fish oil. But this situation has lead to a more serious threat to the business.
The second part of the 'double whammy' is that Neutrahealth can no longer execute their desire to grow through acquisition. Investors have bought into the company on the basis that their capital will grow through the value created from 'synergies' between acquired companies. Companies were bought on the strength of their share price by, effectively, buying companies through the value of their own equity. That, pretty much, does not exist now. And, it is unlikely they will be able to raise cash through loans in the current climate. By pushing the company into the penny shares bracket, it would prove near impossible to raise cash from investors as they might have done twelve months ago.
In their annual report last year, they noted a principle risk to their business: Access to Capital.
We reported last year that we viewed access to finance as a principal risk. The challenges this year are more significant. We remain an acquisitive company with an objective of increasing our size to become more visible for investors and to be more dominant in our industry. The former requires a higher market apitalisation through either a higher share price, increased equity, or a combination of both.
That risk has now materialised.
The company has significant debts to service this year – it looks like they will need to find nearly a million pounds to service their loans. They have cash in the bank, but with sales falling, this may not last too long. Challenging times for the management.
So, why are sales falling? The answer is obvious: there are so few people who need their products. And of those who buy them, the benefit they get from them is marginal at best. Selling vitamins trades off the myth that people need them to achieve a healthy diet. Furthermore, Holford is excellent at promoting doubtful ideas that vitamin pills can prevent and treat illnesses. But belief in this is soft. When the shopper is looking to save a few pounds each week, they will not be cutting back on fruit and vegetables – the pills will go. Harder for Neutrahealth will be that once a consumer has got out of the habit of buying pills, it will take a large effort to get them back on board. They may well notice that they do perfectly will without them. Shoppers are changing their habits as prices are increasing and are spotting the superfluous in their spending habits.
But the woes of Neutrahealth may well point to a more general tale of hardship within the world of alternative medicine. The credit crunch is going to have a harsh effect on those who trade off quackery. The problems at Neutrahealth are visible as they have obligations under public company rules to inform the market of pertinent information. But for most private quackery, the problems are going to be acute but silent.
When people see their fuel bills this winter struggling against toxins in a spa is going to seem rather redundant. Balancing their chequebook is going to be more important than balancing their chakras. Worries about jobs will mean that people will be conservative in their spending and may not worry so much about the continuous demand of quacks to achieve 'optimum health' and 'lifetime wellness'. Homeopaths, struggling to see more than a few customers per week, may well decide to devote their vast intellects to more mundane matters, such as gardening for a few quid. Chiropractors' subluxations will just have to be lived with. Your chi flow through your meridians may well have to remain blocked for a short while as your acupuncturist is just a tad too expensive now.
Quackery has boomed over the credit years because it has nothing to do with health. It is an indulgence of the comfortable who wish to use it to make a certain sort of identity for themselves. The worried well define themselves as 'people who take care of their health'. It creates a sense of independence and control that might otherwise be lacking. Buying vitamin pills is a act of personal expression, not an act of prudent healthcare. The worried well are now the worried working, and they have some good reasons to focus on more tangible and immediate concerns.