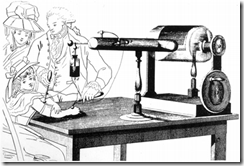 I have been sent an email where a recruitment consultant was looking for someone to train as a 'drug worker' using a technique called Neuro-Electric Therapy (NET) to work on a Scottish substance misuse programme. The idea appears to be that by passing small electrical currents though someone in a specific pattern you could help people overcome drug addictions.
It is quite a remarkable claim. Drug addiction is a complex problem. It cannot just be simplistically reduced to biological causes with corresponding direct treatments. Drug addiction sits within much wider psychological and sociological framework and there are no magic bullets. Even within a wider treatment regime, it would appear remarkable that electric shocks can play any role.
But the job advert says,
The successful candidates will get the opportunity to work with cutting edge treatments, involving Neuroelectric therapy, candidates with previous experience of this, would be beneficial. Full training will be given to the successful candidate.
The technique has some high profile supporters. In 2007, the Scottish First Minister, Jack McConnell, was reported to be calling for "a radical shake-up in Scotland's drug rehabilitation policy after witnessing a controversial new heroin addiction treatment in action." He had visited a trial of the technique that had apparently been invented by a Scottish neurosurgeon, Dr Meg Patterson. (We shall come on to the quality results of those trials in time). McConnell was convinced and said "We're at the stage in Scotland where we need to have open minds and be willing to try new things".
Is Neuro-Electric Therapy a plausible and worthwhile approach to drug addiction, or just wishful thinking and quackery? In order to gain some insight into this question, let us go back two-hundred and fifty years to the time when electricity was first being experimented with.
The discovery of new phenomena in nature appear to be accompanied with unbridled enthusiasm that the new discoveries will solve all of mankind's problems. In the last century, the discovery of radioactivity was followed by a multitude of quack remedies based on radium salts before people discovered this was a pretty poor idea. Similarly, the discovery of electrical properties of materials brought forth claims for the universal healing powers of electricity.
Perhaps the first prominent proponent of electrical cures was John Wesley, the founder of Methodism. Although best known for his theology, Wesley's best selling book was an 18th Century self-help book called, Primitive Physic, or, An Easy and Natural Method of Curing most Diseases. Wesley's philosophy of medicine was that his god had created in nature all the solutions to people's illnesses – we only needed to look in his creation, the hedgerows and fields, to find cures for almost anything. Turnips, water and cold bathing formed a majority of this type of cure. Wesley was insistent the cures should be available to the common man and that doctors and apothecaries were corrupt influences, only intent on making fortunes by selling complicated and unnecessary chemical medicines – a familiar cry even today within 'natural health' circles.
Ironically, then that his favourite cure was based on the most modern and artificial of inventions, the electrical friction machine. Wesley's enthusiasm for electricity was clear: "one, I must aver from personal knowledge, grounded on a thousand experiments, to be far superior to all other medicines I have known; I mean Electricity." He saw it as a "universal cure" that was successful against deafness, burns, convulsions, gout, shingles, toothache and many other ailments. Importantly, he saw its greatest application for those with 'nervous disorders', "Perhaps there is no nervous distemper whatever which would not yield to a steady use of this remedy".
Wesley became a passionate electrotherapist, setting up free clinics in Bristol and London in order to shock the poor. He went on to write in 1760 The Desideratum: Or, Electricity made Plain and Useful by a Lover of Mankind and of Common Sense.
Wesley may well have faced some push back from the mainstream medical profession of his day, and he did not believe they would ever take up a simple and cheap cure that threatened their pharmaceutical money spinners,
I would beg one Thing (if it be not too great a Favour) from the Gentlemen of the Faculty, and indeed from all who desire Health and Freedom from Pain, either for themselves or their Neighbors. It is, That none of them would condemn they know not what: That they would hear the Cause, before they pass Sentence: That they would not peremptorily pronounce against Electricity, while they know little or nothing about it. Rather let every candid Man take a little Pains, to understand the Question before he determines it. Let him for two or three Weeks (at least) try it for himself in the above-named Disorders. And then his own Senses will show him, whether it is a mere Play-thing, or the noblest Medicine yet known in the World.
Again, this theme of "Don't criticise it until you try it' resonates today on the chat boards of homeopaths, acupuncturists and chiropractors.
However, others noted that Wesley might be fooling himself into believing his shocking was effective when it was not. Another minister, and famous chemist, Joseph Priestly, wrote,
This account of the medical use of electricity by Mr Lovett and Mr Wesley is certainly liable to an objection which will always lie against the accounts of these persons, who not being of the faculty, cannot be supposed capable of distinguishing with accuracy either the nature of the disorder or the consequence of a seeming cure.
In other words, to the incautious and untrained eye, a treatment may appear to be working when in fact it is doing nothing; a lesson that many have not yet understood to this day. Other contemporary cautious minds, such as Benjamin Franklin also warned against jumping to conclusions "[I] never knew any permanent advantage from electricity in palsies."
Nonetheless, the idea of being able to electric shock all your ills away became something of a craze with personal devices being sold well into the 20th Century as this 1907 advert shows, still using the words of Wesley himself.
Indeed, throughout the 19th Century thousands of electrical shock devices were sold as household cures. They ranged from galvanic battery operated devices to electro-mechanical boxes that created shocks by spinning a rotor in a magnetic field. They are these days readily available in auctions and on eBay as curious quack devices, but prices are kept quite high by enthusiastic buyers from something called the BDSM community.
A few months ago, I bought my own device and have been using it at my Skeptic in the Pub talks to wake up my audience. It is a beautiful work of Victorian consumer craftsmanship with a mahogany box, brass wheels and a huge horseshoe magnet (now sadly weakened).
Below is a video of my "Newly Invented Magneto-Electric Machine for Nervous Diseases" and you can marvel at its workings.
Shocking people back to health, especially with mental health issues, continues to this day with the controversial Electroconvulsive therapy. With the rise of this treatment in the thirties, which many find repugnant, the domestic use of shocking machines dwindled away. The efficacy of such treatment has still not been settled. Even milder forms of shock treatment, such as with TENS machines during labour, still remain controversial in that their evidence base remains weak.
So, what of Neuro-Electric Therapy? It's origins do not appear to be directly descended from the English electrotherapy tradition. The inventor, Scottish neurosurgeon, Dr Meg Patterson (now deceased) appears to have discovered the effects of electrical shocks whilst working in Hong Kong. She appears to have fallen for the hype surrounding Nixon's visit to China in 1972 where the Chinese were claimed to be performing major surgery on people using acupuncture as analgesia. The claims turned out to be a hoax – and one that was still perpetuated by the BBC up to a few years ago. The patients undergoing major surgery had been given huge quantities of local anaesthetics and sedatives. Sticking needles in them was purely theatre.
But Patterson's colleague, A Dr Wen, wanted to investigate electro-acupuncture for analgesia. It is not clear where this technique came from, but it appears to be a form of ear acupuncture, a technique invented by a Frenchman in the 1950's and then exported to China as part of its Mao inspired invention of 'Traditional' Chinese Medicine. Electrical probes were stuck into specific parts of the ear and then a current applied. Wen noticed [pdf] than in he experiments on drug addicts that they reported during her experiments that they had lost their craving for drugs (only for it to return a few hours later). Over time, Dr Patterson concluded that it was not the acupuncture that caused these supposed effects, but the application of electricity.
Patterson then set out to make a number of extraordinary claims. Amongst these is her 'discovery' that different waveform were required to treat different addictions. She also claimed a dropout rate of 1.6%. Your alarm bells ought to be ringing.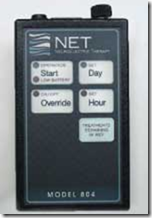 Dr Patterson died in 2002. Neuro-Electric Therapy is now promoted by her son, Lorne Patterson, a psychiatric nurse. A company set up in Mt Laurel in the US now manufactures devices to deliver Neuro-Electric Therapy. NET Device Corp promote the device to "reduce the acute and chronic symptoms of drug withdrawal."
The device is 'programmed' by selecting the right drug waveform and then electrodes are taped to the ears, where "NET modulates neurotransmitter systems disrupted by chronic substance abuse". Lorne Patterson is now their "chief clinician".
On the surface, selling a black box where you dial in codes to select the right healing programme is right out of the madder end of quackery with devices such as radionic machines. Can it really be true that different addictions to different sorts of drugs respond to different sorts of electrical waveforms giving you shocks? It's a highly reductionist view of what addiction might be and smacks of pseudoscience. We are told that the American company now making the device, "digitised the old NET machine with its 40,000 possible combinations of currents, frequencies and wave patterns – which required six months' supervised clinical training to use. The new box has a computer-coded key for each of the main drugs. It is far simpler to use clinically."
Whether this is the greatest medical breakthrough in a century or just plain gobbledegook, we ought to look at what actual trials say. Does the box actually help people live lives without drugs? It is just possible that giving an addict electric shocks as they go through withdrawal may help them somewhat.
Some RCTs have taken place and show mixed results with a blinded trial showing no difference between NET and placebo treatments. Some limited observational trials appear to have taken place where addicts are removed to a Scottish cottage to go through the withdrawal process. The results, as reported in the Independent, do not look like they show the remarkable success previously claimed. Of the first six men, to go through the trial, two had smuggled in drugs, two walked out and two claimed to have been cured. A second week with six women appeared to be more successful. There are problems interpreting these results, however. Heroin addicts have been known to lie in order to take them one step towards their next fix. And this is acknowledged by the research team. "There is something about opiate addiction, more than any other, which seems to turn lying into a game".
NET Corp also appear to be working with UK universities to investigate the treatment. The University of Glasgow has stated it will be doing "fMRI brain scanning to identify those areas of the addict brain that are being influenced by the NET treatment". This is unlikely to resolve any issues. No matter what parts of the brain light up under the fMRI scan, it will tell us nothing about whether heroin addicts undergoing the treatment will be able to return to lives where they can cope without drugs.  I fear that such research lends respectability to techniques without establishing reasons to believe a treatment will be effective.
Meanwhile, we have the usual celebrity endorsements of the technique from Eric Clapton and Keith Richards.
So, we do not know if Neuro-Electric Therapy really has any meaningful effect on addicts. Maybe the associated support they get whilst staying in their farmhouse does some good. We will not know from the sort of trials going on now. The origins of the technique, both in the  historical wishful thinking of Wesley and modern discredited quackery of acupuncture do not do it any favours. But nonetheless, it would appear that the allure of a simple cure for a problem that destroys lives and costs millions is very tempting to Scottish politicians.
The debate about such techniques has not advanced much beyond Wesley's time. There are those, perhaps fuelled by ideological dogma or political wishful thinking, who just want to heed Wesley's advice to let their 'own senses show them'. Whilst a few other more scientifically thoughtful people recognise that direct, uncritical observation can easily lead to false conclusions.
One this is sure. We should be distrustful of politicians pushing such programmes as they indeed "cannot be supposed capable of distinguishing with accuracy either the nature of the disorder or the consequence of a seeming cure."