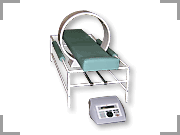 The development of new forms of quackery continues with the publication of the latest research from the University of Essex showing yet again that mobile mast radiation was unlikely to be the cause of electrosensitivity. The excuses from the lobbies that support sufferers is piling in with a trend towards excommunication of those that failed the tests as being 'psycho cases' and so probably not worthy of support of the groups that first embraced them. What is building up quite nicely though, is ever more complex 'explanations' of what electrosensitivity is and how it is caused. It is getting quite difficult to pin anything down now and some fighting factions within the lobbies are now bound to emerge, with simple mast-induced illness on one side and the other, more complex explanations including 'information carrying' EMFs , and low frequency EMFs. Some of these explanations appear to be mutually exclusive and incompatible with each other.
This is generating quackfusion – a smog of confuddled quackery, obfuscation and confusion that allows the quacks to move in and take advantage. The quackometer has been following the growing list of dodgy products and services entering the market, and its getting bigger week by week.
The web site electrosensitivity.org, run by Troy Knight, has its own theories about cause.
Troy says,
There is a strong link between chemicals toxicity [sic] and electrical sensitivities, i.e. that the latter may well be a by-product of the former. The UK based Breakspear Hospital reports that when one removes the chemical sensitivities from the body, the electrical sensitivities disappear also.
It looks like the Breakspear needs a little investigation by the quackometer.
The Breakspear is a private hospital based near Hemel Hemstead in the UK. It is run by Dr Jean Monro and specialises in 'allergies and environemental illnesses'. The hospital boasts a pharmacy full of vitamin pills, which you can, of course, order online. It claims to treat autism spectrum disorders, food allergies and ME. It offers nutritional therapy, chelation therapy and single MMR jabs (with the option of a pre-injection detox). It will remove your dental amalgams, give you antigen vaccines (which we will have to look at later) and offers something called electromagnetic therapy.
Now, these sorts of conditions and treatments are often associated with quackery. For example, chelation therapy has been seriously criticised as a dangerous quack remedy for autism. An electrosensitive self-refering themselves here could risk dishing out thousands for absolutely worthless treatments. Is the Breakspear Hospital just a quack hospital? Let's look at one of the therapies on offer in a bit more detail.
The Breakspear gives details of a therapy is offers, unique in the UK by all accounts, called Electromagnetic Therapy. It is, of course, ironic that electromagnetic fields both cause all sorts of illness as well as cure all sorts of illness. But, Monro is quite specific about a number of conditions that she claims to be able to treat.
The web site starts off,
It is believed that pulsed electromagnetic fields are able to rectify the abnormal responses that people have to everyday food and chemical encounters. This is critical in the management of patients with chronic inflammatory disorders.
Now, the first sentence is noticeable for its use of weasel words. 'It is believed…'. We obviously have to ask, 'Who is it that believes?' Looking in the Cochrane Library fails to yield the 'believers'. In fact, we can quickly find a lot of unbelievers. Quackwatch considers such therapies to be dubious and it is easy to see why. Just as there is little reason to believe that low intensity, non-ionising electromagnetic radiation can cause significant harm to you, nor can it magically cure you of illnesses. Breakspear give a long list of things that 'it is believed' can be cured by the therapy.
But hold on, Monro appears to offer her own evidence on the site. The Breakspear hospital has conducted its own studies. I will repeat their study in nearly its entirety,
At Breakspear, we undertook research into electromagnetic field therapy using pulsed electromagnetic fields. Our small scale test was to assess whether patients, after undergoing pulsed magnetic therapy, would react to foods with the same intensity as previously experienced.

The first step was to conduct the ALCAT blood test for sensitivities on each of the 5 patients. This involved taking a blood sample and sending it to the AMTL Corp laboratories for evaluation on the 100 foods on the food panel. We then exposed the 5 patients to 1 hour's treatment on our Magnoter D26 and conducted a second ALCAT test on each of the 5 patients. We continued to treat the patients with the pulsed magnetic therapy for 1 hour per day for 1 week and then repeated the ALCAT test for the third and final time.

Of the 5 patients tested, the results for Patient E were not able to be interpreted. The results of the panel of 100 foods for the 4 interpreted patients are as follows:

Patient A— initially reacted to 25 of 100 foods. After 1 hour's treatment, the number of reactive foods was reduced to 22. After 1 week of therapy, the number of reactive foods was reduced to 11 out of 100.

Patient B— initially reacted to 30 of 100 foods. After 1 hour's treatment, the number of reactive foods was reduced to 21. After 1 week of therapy, the number of reactive foods was reduced to 7 out of 100.

Patient C— initially reacted to 22 of 100 foods. After 1 hour's treatment, the number of reactive foods was reduced to 14. After 1 week of therapy, the number of reactive foods was reduced to 9 out of 100.

Patient D— initially reacted to 11 of 100 foods. After 1 hour's treatment, the number of reactive foods increased to 12. After 1 week of therapy, the number of reactive foods increased to 16 out of 100. We hypothesise that Patient D had developed a viral infection between the post and final tests, which may explain
the lack of improvement measured.

The results clearly show that 3 of the 4 patients show a remarkable improvement on the ALCAT results after receiving electromagnetic therapy.
Ha Ha Ha Ha Ha. Stop it. You are killing me.
Calm down. Let's pull this apart. It won't take long. Firstly, there is no control group. We have nothing to compare these patients against. How do we know any 'improvements' were due to the therapy? Next, drawing conclusions from four patients is extremely risky. Drawing conclusions from such small numbers might even make Andrew Wakefield blush. If the ALCAT diagnostic test is not good, then we might just be seeing random noise. The ALCAT test might just be giving out random results for all we know.
To claim that 75% of patients might show 'remarkable improvements' just cannot be justified from this study. It is nonsense and it is difficult to believe that it is serious. This study is marketing blurb designed to pull in punters.
What is interesting is the device used to do the treatment, the impressive sounding Magnoter D26. At first glance, it looks like a typical hospital gurney with a wide plastic hoop stuck on top. Plug it into a box with some dials on it and you have a complete healing system. The device has visual echoes of certain diagnostic imaging kit found in hospitals. It might look the part, but is it actually doing anything?
The device appears to be manufactured by a Polish company called MARP Medical Electronics Ltd. The company makes devices that claim to offer 'electrotherapy, magnetictherapy and laser therapy'. There are no claims on their site for what conditions these therapies may be appropriate. Magnetotherapy is listed as an 'unnaturalistic method' by Quackwatch. I have said before that magnetic therapies are almost undoubtedly quackery. So, what is this device doing? A Google search reveals a lot of Polish web sites with the Breakspear featuring prominently in English search results. Not widely used then. The whole concept of magnetic therapy is highly doubtful. Since we have little idea of what any biological mechanism might be for healing, then any therapy protocols applied (field strength, frequency, duration etc.) are just plain guess work. With the sort of 'clinical trials' mentioned above as our best evidence, then the therapy is being given arbitrarily. No wonder it is considered plain old quackery.
But what about the 'results' above where food intolerances appear to decrease in 3 patients? The ALCAT machine needs looking at. Well, an NHS web site says that 'no study has ever shown the test to be accurate'. A published article from the University of Zurich concluded 'results are not reproducible when subject to rigorous testing and do not correlate with clinical evidence of allergy'. Those South African vitamin pill pushers, Bioharmony, recommend it and say that the ALCAT is recommended by Patrick Holford. I think that is all the evidence we need to know that the technique is utter rubbish.
So, we have a therapeutic technique that is widely associated with quackery, treating illnesses that are not always widely recognised, using diagnostic techniques that are unreliable and based on laughable clinical evidence of efficacy. Its difficult to call it anything other than quackery.
Breakspear themselves give an excuse as to why there is no better evidence,
Since most of the patients fund their own treatment, it would not be appropriate to provide placebo treatments or other comparative treatments that our medical team do not consider to be the most appropriate clinical management for their patients.
In other words, clinical trials might interrupt the flow of cash from patients and risk proving the technique inadequate.
I am not the first to question the treatments on offer at the Breakspear. The University of Birmingham Aggressive Research Intelligence Facility (ARIF) have their own concerns and I will discuss these in a later post.
Interestingly, in 1990 Granada Television's 'World in Action' programme produced a documentary called 'the Allergy Business'. It focused on the activities of Dr Monro and the Breakspear hospital and said,
The Breakspear Allergy Hospital in Hertfordshire has been the subject of allegations of wrong diagnosis, useless treatment and a death following the failure of treatments. It is run by Dr Jean Monro who charges extortionate fees for bizarre treatments.
The programme was so damaging that the hospital shut down for a while. Dr Monro sued Granada and they had to apologize four years later for suggesting that Dr Monro took "wrongful advantage of her patients' vulnerability". Their other charges stood. I guess that attributing motives is always hard. Dr Monro might truly believe that her treatments work and are in the best interest of her private patients, even if others find that view is hard to support.
Nearly twenty years later, the Breakspear is still offering the same sort of unorthodox treatments to privately paying customers. Some placebo effect might be forthcoming for placebo responsive conditions. But is this worth thousands of pounds? A new class of prospective customers is now emerging in terms of electrosensitivity sufferers. Without any clinical diagnosis available for this condition, any understanding of what might relieve it and the best evidence to date suggesting it is psychological in origin, it is the perfect condition where you might take wrongful advantage of a patients vulnerability.