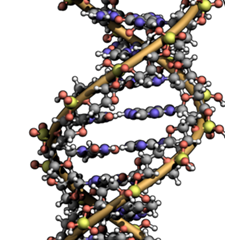 A paper in the open access and non-peer reviewed physics arXiv (Electromagnetic Signals from Bacterial DNA; Widom, Swain, Srivastava, Srivastava 2011) reports that bacteria such as  E. coli may have a sort of WiFi communication capability. The authors suggest that a quantum mechanical analysis of electrons moving around loops of bacterial DNA will produce low frequency radio waves.
What is even more remarkable is that the authors, physicists Widom and Swain, suggest that these radio waves may contain biologically significant information that is being broadcast by either frequency or amplitude modulation of the signal (AM/FM).
They suggest that since photosynthesis requires the propagation of electromagnetic signals at optical frequencies, then lower frequencies may too induce "chemical reactions … at a distance due to the propagation of electromagnetic signals during intermediate chemical stages."
Widom and Swain explicitly hypothesize that the electromagnetic signals between different bacteria within a community could form a "wireless" intercellular communication system, but that "there is considerable work required to extract the bioinformation contained in these electromagnetic signals."
A number of alarm bells ring. Firstly, photosynthesis does not require an electromagnetic signal per se, that is an exchange of information between a sender and receiver, but an electromagnetic energy source. To suggest that whatever is being proposed here has an analogue in photosynthesis is misconceived.
The paper is technical in its approach and others will be best able to comment on its rigour. However, there is an obvious assumption that there are electronic orbital motions around loops of bacterial DNA. Without such currents, signals are moot.
But Widom and Swain claim that such electromagnetic signals have indeed been detected. And this is where this obscure paper descends into the Land of Woo. They reference a number of papers authored by Benveniste and Montagnier. The Benveniste paper claimed that homeopathic 'signals' could be transmitted over a phone line and the Montagnier paper claims that he could teleport DNA using equipment suspiciously similar to Benveniste's.
Benveniste and Montagnier have been lauded by homeopaths as their research appears to lend support to their superstitious views of medicine – that water can retain a memory of substances through repeated dilution. Benveniste was humiliated when his research into homeopathy was shown to be due to poor laboratory controls. Nobel prize winning Montagnier has also been subject to such intense criticism with his flirting with pseudoscience that he has now fled to China to escape the "intellectual terror" of the harsh criticism leveled at him.
What is being proposed by Benveniste, Montagnier, Widom and Swain is a theory that can only be described as a fantastical theory contrary to all that is known about biology. They are advocating a new strand of biology called Digital Biology – where biological systems transmit digital information by coded  radio waves. Biological systems already have a digital code in the form of the base pairs in DNA encoding sequences to build proteins. Understanding this mechanism was the triumph of 20th Century biology. However, what is proposed by this group appears to be  a new encoding mechanism that uses radio waves to transmit information between organisms. Montagnier states that such a mechanism is elaborate enough to completely recreate strands of DNA.
Why is homeopathy tied up in this? That is a good question. The best that I can see is that homeopathy is also in dire need of an information transmitting mechanism. As the remedies have been diluted to the point where none of the original active substance remains, homeopathy also needs a way of transmitting information about the remedy to the body. This is why homeopaths have struggled so much with advocating that water has a memory. As the water memory hypothesis has failed and has not produced any reproducible results, then maybe, somehow, radio wave emitting DNA is the answer.
Yes, I know. Preposterous. But it looks like, as in much quackery, there is a conflation of mysteries being performed here – and it is hoped no one notices.  So-called digital biology cannot explain homeopathy for the simple reason (actually one of many) that many remedies have no DNA in them to start with.
So, Widom and Swain stand to be the new heroes of homeopaths. Their research will allow them to claim that the central criticism of Montagnier's work – that such signals were 'impossible' – is not true. Leaving aside the difficulty that Widom and Swain predict signals at frequencies of 0.5, 1 and 1.5 kHz and that Montagnier claimed to detect signals at 7 Hz (close to the quack's favourite Schumann resonance), there are obviously huge gaps between this paper's contention that loops of DNA may emit biologically significant radio waves and a description of the mechanism of homeopathy.
So who are the authors of this paper and soon to be the champions of homeopathic quackery?
Lead author, Allan Widom is a professor at Northeastern University, Boston and has published recent papers with co-authors Sivasubramanian and Srivastavaon on various aspects of quantum theory. However, his paper list does not mention his work with Lewis Larsen where they proposed a mechanism for explaining results in cold fusion. Since there are no replicated and pursuasive results from research into cold fusion, explanations may be somewhat premature.
The homeopathic research of Benveniste and Montagnier as well as the lingering experiments with cold fusion represent classic pathological science. Nobel Prize winner Irving Langmuir is credited with being the first to describe how pathological science occurs. He described it as the 'science of things that aren't so'. Researchers can get lost in chasing effects where others around them see only foolishness. Langmuir explained it as:
These are cases where there is no dishonesty involved but where people are tricked into false results by a lack of understanding about what human beings can do to themselves in the way of being led astray by subjective effects, wishful thinking or threshold interactions.
As such, researchers into pathological science have lost the ability to introspect about how they may be deceiving themselves. This may be different from Feynman's cargo cult science, I would suggest, where people have never been scientists and have never understood the foundations of the scientific method. Much homeopathic science is of the cargo cult variety.
Langmuir's symptoms of pathological science include,
The maximum effect that is observed is produced by a causative agent of barely detectable intensity, and the magnitude of the effect is substantially independent of the intensity of the cause.
The effect is of a magnitude that remains close to the limit of detectability; or, many measurements are necessary because of the very low statistical significance of the results.
Claims of great accuracy.
Fantastic theories contrary to experience.
Criticisms are met by

ad hoc

excuses thought up on the spur of the moment.
Ratio of supporters to critics rises up to somewhere near 50% and then falls gradually to oblivion.
It is quite easy to see how the Benveniste/Montagnier/Widom research into homeopathic signals can be described as such, although widespread support of such a theory has never been achieved. It is possible that classic pathological science, such as cold fusion, homeopathic water memory, ESP, polywater and mitogenic rays never quite dies away. There will always remain a small group determined to demonstrate the breakthrough.
Such is science. Research into the unthinkable and obscure is always required and inevitably some obsessive and futile science will ensue. But pathological science can catch out the unwary, the policy makers and the gullible by appearing to be mainstream when it is nothing but nonsense. I am sure this will happen with this paper to people eager to hear that science supports homeopathy.
The fact that papers can be published without sound peer review (as happened with Montagnier) or still be accepted by many after sound peer review has shown them to be nonsense (as happened with Benveniste) means that they can be used to give authority to ideas that do not deserve attention.
The scientific method is still struggling with how best to report results to the world. Open access journals and archives, such as arXiv, are a great liberation away from the closed paywalls of peer-reviewed academic publishing, but their cost is a proliferation of noise that means the true signals can be lost in the pandemonium of pseudoscience.