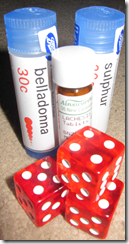 In this season's newsletter from the Homeopathy Research Institute, Dr Peter Fisher, Clinical Director of the NHS Hospital, the Royal London Hospital for Integrated Medicine, writes an essay on how homeopathy research may be being unfairly appraised due to the 'plausibility bias' of scientists.
Fisher makes a case that "Negative plausibility bias obstructs a fair
evaluation of the evidence around homeopathy". That is, that views that homeopathy appears to be 'impossible' clouds the judgements of people when reviewing scientific studies into the effects of homeopathy. Indeed, Fisher claims that some trial data for homeopathy has similar levels of evidence to mainstream treatments, but that the lack of a "plausible
theoretical framework" means that the these trials have little impact on medical practice.
The article is written for homeopaths as a summary of a paper that Fisher co-authored where they discuss the impact of their concept of 'plausibility bias' on how the trials of homeopathic treatment of upper respiratory tract infection. The authors make a case that "the same level of supporting clinical trial evidence should be accepted for all scientific developments".
Fisher quotes Chaplin, a researcher into the Memory of Water,
If a lower level of proof is set for hypotheses that fit prior beliefs then we bias our view of science in favour of such beliefs and may be easily misled.
To back up this claim, Fisher adds,
'Inherent implausibility' is a poor guide to future understanding.  History is littered with examples of ideas that at one time appeared highly implausible but are now accepted as fundamental truths: the Copernican revolution and quantum physics are well –known examples.
Now, before I show why that last statement is a confusion, it is worth looking at this charge that sceptics of homeopathy, like myself, have a negative bias against the clinical results of homeopathy because we have no 'plausible framework' for how it might work. Indeed, this is a common charge laid against critics that because 'we don't know how it works, does not mean it does not work'.
There are several confusions here and many a big conflation. But the argument that we should treat all treatments the same has a superficial appeal. Surely, as dispassionate scientists we should not 'load the dice' against treatments that we may find problematic for some reason?
It is of course nonsense. Even if you held this view about homeopathy, it is not how you view your everyday beliefs. We all work on the natural assumption that if a claim is unlikely then we will need extra evidence to change our minds.
Let's imagine a hypothetical homeopath sat at home in front of the telly.
In rushes their five year old son saying that they have seen a dog in the garden. The homeopath's belief prior to this event is that there are no dogs in the garden. They do not own one. However, should the homeopath now change their mind when this new piece of evidence comes along? Their five-year-old does make up stories sometimes, but it could be true. Let's say 50-50 for now. So it is worth investigating further and so, the homeopath gets up and wanders out into the garden where they see a bush rattling as if a large creature is in there. Should the homeopath upgrade their beliefs about the number of dogs in the garden? It would be wise to do so. It is not clear what else could be disturbing the bush so much. So the homeopath investigates further and finds next-door's Fido, who has escaped and is burying a bone in the bush. The homeopathy is now 100% certain that there is a dog in the garden and can act appropriately.
The plausibility of the claims and the nature of the evidence allows the homeopath to rapidly upgrade their confidence in their child's hypothesis that there was a dog in the garden.
Now consider a second example. This time the child rushes into the house claiming there is a tiger in the garden. This being Southern England, the plausibility of there being a tiger in the garden is near zero. Not impossible, but near zero. So, the homeopath will not hedge their bets and call the police to send a marksman, but will probably wander out with their child asking what stories they are making up now? But a bush is seen rusting too. This is the same level of evidence we had for the dog, but the homeopath is not going to treat the claims identically because the prior probability of it being true is quite different. As it turns out, the escaped tiger turned out to be a toy. And coincidently, Fido was after his buried bone in the bush. So, no tiger. It was a preposterous children's invention.
We naturally appraise claims and evidence on their plausibility. The new facts would have to fit in with what we already know about the world. The world is not capricious. If a claim flies in the face of what we know, we do not change our mind until the evidence is overwhelming.
We call people who too readily accept wild claims gullible, credulous and fools.
So, counter to what Martin Chaplin says that we 'may be easily misled' if we ask for greater evidence for ideas that do not fit in with our prior beliefs, the exact opposite is true. Indeed, we call people who too readily accept wild claims gullible, credulous and fools.
Science codifies this thinking into a statistical formula. Indeed, Peter Fisher, in his paper discusses the role of Bayes' theorem on how we should change our mind in the face of new evidence. This statistical technique tells us that if we have a certain confidence in a belief, then when a new piece of evidence comes along, how much should we change our mind?
Fisher's argument in his academic paper is a little different from the homeopaths' report. In the paper, the authors fully acknowledge the role Bayesean analysis plays in affirming hypotheses. Their argument is simple though: that in order to apply Bayes properly, you need to understand the prior probability that your hypothesis might be true. In other words, in the absence of trial data, what confidence can you have that the claims of homeopathy are correct?
This is indeed a weakness of using Bayes theorem in real life. What probability would you put on there being a tiger in the garden? Tigers have escaped from zoos before, but it is quite hard to come up with a number. Some might think that for homeopathy it is more like asking the probability that there is a dinosaur in the garden. Is such a thing truly impossible? Or could some Jurassic Park like experiment make this a possibility one day?
However, for homeopathy, the situation is probably more like asking if there is a fairy or dragon in the garden. As Fisher quotes, "Accepting that infinite dilutions work would subvert more than conventional medicine; it wrecks a whole edifice of chemistry and physics". Homeopathy is not really just implausible, it is impossible according to very well established principles of basic science.
Applying Bayes in this context, then indeed does become deeply problematic. But the problems run deeper than even Fisher appears to think. Whilst we might argue that the prior probability is zero on the basis of the impossibility of the claims, Fisher argues that the probability is finite – and indeed, larger than mainstream scientists would accept – and this is the source of the plausibility bias. We shall come onto this.
But first, back to the claim that science does occasionally support implausible claims. This would make the chance that homeopathy is true to be finite if indeed it is true that "History is littered with examples of ideas that at one time appeared highly implausible but are now accepted as fundamental truths".
However, I would argue that the examples Fisher gives do not support this very well. (Indeed, an aside challenge is for anyone to come up with a good example where science eventually confirmed a genuinely implausible hypothesis. )
Fisher says that "quantum physics" is a good example. I do not agree. Quantum theory arose because experiments were turning up very strange results. In 1905 Einstein published a paper on the photoelectric effect that showed that this phenomenon could be explained if light behaved as if it consisted of discrete particles carrying specific energies. This was not implausible, but highly counterintuitive. The prevailing concepts of light involved it behaving as a wave. For it to behave as 'quantised' particles ran counter to what was seen in other experiments.  From Einstein's early work came the full theory of Quantum Mechanics. Despite it being a highly successful theory, it still remained highly counterintuitive and indeed Einstein did not like what it appeared to be saying.
Science is often counterintuitive in that its results often appear to contradict what we think we know from everyday experience. Implausibility, however, is where a result appears that we thought was highly improbable due to well characterised principles.
Science is often counterintuitive in that its results often appear to contradict what we think we know from everyday experience.
The example of the Copernican Revolution also does not convince me that implausible theories are often found to be true. In 1543 it too might have appeared to be counterintuitive that the planets revolved around the Sun. But was it also implausible (or indeed impossible) in the same way the hypotheses of homeopathy are implausible? Homeopathy runs counter to current, well established science. The Copernican Revolution ran counter to Ptolemaic models of the Universe. But these were not well established scientific theories as we know them to day, but ideas that were based mainly on Greek authority and the insistence of the Catholic Church that the Earth was at the centre of the Universe. The Copernican Revolution was more of a move away from dogma than the triumph of a theory over its own inherent implausibility.
But even if you were to argue that there have been implausible ideas that turned out to be true, it naturally does not mean that implausible ideas will be shown to be true. An implausible idea is exactly that – and the number of implausible ideas that can quite safely be forgotten will always greatly outnumber those that turn out to be correct.
So, by appealing to the idea that we cannot dismiss homeopathy because other ideas that appeared to be crackpot eventually came good, Fisher is obviously on very dodgy ground. So, his main thrust is to push the idea that the implausibility of homeopathy is not well founded at all.
Fisher resorts to portraying the critics of homeopathy as refusing to accept the number of replications of basic experiments into homeopathy and the ideas of homeopaths as to how this implausibility might be overcome. We are back on familiar territory now as Fisher makes a number of well exercised misrepresentations.
The House of Commons Select Committee review of the evidence for Homeopathy comes under fire first. This is important as the Advertising Standards Authority use it to justify asking homeopaths to remove all health claims from their advertising and web sites.
Fisher states,
This report was heavily criticised, particularly for its failure to take evidence from a single patient who had experienced homeopathic treatment and from only one practitioner (me), while calling a number of well-known sceptics including representatives of Sense about Science, a lobby group which has campaigned stridently against homeopathy
It is not true that only one practitioner gave evidence or that patients were ignored. The report is an inch thick and full of the written evidence from many homeopaths, users and scientists. Oral evidence was only given by a select few, including homeopathic manufacturers – but all evidence was discussed in the report.
He continues to suggest that basic science is now replicating results that confirm a homeopathic action,
The best established method utilises the Human Basophil Degranulation Test – a test tube model of allergic response. The finding that homeopathic dilutions of histamine inhibit basophil degranulation has been verified repeatedly by different scientific teams.
A paper by Endler, publish in 2010 is used to support this claim,  Repetitions of fundamental research models for homeopathically prepared dilutions beyond 10-23: a bibliometric study.
Edler says of the Basophil experiments, "However, when comparing the studies in detail one must
conclude that no independent repetition trial yielded exactly the same results as the initial study, and methods always differed to a smaller or larger extent."
This is hardly a statement that is going to lead to a conclusion that the Basophil experiments are capable of consitent replication. What is even more surprising is that Peter Fisher did not use another review that concentrated exclusively on the basophil experiment to back up is statement.
Madeleine Ennis published her review also in 2010 and concluded that,
The methods are poorly standardized between laboratories – although the same is true for conventional studies as described above. Certainly there appears to be some evidence for an effect – albeit small in some cases – with the high dilutions in several different laboratories using the flow cytometric methodologies. How much of the effect is due to artifacts remains to be investigated.
Again, inconclusive and in need of definitive work. This paper was published in Peter Fisher's own journal Homeopathy. Why Fisher did not quote this is not clear. I note the Edler paper is more positive in its editorial.
Finally, Fisher tries to tell us that
Beyond this is the question of how these effects are mediated. Although the work is preliminary, many believe that 'nanostructures' in water may be involved. Supporters of this view include the Nobel Laureate, Luc Montagnier, who has published remarkable results supporting this hypothesis, although these await independent replication.
This is just gobbledegook. There is no coherent explanation that involves 'nanostructures' that can rescue homeopathy from the very deep well of impossibility. There are a number of fringe scientists and supporters of homeopathy who propose different entities that somehow survive the extreme dilutions to be the carriers of the homeopathic effect. But no one has describes how these structures themselves overcome the inevitable dilutions that prevent the original substances from ending up in the pill. Rather than solve any homeopathic mystery, so-called 'nanostructures' merely pile on new layers of implausibility.
We are treated to an appeal to the authority of the Nobel Laureate Luc Montagnier as a last gasp to present some plausibility. Montagnier, whose research does not mention homeopathy, has so far failed to publish any of his high dilution work in independent peer reviewed journals. Is it plausible that Montagnier is correct with his outlandish claims, or is it more reasonable to see a scientist who did his best work a quarter of a century ago and is now pursuing a folly as he approaches retirement?
Evidence based medicine is built on an important assumption: that the prior probabilities of treatments under test can be considered to be constant. That is why most of the time, no account is taken of the underlying mechanism, at and that the clinical trials can speak for themselves. It is assumed that any treatment being tested on humans has a reasonable chance of success and is not based on non-physical or anti-scientific thinking. But this assumption breaks down for superstitious and pseudoscientific forms of treatments where the prior probability may be exceptionally low. Fisher is asking us to ignore this problem and just run with evidence based medicine as if there were no issues with the absurdity of treatments.
But extraordinary claims require extraordinary evidence. And rather than it being mainstream scientists that are suffering from a plausibility bias when considering homeopathy, the reverse is true: homeopaths, ignore the science that suggests their treatments are impossible and ignore the highly plausible reasons as to why they may be tricked into thinking an inert treatment is effective.
Fisher is right to conclude that studies of homeopathy "may have limited impact on practice until a plausible theoretical framework is established". What he cannot accept – because of his own plausibility bias – is the extreme unlikelihood of that ever happening.