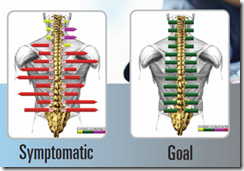 An advert in my local paper called for people to come into the Wells Chiropractic & Osteopathy Centre for an introductory price of £19. Included in this price was a "complete consultation and results, including the latest high-tech Myovision Scan".
Chiropractors have been criticised for trying to lure people into lengthy, costly and, importantly, unnecessary treatments. Chiropractic is of limited therapeutic value. It may help a little with lower back pain, but no more than pain killers and exercise. The wilder claims of chiropractic, such as being able to treat childhood ailments, have been shown to be utter nonsense.
So what is a Myovision scan and what function does it provide during an initial chiropractic consultation?
A Myovision device is a handheld scanner that is designed to measure electric activity in skeletal muscles. According to the manufacturer,
The MyoVision Scan takes 90 seconds and is completely safe, painless and non-invasive. The MyoVision sEMG ScanVisions read the voltage that the muscles in your spine naturally emit. These readings look at the level of voltage and the patterns of directionality, which allows your healthcare professional to determine if your spine and nervous system are functioning optimally.
The result is a picture, as shown above, that is supposed to be diagnostic of problems in the spine that the chiropractor can then get to work on.
The Myovision is a type of surface electromyography device. Such devices usually use needles to detect the electrical activity in muscles. There appear to be some genuine uses that such a device can be used in diagnosis certain muscle diseases. However, given chiropractic's limited utility, why a chiropractor would use such a device is very unclear.
Although electromyography does have a certain applicability within medicine, it looks like Myovision are not aiming at the medical profession, but almost exclusively to chiropractors. Why would they do this if such measurements were of very limited and chiropractic largely ineffective? A recent review of surface electromyography concluded that "there are insufficient data to support its utility for distinguishing between neuropathic and myopathic conditions or for the diagnosis of specific neuromuscular diseases."
Myovision's web site talks about how doctors are using their product. Yet, testimonials and blog are exclusively about chiropractic use of the tool. It is a central conceit of chiropractors that they are entitled to use the title 'doctor'. Yet, they are not medically qualified and their training is derivative of the superstitious beliefs of their founder – a magnetic healer and mystic.
It would appear that the device appeals to chiropractors as it gives a scientific veneer to an unvalidated diagnostic. On the basis of the scan, a customer might be enrolled on a lengthy and expensive course of treatment that is both ineffective and unnecessary, but very profitable to the chiropractor.
The Myovision device would not be the only type of questionable diagnostic procedure undertaken by chiropractors. Many still use X-rays. Such exposures to ionising radiation for the sake of detecting chiropractic's mythical subluxations would appear to be both unethical and illegal.
Remarkably, it looks like it is common practice for chiropractors in the UK to use some sort of discount incentive and questionable diagnostic procedure to rope customers into 'wellness' treatment plans. You will find many examples on the web of chiropractors who have set up consultancies specialising in such 'practice building'. Groupon is routinely running such introductory discount offers for 'spinal check-ups'.
Chiropractic is a statutory regulated profession. As such, it would appear remarkable that chiropractors could get away with such practices.
But the regulator, the General Chiropractic Council, is a chocolate teapot. Until recently, it not just ignored the wild and unevidenced claims of the profession, but actively encouraged them. It was only when the British Chiropractic Association unsuccessfully tried to sue Simon Singh after he wrote in the Guardian about their absurd claims they were making that the GGC were forced into action by the hundreds of complaints made to them. They have since spent the last few years desperately trying to find the weasel words that would allow them not to strike off the bulk of their members.
In recent days, the GCC has admitted that they are guilty of 'systemic failures' in their ability to protect the public. It is not clear at the moment why they are saying this. This is despite the CHRE, the body charged with overseeing health regulators giving the GCC a clean bill of health.
The failure of the GCC to oversee how chiropractors use questionable diagnostic procedures in order to lure punters into handing over large quantities of cash, is just one more aspect of their utter failure to protect the public.
But if they were to stamp out dodgy practices, I would guess that there would be few chiropractors who could sustain a business. Would a regulator regulate itself out of business? If its only goal was to protect the public then is should and it could. But if it is really only protecting its own existence, then do not expect to see any action here.