Once again, we see a proposed new state-funded Steiner School failing to be open about the occult nature of its philosophy and its spiritual goals.
The new Free School, the Steiner Academy Exeter, is confident it will be given approval to open this Autumn as a publicly funded school, and so is opening a formal admissions window on the 1st of April.
To this end, it has taken several full page adverts in the local paper,  the Exeter Express & Echo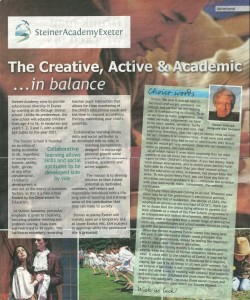 The advert makes no mention of the occult underpinnings of Steiner's teaching methods. It emphasises the importance of 'creativity' underpinning the school ethos. And, the  principle designate, Alan Swindell, uses the advert to highlight how this new school will give the parents of Exeter a new choice. He says, "When the Steiner Academy Exeter comes in to being later this year, it will reinforce the simple moral principle that parents, not governments, should be making the important choices about their children's education.
But by not disclosing the spiritual underpinnings of this new Anthroposophical School, Swindell is likely to put parents in an uninformed position, where in fact, important choices about their children's education will be made by the followers of the esoteric movement that is Anthroposophy.
The School's web site is no better.  The school advertises itself through a set of clichés describing the a Steiner education as focusing on,
That children learn as a whole person. Giving equal attention to thinking, feeling, physical and spiritual aspects of learning is essential both to their well-being as children and the successful outcome of their education.
You have to dig quite deep on the web site before you can see the word anthroposophy. Here though, we see a phrase that is common for Steiner Schools but is deeply misleading. It says,
Steiner schools do not teach anthroposophy, indeed some would argue that it cannot be taught in any conventional sense.
The implication is that anthroposophy is not too important for the school. Indeed the school goes to lengths to say how Steiner wanted his teachers to just engage with his ideas, not take them on as undisputed facts,
Steiner was at pains to make sure that people scrutinized his ideas and put them to the test; he did not want them simply to be adopted or `believed`, but he did invite people to engage with them. In his lectures on education he gave many indications for suitable subject matter and approaches to teaching for different ages but always stressed that teachers must be free to interpret these indications in their own way.
And in the local paper, Swindell again makes it clear that there is nothing hidden about his school,
Exeter is fortunate to be acquiring a Steiner Academy. It confirms the city's position as a place of innovation and forward thinking. It will not be based on an "occult" or hidden philosophy.
So, are prospective parents getting the right information they need to make an informed choice to sign up for the new school in Exeter? The central question is the role of Anthroposophy. In a handbook for setting up new Steiner [Waldorf in many countries] Schools, it is made clear,
The link between Waldorf education and anthroposophy as a method of inquiry is inextricable. As such, a healthy Waldorf school needs to be very clear that it has taken on a task to cultivate a deep and conscious relationship to the wellsprings of Waldorf education. While Rudolf Steiner himself recognized the need to compromise on some issues in order for the first Waldorf school to survive, he was quite clear that some things were not negotiable. One of these was the absolute connection between the way of working in the school and the spiritual realities upon which this way of working is based. The teacher is not to teach anthroposophy to the children. But the teacher is required to use anthroposophy as a method of investigation and of understanding in order to properly meet the children.
If a parent is to make an informed choice, then a knowledge of Anthroposophy is essential. Let me try to run over the main points very quickly:
Rudolf Steiner saw the material world as only that part of reality that was available to our senses – there was a much bigger spiritual realm that was hidden to us. The occult realm.
Through clairvoyance and meditation we could become aware of the various spiritual entities in the world: the angels, archangels, spirits and gnomes.
Humans are composite beings consisting of body, spirit and soul. Our spiritual components reincarnate through lifetimes guided by karma – our acts in one life influence future lives, through events, illnesses and our physical manifestations. (see my post on Bill Roache.)
A spiritual hierarchy exists where different racial groups represent different levels of spiritual evolution. The white, blond haired, blue -eyed races represent the current pinnacle of human spiritual development.
Children's spirits do not incarnate at birth but in seven year stages. Steiner schools exist to aid this spiritual incarnation process. Learning to read and write too soon, or engaging with technology may imbalance a child's spirit, hindering incarnation and may even cause illness.
Two battling evil forces exist in the world – Lucifer and Ahriman. Lucifer is associated with creativity and imagination; Ahriman with materialism and technology. Schools must help children be balanced between these forces. We live in an Ahrimanic age so children must emphasise their creative sides to balance this. The Christ spirit will guide humans to this perfect spiritual balance.
And so on…
You can read a fuller account on my previous blog post, What Every parent Needs to Know About Steiner Schools.
It is important to understand that the entire curriculum of a Steiner School is guided by this esoteric and initiated view of the world – anthroposophy.
One would think, these beliefs of the Steiner movement would be quite important in helping parents decide if a Steiner School was right for their children. It would appear that the Exeter Steiner Academy do not think their spiritual underpinning is important for parents to know about.
What is even more worrying here is that there is a possibility that the new school will become part of Exeter's capacity. That will mean that for some parents they will have no choice to send their children there. That is unforgivable.
As a letter to the Exeter Express and Echo said,
Nowhere, of course, does Mr Swindell deny that Steiner's guiding ideas involve notions of karma, reincarnation, astrology, homeopathy, gnomes and a racial hierarchy of spiritual development. I echo his call for readers to find out more for themselves. I am sure that the more parents know about this bizarre cult the less likely they are to entrust their children to its followers.
There is now a distinct possibility that there will be parents having to entrust their children to people who are guided by the ramblings of a mystic and clairvoyant who believed the Aryan race was the height of spiritual development.