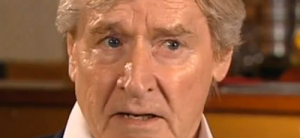 Watching the lunchtime news, it would appear that actor Bill Roache, who has played Ken Barlow in Coronation Street for over 50 years, has been making comments about how sexual abuse victims have brought their problems on themselves as "everything that happens to us has been a result of what we have been in previous lives".
Why would Roache hold such views?
The answers lie in his education and upbringing.
In his book, Soul on the Street, he describes he got into acting " largely due to the influence of his theosophist-spiritualist- esotericist-homoeopath grandfather." His grandfather was an interesting chap who helped set up one of the early Steiner Schools in the UK at Michael House.  Anthroposophy is the crypto-religion developed by Rudolf Steiner and it appears that Roache's childhood was steeped in the mysticism of this occult belief system.
Steiner Schools are based on the idea that children's spirits and souls need attention as they are incarnated into their bodies. This incarnation happens in seven years cycles and a teacher's early role is to help children understand their previous incarnations. As such, these are not places of education, but places of spiritual midwifery. Karma drives the manifestation of souls, with previous actions bearing on subsequent lives. If you have done wrong, then that wrong must be worked out in another life in order for the souls to evolve towards higher forms of spiritual development. Steiner believes the blond haired, blue eyed races of Europe represented the current pinnacle of spiritual development and a child's soul must be guided towards such incarnations from the 'lower races'.
Naturally, none of this is discussed on the current Michael House Steiner School web site.
This worldview has consequences within schools. It is a common complaint that bullying goes unchecked as their is a belief that the bullied and the bullier and reversing roles from previous incarnations and these karmic issues must be worked out by the children. Children are divided into temperaments: choleric, sanguine, phlegmatic and melancholic. Such designations, based on physical appearance, guide a teacher's interactions with a child.
Karma is central to Steiner's worldview. Disease is a result of karmic influences. If you get measles, that is what is intended for you. If you die, then you will be reincarnated having worked out that aspect of your karma. Steiner schools are notorious as centres of unvaccinated children. Why would you want to intervene in karma?
Roache's views on the karmic necessity for sexual abuse victims to undergo their experience fits in with his upbringing and exposure to Anthroposophy and the Steiner movement.
This connection should be public as Michael Gove is currently considering at least 13 applications for new Steiner Free Schools. They are being presented as progressive and alternative. But Steiner philosophy is reactionary, anti-educational and offensive. Do we need more Bill Roache's with views such as this?