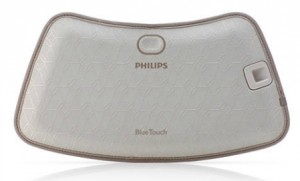 For £275.00, Boots will sell you a sort of torch that it claims offers a "natural, drug-free way to treat back pain". Made by Philips, this device uses some blue LED lights that it claims "stimulates the body's natural healing process.".
This was brought to my attention by a tweet from Richard Wiseman,
New product in Boots claims blue LED light eases back pain. Is this shite? pic.twitter.com/eF3cIF5Yqp

— Richard Wiseman (@RichardWiseman) November 7, 2013
So, I thought I had better check out if this is indeed shite.
The claims are quite distinct,
Treats the symptoms of musculoskeletal back pain
Clinically proven technology
Drug-free
Stimulates the body's natural healing mechanisms
Aids recovery and repair of damaged muscles
Whilst we can accept that this device is 'drug free' can Philips and Boots substantiate any of the other claims?
I tweeted Philips Support (@PhilipsCare_UK) who kindly sent me a PDF of "evidence". [here]
In the paper, Philips make the following claim as to how the device works,
Based on both its pain-alleviating and cell-protective properties, the use of blue LED light represents a highly promising therapy option for pain patients. Due to the fact that, unlike UV radiation, it is not toxic to skin cells, it allows for a broad scope of use of its pain-alleviating properties. The induction of the body's own natural processes by the release of nitric oxide (NO),2,3 without the involvement of exogenous chemical substances also provides a decisive advantage over other forms of pain therapy.
The paper states that a trial took place at the Supra-Regional Pain Centre of the Heidelberg University Clinic. However, it looks like an unpublished trial that compared using a blue LED device and a similar one with green LEDs.
The CT02 Trial consisted of 172 patients with mild to moderate chronic muscular back pain. It was a randomised controlled, double-blind trial conducted in three centres. The object was to see if there was a difference in pain relief between people who used the blue LED device and the green one when they used it for five 30 minute sessions over two weeks. Reports of pain were taken 14 to 28 days after the last treatment. So not a huge trial, but if there was good relief it is possible this trial could show something.
Since pain is subjective, the Visual Analogue Scale was used. Patients are asked to rate their pain along a 10cm line, typically from 'no pain' to 'agonising'.
The paper does not give full results so interpretation is hard. The main aggregated results are given as a graph.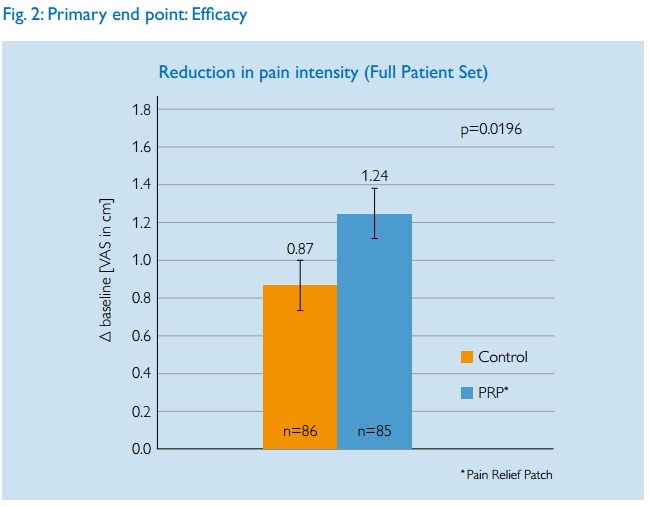 Philips claim that a statistically significant reduction in pain intensity of 1.24cm was achieved. Should we accept that the device works?
Well let's light up this BlueTouch Paper.
First of all it is not clear what is actually being measured here. Is this the best result they had during the treatment or the actual measurement at the final post-trial measurement? This could mean the difefrence between some temporary relief just after a treatment and a long term effect. Very different things. But anyway, we must note that the green LED group had pain relief of 0.87cm. Assuming, as the researchers must have done that green light is inert, then the largest part of the pain relief came from possible placebo effects and the natural course of illness. (Bad backs do get better over a period of weeks). The contribution of the blue LED device was equivalent to less than 4 mm on a 10 cm scale.
But the researchers claim this is 'significant'. But significance does not mean a result is real or useful. A minor 'unblinding' of the trial might account for the result. I am sure patients would have been able to see if they were using green or blue lights and any patient who was aware of the test being about the blue device would have known if they were in the test or control groups. People in control groups naturally tend to be a less likely to report improvement as they know they are not receiving treatment.
What is also important is to consider what  4mm improvement in pain relief on the VAS actuall means. Would you be able to tell the difference if you got that level of pain relief? A paper by Kelly suggests that the minimum clinically significant difference in VAS pain scores is 9 mm. Hence it is unlikely that a difference of 4mm could have any effect on people's lives.
The researchers then dug deeper and did sub-group analysis. This is where researchers look to see if specific classes of people show better results than the average, e.g. those with more severe back pain. Such analyses are fraught with potential problems and statistical gotcha's so should always be treated with caution. Again their results are printed as a graph,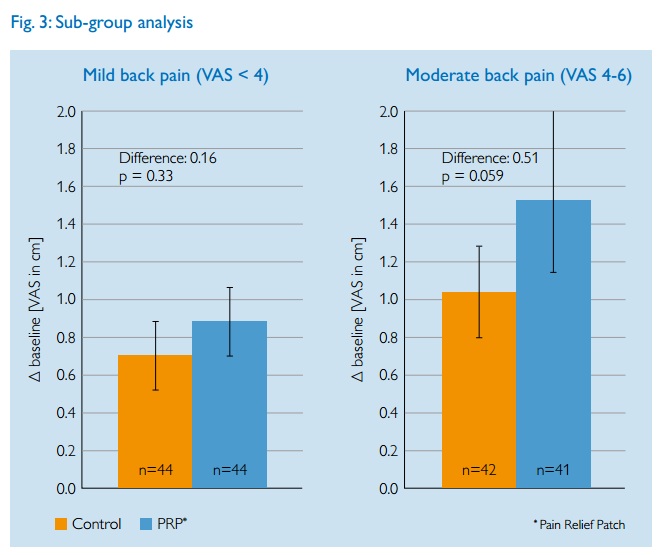 The authors claim that those with worse back pain had bigger effects (which is usually not surprising as larger pain scores have more room to fall naturally). But look how the error bars now overlap. The differences between the test groups and control are within the statistical errors of each group. That is not a convincing result.
Worse, the authors claim that when they look at the differences between the three centres conducting the trial, they see variation in the results,
A subgroup analysis reveals that the treatment effect in the lower back was very different across the three trial centres (-0.21 to 0.35 cm). A possible explanation for the differences in pain reduction in the upper and lower back may be the different positioning of the device in the lower back at the three different trial centres.
Or different levels of blinding perhaps.
And in one lab by the look of things the results were worse for the blue device group. So, even if this device did work, then it looks that it is critical as to how it is used in order to get a positive effect and not actually make pain worse. To sell such a device over the counter and expect the customer to use it reliably then is a big ask if the trial doctors could not.
In summary, this is a very unconvincing set of results from an unpublished paper where claims are made that are hard to justify from the experimental results.
The best bet is that this device is just simple quackery and that Boots customers would be wasting £275 if they spent their money on it.
From two supposedly respectable High Street brands, Boots and Philips, that is rather shameful.