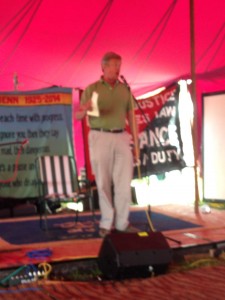 It's the same each time with progress. First they ignore you, then they say you're mad, then dangerous, then there's a pause and then you can't find anyone who disagrees with you.
– Tony Benn
In front of a large banner bearing the above quote, the MP for Bosworth, David Tredinnick appealed to the Glastonbury crowds* to follow him on his campaign to fight for homeopathy on the NHS.
It's been a few weeks since I sat there at the front listening Tredinnick and have been meaning to write up my thoughts, but today on the BBC website we learn that he is calling for the medical profession to ensure there is a bigger role in healthcare for astrology.
Yes, astrology.
He says,
I am absolutely convinced that those who look at the map of the sky for the day that they were born and receive some professional guidance will find out a lot about themselves and it will make their lives easier.
It is not the first time he has made such noises. In 2009, I reported how he gave a speech in parliament calling for more government funding of medical astrology and remote energetic healing.
It is worth pointing out that his fellow Tory MPs have such faith in his insights that they have given him the responsibility of sitting on the House of Commons select committees for Health and Science and Technology.
So, his Glastonbury talk. What insights did I glean into the man?
I missed the first five minutes – the festival site was a sticky bog after the previous days' rain. But it was worth walking the mile or more to the Speakers' Forum in the 'Green Futures' Field. It is something of a shame that the Glastonbury organisers feel our green future is best informed by by such people as Tredinnick, Joathan Cainer and Rupert Sheldrake.
So, Tredinnick was there to explicitly talk about homeopathy. He began by declaring himself firmly in the radical tradition of MPs as exemplified by Tony Benn. He sees himself as an outsider – a rather strange Tory politician. He talked about how he arranged his MPs office according to Feng Shui principles. He said how at home he was at Glastonbury where so much goodness was within the giant wall – unlike the giant wall in Berlin where he once served. He praised Ho Chi Minh for his embracing of alternative medicine after the revolution. This was a Tory MP trying hard to establish his alternative credentials in the most alternative of settings.
Tredinnick described how his radical alternative agenda had come under much criticism and mentioned he had been called by sceptics the "MP for Holland and Barrett". He was proud of his lobbying for herbal and homeopathic remedies within parliament, and described how he was active on his Health Committee roles in looking at the problem with antibiotic resistance and how alternative medicine may help. He told the audience that, worryingly, many viruses[sic] were becoming resistant – thus destroying any credibility he might have on the subject.
He talked of his battles with the Chief Medical Officer, Dame Sally Davies, and her refusal to accept the evidence he saw supported homeopathy. He mocked how he had been told the various papers he presented were dismissed as flawed by being too small or biased. To counter this, he told how homeopathy had apparently been used successfully in Cuba for the treatment of lethal disease.
His grasp of the details and facts though were quite appalling. He told his listeners how leptospirosis was spread by mosquitoes. (It is spread typically by contact with rat urine, often after bad weather in Cuba where water levels rise.) Obviously referring to the fatally flawed Bracho study, he describe how millions of people had been 'cured' of leptospirosis after being given homeopathy. How could such large numbers be wrong? Why would the government not listen? In short, the study had no control group and failed to differentiate any effect from the natural course of a typical Cuban epidemic of the disease. (Full details here.)
Tredinnick has obviously not read the actual paper. If he had, he does not understand it. If the faults have been explained to him about the paper he has failed to take them on board.
Unfortunately, there was little time for any questions before a local farmer called Michael Eavis come on stage to talk. However, one question was fielded by another local farmer called Oliver Dowding – who is a very vocal supporter of using homeopathy on cows – and just used his question to grandstand that opinion once again.
Tredinnick is a man with a very poor grasp of medicine and science. Actually, that is an overstatement. I would suggest he is willfully ignorant about these vital subjects. To think he is an important political figure in parliamentary oversight of science and medicine is frightening. If he was a lone MP with strange views then perhaps we could ignore him. But for his fellow MPs to have actually voted him into these positions of political oversight is cynical, ignorant and an abuse of the trust that we put in them.
Anyway, it was straight off to the cider bus afterwards where I could quickly drown out my dismay.
The fact that some geniuses were laughed at does not imply that all who are laughed at are geniuses. They laughed at Columbus, they laughed at Fulton, they laughed at the Wright brothers. But they also laughed at Bozo the Clown.
        — Carl Sagan.
* This was not 'Dolly Parton' crowds. Perhaps 50 people in a tent.