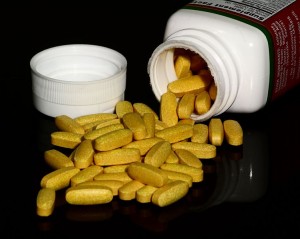 In a surprise move, the British Association for Applied Nutrition & Nutritional Therapy (BANT) have formally written to the Health & Care Professions Council (HCPC) requesting that the register of dietitians is modified to allow for the entry of nutritional therapists. This would give Nutritional Therapists equal statutory footing to Dieticians and give them all the privileges and protections that only Dieticians currently have.
In a notice to their members, BANT says,
BANT has formally written to the Health & Care Professions Council (HCPC) requesting that the register of dietitians is modified to allow for the entry of nutritional therapists. This will require clarification from the HCPC over the applicable standards of proficiency for dietitians and what is legally required to demonstrate that applicants can meet those standards. We expect to write to the HCPC shortly to follow-up on these points after considering this matter further with our lawyers. We also understand that the matter will be discussed at the next HCPC Council meeting on 3 December. Members should also note that we have been in correspondence with the Privy Council on these points and we will keep members updated on developments.
There is the hint of legal issues being raised here as to why Dieticians can have statutory protection, but Nutritional Therapists cannot.
This is a latest in a long war of division between the two communities. But it is a division that deserves to be there, and the HCPC would be doing a great diservice to the public to allow the legalistic merger of the two groups.
In the words of Dieticians, they are,
the only qualified health professionals that assess, diagnose and treat dietary and nutritional problems at an individual and wider public health level. They work with both healthy and sick people. Uniquely, dietitians use the most up-to-date public health and scientific research on food, health and disease which they translate into practical guidance to enable people to make appropriate lifestyle and food choices.
Their statutory status means that only Regsitered Dieticians may describe themselves as such. In return, they are required to have specified training and are governed by a strict code of conduct.
Nutritionists, on the other hand, are people who provide information to people about healthy eating. They are not qualified to work with sick people and are not regulated by law – anyone can call themselves a nutritionist. Nonetheless, there are many people out there who work as nutritionists who undoubtedly do a good job in helping people to eat well.
Nutritional Therapists though, as represented by BANT, are a special breed. These include people who believe, without sound scientific evidence, that illness is often caused by 'nutritional imbalances' and can be treated by regimes of detox, massive vitamin doses, hugely restrictive diets and 'allergy' avoidance. They use dubious and unrecognised testing and diagnositic practices, such as blood tests and hair mineral analyses, and then sell expensive supplement regimes of the back of the tests. Nutrional Therapists are firmly in the camp of 'Alternative Medicine', and, as such, I would consider many of their practices as straightforward quackery.
And it is not just me with such views. Which, a highly respected consumers watchdog, ran an article in their magazine on the practices of Nutritional Therapists after conducting their own undercover research in 2012. They considered that 6 out of the 15 consultations they looked gave dangerous health advice. This included nutritionists advising against surgery or chemotherapy for cancer. Only one consultation was given a 'borderline pass' by their experts. The Daily Mail reported on the results quoting one DIetician saying that a visit to a Nutritional Therapist was like 'playing Russian roulette with your health'.
Bloggers have also uncovered dubious practices and questionable claims over the years. For me, the most worrying was how the Code of Conduct for BANT specifically allowed their members to take kick-backs from supplement suppliers when selling pills to their clients. Nutritional Therapists were quite rightly accused of being just sales people for vitamin pill companies and BANT being "little more than an unprincipled opportunistic trade organisation". Currently, the BANT website does not appear to make their Code of Conduct public.
The training of Nutritional Therapists has also been called into quesiton. Many appear to come from Patrick Holford's Institute of Optimum Nutrition. I am sure you have read about Patrick in Ben Goldacre's best selling book Bad Science.
---
To find out more about Patrick Holford's influence on the world of Nutritional Therapy, read my posts:
Holfordism: Understanding Patrick, Optimum Nutrition, and the Nutritionist Industry
Patrick Holford and Scientology: the Church of Optimum Nutrition?
---
Other institutions that provide courses, and who ought to know better like Thames Valley University, have also been panned for their 'Nutritional Fairy Tale' courses. Their material showed they based their ideas on medaeival ideas of vitalism,
Vitalism is the notion that life in living organisms is sustained by a vital principle that cannot be explained in terms of physics and chemistry.   This vital principle, often called "the life force", is something quite distinct from the physical body and is responsible for much that happens in health and disease.
So, The British Dietetic Association and their members ought to be going spare at the prospect of their status being completely undermined by this highly questionable approach to health and illness. Patients deserve to know that they are being given evidence-based advice from trusted professionals. To allow equal status for those that believe uncritically that food is medicine and vitamin pills can cure all would do nothing but put patients at risk.
To apply to the HCPC would appear to the next natural step in the Nutritionists long-term campaign in gaining respectability through the imprimateur of regulating authorities. For the past few years, nutritionists have been able to register with the CNHC (www.ofquack.org.uk) who in turn have now been recognised as an accredited register by the Professional Standards Authority. The PSA appear to be on a mission to completely undermine meaningful public protection through regulation by approving homeopaths, nutritional therapists and craniosacral therapists. On their waiting lists to join are reiki masters, anthroposophists, kinesiolists and crystal healers.
BANT would now appear to be serious and are undoubtedly primed to take a legal approach if they are denied. In a tweet today, after critcism of their intent appeared online, they tweeted,
Our members may have seen tweets recently about NTs and @The_HCPC On legal advice BANT is unable to comment on social media at present

— BANT (@BANTonline) December 1, 2014
Now is the time for Dieticians and their leadership at the British Dietetic Association to take a strong stance and let the HCPC know in no uncertain terms that this would be a completely unacceptable move that would undermine patient trust in healthcare professions and risk patient welfare. The BDA leadership have been somewhat soft in the past on this. Now is the time to be unequivocal and resolute in order to protect evidence-based healthcare.
---
UPDATE
9th December 2014
The correspondance between BANT and the HCPC is now online. It is very revealing. You can see it here by clicking on the letter: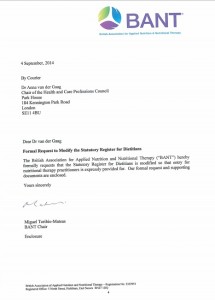 It is quite interesting the arguments that BANT make. One of the most worrying is how they try to claim that because BANT members are trained in administering herbal preparations then this is an area where their expertise is greater than dieticians.  Herbal preparations are for the most part unlicensed medicines and it would be illegal for BANT members to prescribe them. It does look like one goal of this excercise is to get statutory status in order to comply with EU directives on the prescribing of herbal remedies.
Of course, one cannot be an 'expert' in prescribing herbal remedies and prescribe them. Since, there is no good evidence base for the vast majority of herbal concoctions, any training in such practices is merely the systematic inculcation of incompetence. There are good reasons why Dieticians do not prescribe herbal remedies and are not trained to do so.
There is a good reason why there is a statutory register of nutrition health workers who have met appropriate standards and that is to protect the public from those with inadequate or imcompetent training. For BANT to suggest that this barrier is removed will simply put the public at risk.
Although the document is very long, it is worth skipping to the end where veiled legal threats are made and the HCPS respond appropriately.