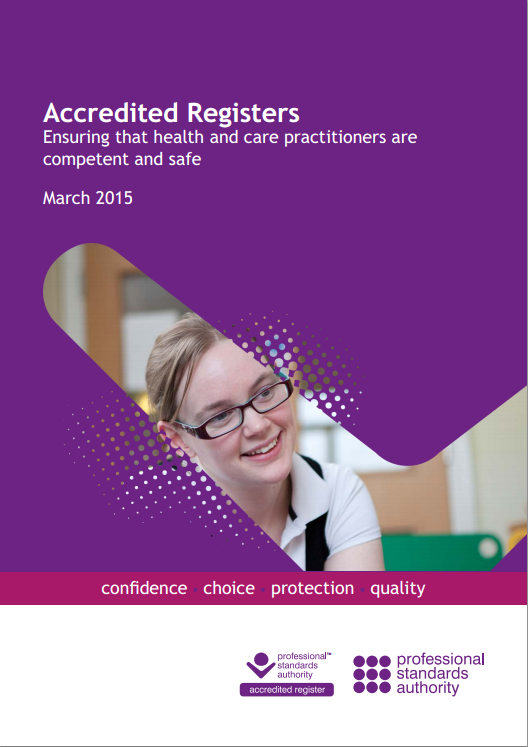 The Professional Standards Authority has published a report about how it has performed with its Accredited Registers Programme. This scheme has been trying to provide some sort of quality stamp for the registering bodies of various non-statutorily regulated health workers. It has been criticised for rubber stamping organisations who promote quackery, such as homeopathy and acupuncture.
Their press release today says that it now has 63,000 'underused' registered health care workers. The PSA then goes on to call for their greater use in the NHS and for it to look "beyond the traditional confines of our health and care system and the traditional health professions."
The role of the PSA is to protect the public when they use health care services. By suggesting that quackery like homeopathy should play a larger role in the NHS, they have stopped protecting the public and are now promoting pseudoscientific medical practices.
This comes at a time when the most thorough review of homeopathy has been published in Australia by their National Health and Medical Research Council. Their conclusions were unsurprising: "There is no reliable evidence that homeopathy is effective for treating health conditions."
Furthermore, they said,
Homeopathy should not be used to treat health conditions that are chronic, serious, or could become serious.
People who choose homeopathy may put their health at risk if they reject or delay treatments for which there is good evidence for safety and effectiveness.
The Australian government is clear. Homeopathy poses specific risks to people. This is in stark contrast to how the PSA see homeopaths. In their report they say,
When we carried out our formal consultation, some stakeholders expressed concern that our accreditation of registers may be misconstrued as meaning we had approved therapies for which there was no conventional evidence (based on randomised controlled trials). The therapies that caused them concern were complementary therapies and homeopathy.

We considered this matter carefully taking particular account of the reports of the Science and Technology Committee and the government's response.

We noted that the risks of harm in relation to complementary therapies is generally low and can be addressed by education and training. We also noted concerns about evidence, and the risks of diverting patients with serious conditions away from conventional medicine, and the risk of misleading advertising.
We noted that complementary therapies are used by approximately a quarter of the population and, as this report demonstrates, that people state that they derive benefit from them.
Let us examine these claims.
Firstly, the use of the weasely 'conventional' next to the word 'evidence' must set off alarm bells. What other sorts of evidence would be applicable here? They claim that the risks from complementary therapies is low. The Australians though recognise that delaying treatments because you are pursuing quackery is inherently dangerous. It is just not credible to suggest that the use of non-evidenced based treatments pose little risk, even if their mode of action is inert (such as homeopathy).
That 'education and training' can address these issues is laughable. The PSA does not look at how a member is trained and educated. Training for homeopaths is about inculcating them with the myths and errors of their pseudoscientific system and then layering on the rhetoric of anti-vaccination and a hostility to real medicine. They merely assess the running of the register. If a homeopath were clearly trained to respect the evidence about their trade they would not treat sick people. Obviously, this does not occur. The PSA note they are concerned about homeopaths diverting patients from real medicine, but negelect to say how they feel their accredication mitigates this.
They then suggest that because people buy the services of alternative medicine that they must be getting benefit from them. There are other interpretations such as such people are being deceived and misled.
The PSA conclude that,
We decided that it was in the public's interests for them to be able to access such therapies from practitioners on registers that meet our high standards, and are subject to our oversight. This allows the public who wish to use complementary therapies to do so more safely.
They do not say how a well run register of quacks protects the public from quackery.
Alarmingly, the PSA suggest how their quack members might help in the NHS. A main focus is on cancer care. They say that their registered members can help more people survive cancer, and that,
Complementary therapy practitioners can help to relieve the symptoms of cancer and the side effects of treatment.
There is no evidence given that this is true. It also flies in the face of the Australian report that suggests homeopathy cannot be shown to give such benefits and that users of such services put their health at risk.
The PSA give an example of a study a study run by a group called Get Well UK in Northern Ireland about how so-called complementary therapies could be integrated into GP care. The report was pure PR for quackery, run by a favourite of Prince Charles, Boo Armstrong. Unfortunately, Boo died a few years later at the age of 37 from cancer.
The Society of Homeopaths have of course welcomed this report with their own press release.  They have not issued a statement about how this massive Australian report has found their trade completely without merit and with significant risks.
Harry Cayton, the Chief Executive of the Professional Standards Authority, needs to answer some serious questions. Has his regulatory organisation now been captured by those it seeks to regulate at the expense of public safety? What business does it have lobbying for these alternative therapists to have greater involvement in public medicine? Why is it not focussing on the real risks such therapists pose to the public of offering innefective treatments and dangerous advice?
I do not expect to hear any answers.