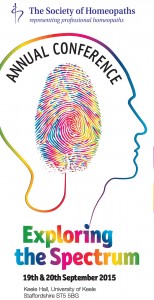 Just what is Christine Braithwaite of the Professional Standards Authority doing speaking at a homeopaths' conference on treating children with autism with sugar pills? The Society of Homeopaths is holding it annual conference with a theme based around treating children with autism. Braithwaite is the Director of Standards and Policy. You may think that the regulator would be doing its best to protect parents and children from the absurd fantasies of homeopaths who think they can successfully treat autism with their magical thinking.
At one level this is perfectly understandable. The PSA have accredited the Society of Homeopaths as an Accredited Register. On paper, this means that the PSA have run a tick box exercise that shows the Society run something that looks like a professional register of health practitioners. To the public though, it could easily be seen as an official endorsement of an absurd form of quackery. You may argue that it should be up to the Accredited Register to sanction those members involved in such treatments. But this is the actual Register keepers organising this event.
The Society of Homeopaths are holding their annual conference at Keele University. Of itself, borrowing the mantle of an academic institution is bad enough. However, this year they are going a step further by inviting the PSA to talk to their members. The Society says, "Christine will be giving a short presentation and be available in the exhibition suite to chat with everyone and answer any questions'.
Just what should Christine be saying to their members? A look at the other speakers would suggest that she is sharing a platform with some very disagreeable quackery. It is worth going through their list of speakers and workshops.
Philippa Fibert, billed as the  Society Research Consultant, will be holding a workshop on "Homeopaths treating autism – capturing our effectiveness". The pamphlet says,
Treatment of children with autism spectrum conditions (ASDs) are an increasing part of homeopath's practices, with many success stories. But how effective are we collectively? This workshop presents a new project which aims to start answering this question and provide practical steps enabling your involvement. By the end of the session you should have a clear idea of how to participate and contribute your ASD patient's cases to this project. You will also have an idea how you might start up a similar project for other conditions, receiving ongoing support from the Society research consultant; and contribute to development of awareness of what our profession can achieve.
It should be of great concern to the PSA that the Society appears to be encouraging its members to treat children with autism. Often parents can be devastated with such a diagnosis and desperate to try any intervention. Autism forms part of a spectrum of brain development disorders where behaviour and social interaction developments can be slowed down or stopped. Naturally, parents are keen to help their children in whatever ways they can. There is no good evidence that treatment with homeopathic practices can assist in any way. To suggest otherwise is exploitative and deceptive. It is simply cruel. Homeopaths have no scientifically recognised skills to diagnose or treat any illness. Homeopathy is based on discredited and magical views of health and biology. It has no role to play in children's health.
The various speakers at the conference appear to hold various misconceived and worrying views of medicine and autism.
John Melnychuk claims that "during the last 20 years John has treated thousands of children with an autism diagnosis."  His website says that it is his "particular delight to treat children."
John is in his fifteenth year of full time homeopathic family practice in Palo Alto. John is a classical homeopath with a specialty in treating children and adults with developmental and neurological conditions such as autism, Asperger's Syndrome, cerebral palsy, and mental retardation.
Homeopathy uses substances so dilute that nothing remains. Using homeopathy, John is treating these children with water and sugar pills.
What sort of substances get used in these ridiculously diluted so-called remedies? A talk from Linda Gwillim from Wales may shed some light on this with her pioneering use of human placenta (diluted to extreme levels) to treat children. She took part in the original homeopathic magic ritual of 'proving' to introduce placenta to their repertoire. Parents are encouraged to make a homeopathic remedy from their child's own placenta,
Homeopathics, like essences, are remedies that heal on a vibrational, energetic level. Homeopathic placenta remedy can be used as your child's constitutional remedy for life since it was their life-giving source for their time in-utero. It contains the blue print of his/her energetic make-up and hence, the amazing ability to bring balance and illicit healing from within when illness, disease, emotional challenges, or difficult life transitions arise.
I am intrigued to hear what the PSA will think the ethical and practical regulatory problems arise from this therapeutic witchcraft.
The conference will also explore the thoughts of David Lilley who thinks "homeopathy creates a conjunction between the metaphor of the remedy and the metaphor of the patient: it heals through the matching of symbols and archetypes. The potentised, homeopathic remedy is a portal to the archetypal world of myth and symbol."
I hope that is clear to you. David likes to look at things like the "Psychopathology of Children in the Light of the Chronic Miasms". Miasms are the mystical, pseudoscientific causes of illness according to homeopaths. They have no place in modern medicine. It may be worth quoting him in depth so you can make your own mind up,
Children are more likely to wear their miasms on their sleeves. The early years of life provide a vital, and sometimes fleeting, window through which the discerning practitioner can scrutinise the miasmatic legacy, and the endowed and inherited influences of the past. It is also at this time that the situational circumstances of the child's life exert their greatest and enduring influence, imprinting the soul with patterns of perception, preference and prejudice, modified or enhanced by the miasm holding sway. The environment is not experienced as consistently caring and holding, and basic trust, the essential ingredient for a creative and enlightened life, is lost, and the shadow-self emerges. This is the period when the healing power of homeopathy can exert its greatest effect upon the individuation process of the soul.

The spiritually healing power of disease is inherent in the miasmatic continuum, and facilitates the individuation process of humanity. The harmonising of homeopathic therapy with this unfolding in the individual, is the highest calling of the homeopathic physician"
Also speaking is Kim Kalina, a homeopath from Wiltshire, who appears to specialise in something called CEASE therapy. This variant of homeopathy was invented by the homeopath Tinus Smits. CEASE stands for Complete Elimination of Autistic Spectrum Expression. This therapy involves homeopathy and something called orthomolecular medicine – basically, selling unnecessary and potentially harmful vitamin pills. According to CEASE theory, autism is the result of vaccines, medical drug usage and amalgam fillings. CEASE claims to 'detox' children of these things. Utter nonsense, of course.
In Sweden, it is illegal to treat children with so-called alternative medicine. This is proper regulatory protection of children who may be exploited by quacks. Providing window stickers to pseudo-regulators who comply with a tick-box questionnaire is not protecting anyone but instead providing a state-endorsed imprimatur of harmful nonsense.
What should Christine Braithwaite do? To appear to endorse such appalling quackery that exploits parents fears would be utterly unacceptable for someone involved in the protection of the public from harm. But to walk away would show the absurdity of the PSA's decision to endorse an organisation that promotes delusional health practices. Such are the dilemmas you get into when you suggest that the way to protect the public from quackery is to pretend that people who believe and practice according to pseudoscientific and superstitious nonsense are health professionals.