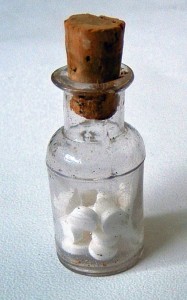 That the NHS spends money on homeopathy is a red flag to many thinking people. If the publicly funded health service is to operare efficiently and fairly, how is it that it can spend money on this egregious quackery?
Furthermore, how can campaigns to stop homeopaths exporting their dangerous ideas to people with HIV, Ebola and malaria in African countries counter the claim that 'the UK government supports homeopathy by incorporating it into the NHS'?
As such, many homeopathy critics have been vocally campaigning about this issue for many years. But now, a legal challenge to the use of homeopathy within the NHS suggests that its days may now be numbered.
The decline in the use of homeopathy in the NHS has been drastic over the pas twenty years. The Nightingale Collaboration has charted the huge drop in prescription items written out by NHS doctors in England.
Up until about 2009, we saw a near catastrophic crash in prescriptions. After that, a more steady decline. Even so, last year saw a 21% drop in volume. Why this shape? It is not clear. But perhaps we have seen the steady decline over two decades of the sort of paternalistic, "Here have a placebo" type doctoring that has been replaced by a more collaborative and evidence based style. What is left is a perhaps a rump of True Believers: doctors who really believe homeopathic sugar pills have specific and useful effects in their own right.
And there is a small rump of such doctors. They tend to cluster around the vestigial stumps of the old Homeopathic Hospitals – clinics in Bristol, London, Liverpool and Glasgow.
The significant news then is that Liverpool Clinical Commissioning Group (CCG) were challenged by lawyers acting for the Good Thinking Society. They argued that it is a duty of local CCGs to ensure NHS funds are spent as effectively and responsibly as possible. Funded treatments need to be rational and evidence-based. Homeopathy is neither.
Liverpool PCT having been funding a small homeopathy clinic. In 2011, I wrote about how the historic Liverpool Homeopathy Hospital had appeared to vanish. It would appear that a homeopathy service continued through a contract as reported by the Faculty of Homeopaths (NHS homeopathy thriving in Liverpool). This 'thriving' service is now under direct threat as the CCG reconsiders its position in light of the legal challenge.
Nick Ross, President of HealthWatch has said about this,
At least the grown-ups have finally taken charge and have insisted the decision is reviewed. Let's hope those with medical training, economic literacy and fiscal responsibility manage to defeat the gullible for whom populism and pseudoscience seems to be of more concern than the health outcome of their communities and patients.
Dr Sarah Wollaston, a GP and former Conservative Party chair of the House of Commons Select Commitee on Health said
There can be no excuse for wasting NHS resources or deliberately deceiving patients with 'treatments' which have been shown to have no benefit.
This decision has ramifications across the rest of England and Wales now. All funding groups who still fund homeopathy will have to consider if doing so is legal, or face a challenge.
The Good Thinking Society is not actually funded by Evil Big Pharma – as you might be expected to believe. It is a charity and relies on your donations. They are asking for help now to pay for legal expertise so that this challenge can be applied to other NHS funding groups. It has been suggested you donate £10.23 You may of course wish to donate a little bit more.
It may be very soon that homeopaths will no longer be able to justify their quackery by claiming the NHS pays for it. Let's make that day happen.