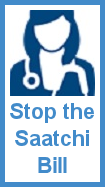 The Stop the Saatchi Bill Alliance are making an urgent call to action for people to write to their MPs about the resurrected Saatchi Bill.
We need you to make sure your MP knows the facts about Chris Heaton-Harris's Access to Medical Treatments (Innovation) Bill, which will have its Second Reading in the House of Commons this coming Friday, 16th October. This is an important opportunity for MPs to discuss and thoroughly scrutinise the Bill.
Both the Saatchi Bill and Chris Heaton-Harris's Bill are currently passing through parliament with near identical clauses that will remove a patient's right to sue their doctor if they are negligent. These are Quack's Charters and it is mystery as to why there two Bill's and why Heaton-Harris appears to be pushing this change in the law. We do know that Lord Saatchi has been most determined to get this through. Again, why is a mystery and is despite many people pointing out that a change in the law is completely unnecessary and the proposed changes will be counterproductive.
Despite the title, Heaton-Harris's Bill says absolutely nothing about access to medical treatment. It concerns it self with two issues: 1) setting up a database of 'innovative treatments' without a good definition of innovation or any protections for patients' confidentiality; and 2) a way doctors can drive a coach and horses through well established medical negligence law and protect themselves when trying treatments that no responsible body of medical opinion would back.
Please write to your MP today. A fact sheet is available here. Please visit the Stop The Saatchi Bill website for details on what to write and how you can easily do so. Most MPs only take notice of issues if they get several letters and emails on the same subject. Please do not leave it to others to write.