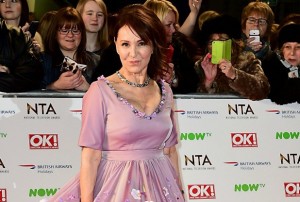 The UK homeopathy bodies are continuing their use of PR to try to raise the profile of their magic medicine rather than offer actual evidence and rational debate.
At last week's National Television Awards, Hot Gossip founder, Arlene Phillips wore what was described as a 'homeopathic dress'. This is somewhat less exciting than you might at first think. You would be excused for thinking a homeopathic dress would make the Emperor's New Clothes look positively leaden and frumpy. However, this dress contained real ingredients unlike homeopathic medicine.
Arlene explained on the red carpet that she was promoting homeopathy and the dress was covered in flowers used in the rituals to make some remedies. The press release from 4Homeopathy, the industry lobbying said group, said the dress Arlene was 'wearing a "living" dress decorated with real flowers that are all used for homeopathic remedies, including Clematis, Hydrangea and others.' A few papers picked up the story: the Daily Mail said Arlene looked 'rather like she'd ransacked an eight-year-old's wardrobe'.
It is quite understandable that the homeopaths chose flower remedies even though flowers make up a small proportion of the total substances used in homeopathic rituals. Looking at Ainsworths website, the UK leading homeopathic pharmacy, we can see remedies made using fossils, salamanders, dandruff, rats blood, hoover dust, brillo pads, exhaust fumes, plaice, twiglets, gin, shipwreck, goldfish, mustard gas and mobile phone radiation. That dress could have been far more interesting.
Flower remedies have always done well for homeopaths. They of course have a natural appeal. Dr Bach's Flower Remedies are one of the most well known homeopathic variant on sales. Bach also developed a line of what he called Bowel Nosodes, derived from the gut flora. You have to search harder to find Bach Shit Remedies on your High Street.
It is a great shame that celebrities continue to put their names to such dubious causes. Ms Phillips may well believe that arnica has helped with bruising. Or that as she states she uses it "to aid digestion and to help keep her stomach healthy". (Although I am not sure such a used could ever fit into what a true homeopath would recommend.) It's not the bumps and bruises of choreography that we should be worried about when using useless remedies. It is what homeopaths are recommending when the press are not around. Even today I saw the British Homeopathic Association promoting their sugar pills for dangerous, life threatening conditions like heart failure. And the homeopaths funding the campaign group behind this stunt are still helping homeopaths go out to Africa and treat people with HIV, malaria and TB. This will kill people.
Promoting a 'natural' health product may appear innocent. But the British Advertising Code (CAP) is very clear on celebrities promoting health claims in advertising:
Marketers must not use health professionals or celebrities to endorse medicines (Rule 12.18). Endorsements by health professionals could be viewed by the public and the ASA as giving undue appeal to one product over another or as an exploitation of the credulity of the audience.
This is pretty much all that 4Homeopathy now do. They use minor celebrities to exploit the credulity of their target audience. Getting a celebrity to wear a flowery dress on a red carpet flits around these rules. It's PR at its worst. And it has consequences. Belief in homeopathy harms people. They delay getting proper treatment. They continue to suffer unnecessarily. Some even die.