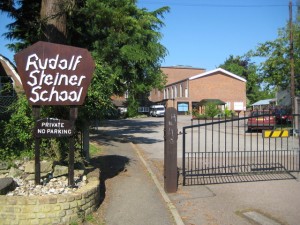 It has been reported today that Canterbury Steiner School is to close as it is no longer financially viable. It would appear that they cannot get enough children into this independent, fee-paying school to keep it running. This comes only a matter of weeks after the school appeared confident that it could attract many new entrants and expand.
Canterbury is not the only Steiner school in the UK that is in trouble. This comes during a time when the Steiner/Waldorf movement was trying to expand in the UK. The history of this esoteric and occult education movement can be traced back to the early twentieth century. For most of this time, schools have been fairly small, independently funded, private schools situated in areas where the cult of Anthroposophy thrived. However, this last decade has seen a move into the publicly funded sector. The first tentative steps were under Blair and the Academy programme (Hereford). However, this move fully took off under Gove's Free School programme after intense lobbying from Jacob Rees-Mogg's sisters. Since, then Steiner Free Schools have opened in Bristol, Frome and Exeter.
If you are not familiar with Steiner schools or think they are some sort of hippyish alternative education, then I suggest you read my quick introduction to Rudolf Steiner and his schools. In short, Steiner Schools are based on a curriculum driven by the esoteric and occult views of their spiritualist founder. The schools strive to focus on the spiritual needs of children based around ideas of karma and reincarnation. All aspects of the schools from structure, decorations, discipline, management, curriculum and festival celebrations are part of their religious philosophy called Anthroposophy. This religion believes humans exist in a spiritual hierarchy of existence where race is an indicator of spiritual maturity – naturally, given the early 20th Century Germanic origins of the cult, with Aryans at the pinnacle. Parents and children and not told of the nature of these foundational beliefs. Anthroposophy is an initiated esoteric and occult belief system.
A few months ago we learned how Kings Langley Rudolf Steiner School had been given an appalling Ofsted inspection report. This follows from a  inspection report that resulted the school from being banned from accepting new children. Independent Steiner Schools are usually inspected by SIS –  a tame inspection service set up to inspect schools 'of a special character'. Typically, this involves people already involved in Steiner education. However this time Ofsted itself insisted on an unannounced inspection.
The May inspection is probably the worst inspection report I have ever come across.  Critically, it describes how parents had raised concerns about child saftey, the inspectors had made recommendations for improvements and the management had ignored these demands.
Leaders rely too heavily on the advice of their solicitors when making some crucial safeguarding decisions. They do not consider carefully enough the potential consequences to children of the actions they then take. At the worst, they have not considered known risk factors because they are uninformed of all the facts. This is because the trustees have failed to ensure that critical information about historical safeguarding failings are discussed openly with those who need to know.

Leaders have failed to identify that the culture of close relationships at the school puts pupils at risk. Professional boundaries between staff, parents and pupils are not maintained. Staff, including senior leaders, do not follow the school's own policies on social media access. Parents arrange for pupils to see their teachers, and former teachers, off the school site. This culture is unchanged, despite known serious safeguarding failings.

Leaders have underplayed and misrepresented the school's safeguarding failings to parents. On more than one occasion, they have publicly stated that the failure is simply one of 'record keeping'. They have also stated that 'no transgressions or wrongdoings were found to have taken place' and have implied that former parents who expressed concerns have misrepresented the position. These messages are not supported by the inspection evidence.
In short, basic safeguarding measures are deliberately ignored and parents are lied to about it.
I have written extensively on these exact risk factors in Steiner Schools. This is not the only Steiner school in the UK to have come under such criticism about safeguarding. An Aberdeen school closed over its failure to provide proper safeguarding management. The Exeter Academy had a bad report and has come under extensive criticism from parents. The Frome Academy is currently experiencing parental concerns with parents threatening to 'leave in droves'. A Steiner kindergarten in Stroud has recently been found to be 'inadequate'. Again this school had been told to improve and the management failed to address the issues.
How can such a small number of schools be failing so badly? The reason is that their failings are a feature of the school. Steiner education is inherently chaotic, anti-educational and ill-disciplined. These are the very features that are sold as 'free-spirited' and 'creative'. They are no such thing. Steiner schools deliberately abdicate their responsibilities to children and parents. There is a deliberate lack of management, a deliberate impulse to prevent children learning basic skills, and a deliberate refusal to engage in the 'karma' of children's behaviours and fates. These schools choose to behave in the ways criticised by Ofsted and that is why the inspectors see no improvements after damning reports.
My opinion is that the desire to expand into the publicly funded school space is at the heart of these problems and I said so at the time. There were two big problems with this. Firstly, Steiner education requires specialist Steiner trained teachers. The curriculum is not like other schools. Unlike other Free Schools, Steiner schools cannot just hope to recruit from the general teacher population. A teacher trained to teach kids to read would be somewhat aghast that the requirement of the Steiner world to do everything you can to prevent children reading until their adult teeth had appeared. An IT teacher would not know what to make of the Steiner belief that computers are inhabited by the spirit of Ahriman and children should avoid them until their soul has achieved the required incarnation. An art teacher would be at the very least bemused at the banning of black crayons, the need for rounded corners on paper and the strict and limited styles and media allowed. All of these restrictions are based on their esoteric understanding of the spiritual world.
Stretching staff too far would also have management consequences. Steiner schools do not have a traditional management structure but a council of teachers. This may be at the heart of the problems inspectors find in identifying clear accountability for safety and other issues. Financial controls are also notoriously weak with reports of shoestring budgets and lack of financial discipline.
The second big problem is with the level of scrutiny that public funding brings. A traditional Steiner school in an 'alternative' town like Totnes or Stroud, could manage to control bad events and coerce parents. In a state school in a large town such control is not so possible. People ask questions and the media become involved. Not least that activists against the schools are able to reach wide audiences such as the Stop Steiner in Stroud blog. Professor David Colquhoun says that Melanie Byng's posts on the popular and influential DCScience blog are the most popularly read. On my own blog here, my Steiner posts have had over half a million readers.
The future of Steiner schools in the UK now looks more uncertain that it has been in its history. The Free School programme has shut down now with the government signalling yesterday that no new money will go into it. Ofsted appears to have woken up to the fact that placing inspections in the hands of tame inspectors is not good news and is not looking very closely at Steiner Schools. This does not bode well.
Steiner Schools have to abide by the Anthroposophical doctrines of the Steiner Waldorf School Fellowship. If they do not, they cannot call themselves Steiner/Waldorf Schools. The inspectors are now demanding that they break with their traditional views on many aspects – not least child protection. Schools have a simple choice: to abandon the Steiner approach or to fold. If they do abandon Steiner oversight, they need to be clear with parents what that means. And I suspect that is not going to be an easy transition given the lack of experience, talent and management experience in the system.