Last week, it was reported that pupils at Ringwood Waldorf School, a private Steiner School, had been given art lessons in "supervised self harm". The pupils had been encouraged to cut themselves with a blade as part of an art class. The teacher resigned before a disciplinary hearing could take place. Steiner schools sell themselves as focusing on art. I am sure this was not what parents were expecting.
But there are many things about Steiner schools that parents complain they were not expecting. It is not clear to parents up front that Steiner schools were set up to follow the occult spiritual practices of Rudolf Steiner, based on his ideas of karma, reincarnation, quack medicine, and knowledge of the spiritual world through clairvoyance, astrology and, meditation.
But what are we to make of this incident? Can we read anything more into it rather than just a one-off oddity? In principle, this could have happened at any school. However, I have raised concerns before that the bizarre belief system within the school, its esoteric doctrines and the general closed and secret world of Anthroposophy gives rise to specific risk factors that we should be concerned about. In the past twelve months, we have seen a couple of cases of child abuse by teachers within the few dozen UK Steiner schools. Is this frequency about right for the number of teachers in Steiner Schools? I have no idea.
However, we should be able to rely on school inspections by independent authorities to ensure schools are safe places for children. In the case of private Steiner Schools, it is worrying that they were successful in lobbying for different inspection status based on their 'special character'. The School Inspection Service was set up under the last Labour Government to inspect Steiner Schools and to take into account their different inspection needs. However, as we can see in the last inspection of Ringwood, one of the inspectors is a director of another Steiner School. Other SIS inspectors appear to often have connections within the Steiner world. The report describes how Ringwood "follows closely the principles of Steiner Waldorf education and  achieves its aims well." The SIS criteria for accessing whether a Steiner school is a good Steiner school were developed by the Steiner Waldorf Schools Fellowship. And so the question of whether a Steiner education is a good education for children is not answered. One might speculate that Steiner Schools wanted unique inspection regimes, designed by themselves, so that precisely that question would not be asked.
In order to spot potential problems within schools, and their specific teaching methods and practices, it would be expected that independent evaluation took place that was not closely associated with preserving those methods. It is my view that is not likely to happen in private Steiner Schools.
But what of the new publicy funded Free Steiner Schools? At the moment, they are still inspected by Ofsted and so could be considered to be looked at by more independently minded regimes. But is even this satisfactory?
Before the last Labour government set up the first publicly funded Steiner School in Hereford, it commissioned some academics from the University of the West of England to write a report on Steiner education and what the state sector could learn from it.
The Woods Report, as it is known, was very positive towards this strange occult spiritual teaching system, dismissive of the many concerns that people have about alleged racism, pseudoscience and their anti-educational approach, and encouraging for the State to embrace Steiner- Waldorf. The report brushes aside concerns that Steiner was a racist who believed Aryans were the most spiritually advanced race, and the karma allowed souls to progress from lower races towards this ideal, by saying,
Steiner's own statements which may be interpreted as racist because they are culturebound and "carry the racism of an earlier time" or, taken out of the context in which they were spoken, appear racist to contemporary ears.
Obvious nonsense. Steiner saw the preservation of Aryan features as a central goal of his spiritual cult,
In time, however, blondness will disappear because the human race is becoming weaker. In the end, only brown- and black-haired people will be able to survive if nothing is done to keep them from being bound to matter. The stronger the body's forces, the weaker the soul's. When fair people become extinct, the human race will face the danger of becoming dense if a spiritual science like Anthroposophy is not accepted.
This report was a missed opportunity to try to understand how Steiner's racist philosophy might still be influencing Anthroposophical institutions in modern times. We know many Anthroposophists still believe such offensive nonsense as the Steiner Schools representatives told Tory education advisors in 2010 that,
It was felt that there may be some difficulty in making a blanket rebuttal of all Anthroposophy because many people throughout the Steiner schools system, especially teachers, strongly support many aspects of that belief system. If teachers were asked to make a blanket rebuttal of Anthroposophy, many of them may not do this.
One of the authors of the Woods report describes herself as having undergone her own spitiual path which has led her to,
participation in numerous spiritual workshops and to her initiation as a Priestess of Shekinah and of Divine Mother Sophia, into the Order of Lord Melchizadek and The Violet Robe, and into the work of the Grandmothers (Net of Light). Formerly, she was an Inner Brother of the White Eagle Lodge, participating in group and remote absent healing work with people and animals. She is a Reiki Master (Atlantean and Crystal) and has been trained in Angelic Reiki Healing, Crystal Skull healing and other methods. Glenys continues to do absent healing, as well as contact healing, which includes animals.
No doubt, the government saw these impeccable credentials as invaluable in assessing the educational successes and insights from a schooling system set up by a 1920's Germanic occultist who believed in gnomes, Atlantis and Christ the Sun God.
One reader of this blog wrote to his local MP to express concern that schools were not being inspected properly or had been approved on grounds that did not stand any analysis.
Richard Rawlins, a doctor, started his letter about a nearby Steiner School by saying,
" I am concerned because an associated belief system, Anthroposophical Medicine, encourages homeopathy, denies the value of vaccines and discourages critical thinking. The founder of the movement was clearly a racist, and believed we are reincarnated souls – ascending a scale from the negro to the Aryan with each re-incarnation.

 Which might be all very well if parents freely choose to educate their children at such institutions, but becomes another issue when the government actively encourages such schools to become publicly funded. At that point all tax payers and MPs should sit up and question Michael Gove and David Cameron as to what, exactly, they are up to."
A reply came back from Lord Nash, the Parliamentary Under Secretary of State for Schools,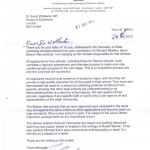 The response is alarming in its naivety. It says,
All applications for Free Schools, including Steiner Schools, must complete a rigourous assessment and interview process to ensure only suitable groups progress to the next stage.

All applicants must provide evidence of academic rigour and how they will provide a high quality education for all the pupils at their school.
Presumably the Department of Education believe that an teaching programme based on the seven year cycles of childhood spiritual incarnation is suitably rigourous. And that a daily programme of esoteric and therapeutic dance is quality education. I also would imagine the Department believes a philosophy based on the ideas that childhood development is best understood through clairvoyance and that illnesses in children help to reform their bodies. Delaying reading and writing and technological studies because childrens' souls are not ready for such knowledge must also be "high quality education".
The letter goes on to say,
The Steiner Waldorf Schools Fellowship has clearly and publicly distanced itself from any racism stated or implied in the writings of Rudolf Steiner. it has also publicly affirmed that it does not promote anthroposophy or teach it in schools as a subject or belief.
This last point show that the Department has absolutely no idea about Anthroposophy. These are Anthroposophical schools – the living embodiment of Rudolf Steiner's occult spiritual beliefs about children and education. To accept that they do not teach Anthroposophy in schools is to miss the point. These schools live Anthroposophy. From the structure of the day, the spiritual verses recited every day, the eurythmic esoteric daily dances, the restricted media and subjects in art, the lesson plans, the content, the lack of excercise books, the deliberately delayed education, and the attitudes to science and medicine, everything is Anthroposophical.
Grégoire Perra , an ex French Steiner teacher, blew the lid of this misleading view. He described in detail how Steiner Schools insidiously indoctrinated children into Anthroposophical mindsets.  One way this is done is by hiding anthroposophical subjects in the lessons. This was achievable, according to Perra, because of the public's ignorance of Anthroposophy, including government officials and school inspectors.
In the fourth grade (CM1), Waldorf students study zoology and tackle the physiology of various animals, like the lion, the cow, and the eagle. At first glance, their class work appears to be an objective study of the behavior of these animals. At least that's what an inspector will see in the students' notebooks. But the teacher will also orally tell the students that the eagle must be understood in relation to the human head, the cow in relation to the human metabolic system and limbs, and the lion in relation to the human rhythmic system (the heart and lungs). Thus, the teacher conveys basic elements of Rudolf Steiner's doctrine, namely that man is a tripartite being having within himself, in a latent state, the various animal kingdoms.

Another example: In the early grades, Waldorf teachers tell the children a great number of legends or myths. At first glance, this is part of a traditional study of literature and mythology. But the teachers slip in Anthroposophical interpretations… They make subtle allusions to the contents of Anthroposophical books such as MYTHS AND LEGENDS AND THEIR OCCULT TRUTHS [7] or HIDDEN WISDOM IN GRIMM FAIRY TALES [8]. Most of these works were only recently translated into French (Waldorf teachers having access to them through German connections). National education inspectors therefore cannot detect the Anthroposophical doctrines slipped in by Waldorf teachers when they tell these legends and myths to the children.
The idea that the SWSF have distanced themselves from Steiner's racism must also be interpreted very critically and with a full understanding of what Steiner's beliefs were. One big problem is that many Anthroposophists (and some have expressed this to me directly) that Steiner was not a racist because what be said was the truth. How can a spiritual hierarchy be racist if that is what is really going on the world? We should also be aware that the Steiner movement has never undertaken any comprehensive review of what Steiner's racial beliefs mean in the context of modern schooling. It is is easy to say "we are not racist", a very different thing to understand how insidious racists beliefs can be.
Part of the problem is that Anthroposophists believe Steiner was a 'good man' who loved all of mankind and cannot associate him with the caricature of racism of that of the thug hating and harming those of other races. Steiner's racism was a paternalistic, insidious racism – more like the "White Man's Burden" than a vicious thug. The acceptance of casual statements denying racism in the modern Anthroposophical is incompetent and naive.
The new Steiner Schools will be depending on Ofsted failing to understand what an Anthroposophical School is. And I am sure there will be lobbying to have new Free Schools also inspected by the Schools Inspection Service where their 'special status' is understood.
I would suggest the government ceases granting new Free School Status to those applications who are anthroposophical in nature (and some may not directly use a Steiner or Waldorf name) and instead commission a new report – a truly independent one from someone who objectively understands esoteric organisations – so that we can get a complete picture of what it is to be a Steiner School.