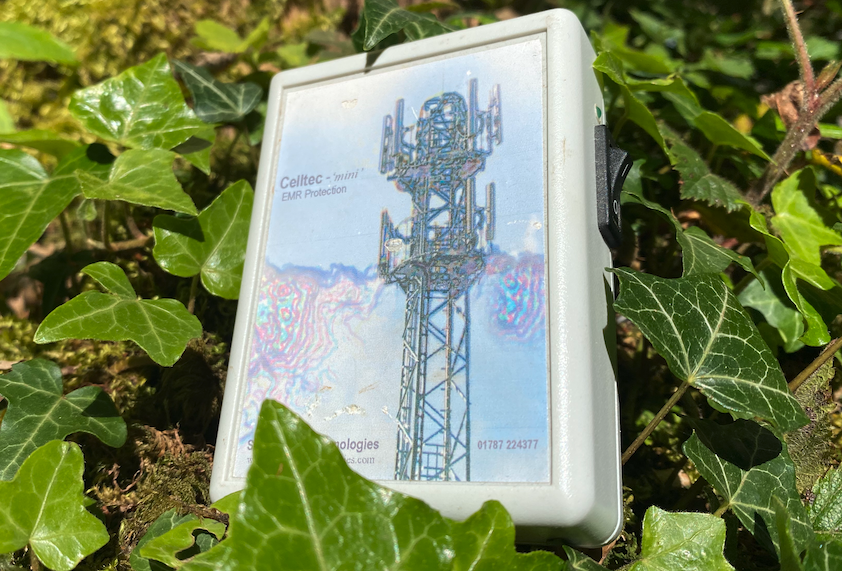 Rory Cellan-Jones has been exposing the rather bizarre takeover of Glastonbury Town by 5G conspiracy theorists. The council published a report that called for an ending of 5G rollout. Several members of the working group that looked into the safety of 5G complained that the group had been taken over "by anti-5G activists and "spiritual healers".
This is not surprising to anyone who has ever visited the town of Glastonbury. There is not a shop, pub, business or chip shop that has not been taken over by "spiritual healers" of one sort or another. You cannot walk down the High Street without being smothered in a fog of incense and patchouli. It is far easier to buy a dozen black candles and a pewter dragon than it is a pint of milk.
Science has no sanctuary in Glastonbury. Homeopaths, healers, hedge-witches and hippies all descend on the town to be at one with the Goddess.
Cellan-Jones tweeted today how someone in Glastonbury has been endorsing an 'Anti 5G USB Stick device".
Really torn – this 5G bioshield USB key comes recommended by a member of the Glastonbury 5G committee. But should I get one for £283 or 3 for £799? pic.twitter.com/oxWAXc1tsf

— Rory Cellan-Jones (@ruskin147) May 18, 2020
The makers of 5G bioshields claim to use a "PROPRIETARY HOLOGRAPHIC NANO-LAYER TECHNOLOGY" to,
provide protection for  your home and family,  thanks to the wearable holographic nano-layer catalyser, which can be worn or placed near to a smartphone or any other electrical, radiation or EMF emitting device.
This is of course bullshit.
But it is bullshit that sells at £283.00 and is endorsed by the good denizens of Glastonbury.
Variations of such devices have been around for many years, peddled to protect you from the every increasing dangers of 3G, WiFi, 4G and now 5G. Every few years, a new scare comes along to keep selling such devices.
I bought one a few years ago.
The device I bought was from a chap called Gary Johnson,
a qualified Homoeopath, Subtle Energy engineer and lecturer in health & environmental analysis. Developing the art and science of mental/emotional/physical  healing for 28 years.
Gary sells a number of solutions to the problems of mobile radiation. He has updated his range somewhat since I bought my device a few years back but a full house solution will set you back about £200.
Gary has devised a unique Bio-Feedback analysis system that tests an individuals mental, emotional, physical and environmental characteristics,  and with the aid of advanced homoeopathic and vibrational remedy programs, has helped many people from all walks of life, nationally and internationally 
Now, most of the people of Glastonbury are well intentioned, if not deluded, when they sell their herb bundles and crystal harmonisers. But how can you sell an electronic device to 'neutralise radiation' and be 'well intentioned'?
I opened the box to find out what is inside – the slideshow will take you through my discoveries.
Now, I live a few miles outside of Glastonbury, and despite what you may think, knowing my 15 years or more debunking quackery, I am fairly tolerant of its eccentricities. There is no deception that what goes on in Glastonbury is not deeply alternative and spiritual. There is no pretence that the dreamcatchers and divine goddess workshops are anything other than mystical in nature. Pseudoscience is not prominent. The economy thrives on everyone selling each other scented candles and skull ashtrays.
Yes, you do hear of pilgrimages of people in the last days of cancer seeking help desperately. I am not beyond thinking that some may find comfort in the yurts of shamen.
But the 5G conspiracies, especially as they are now so tightly coupled to COVID-19 conspracies, and blended together with a strong dollop of anti-vaccine denialism, mean that people will die.
And that is something Glastonbury ought to be shamed of. It is not too late for the town council to act firmly here. Leave the mysticism to the High Priestesses on the High Street. As responsible officers of the town, pseudoscience and deception have no place,