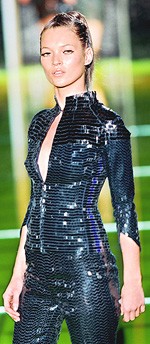 No, this is not about our Defender of Quackery, our Quack-in-Chief His Royal Quackiness, Prince Charles, but about the Distinguished Provost of the Royal College of Alternative Medicine, Professor Joseph Chikelue Obi. And yes, it is just a rather lame story written solely to get a picture of Kate on my blog.
I've written a rather lazy blog on the distinguished professor before that was just a bit of a gawp at his quacktastic website and what looks like a health phone-line scam.
Well, I've done a little more digging with Google and it has revealed a few quack gems. It has been pretty hard work, since Google returns some 6,000 pages, the vast majority just appears to be Prof Obi's self-promotion. However, if you persist in digging a few interesting facts turn up.
So, what has the little black duck found out about the "most Controversial Retired Physician and 'A-List' Medical Celebrity, Dr Joseph Chikelue Obi"?
Here we go…
1. The Irish Independent reports that his college does not exist at the Dublin address given on the web site. There's a surprise! It's just a front.
2. The Independent goes on. "In January 2003, he was suspended by for serious professional misconduct at South Tyneside District Hospital. Among the allegations made were that he failed to attend to patients, wrote strange notes about colleagues and at one point gave a dating agency phone number to a psychiatric patient."
3. He was being investigated by the police for taking thousands of pounds of a 58 year old woman to in order to cure a long standing illness.
4. The GMC strike Dr Obi off their register for "serious professional misconduct". So much for him being retired.
5. On another tack, Dr Obi has been involved in a little cyber-squatting. This looks as if it took place while he was a doctor – always after a few quid!
6. Since then, now self-titled Prof Obi, a few new avenues have been opened, including trying to entice Kate Moss away to one of his 'safe-houses' in Ireland. Hat's off!
He is quoted as saying:
"Under the European Convention on Human Rights, Miss Moss still has fundamental rights, just like anyone else out there, and as far as I am concerned, she is not guilty of anything until an Ethical Jury says so."
(I mentioned before that 'ethical' was one of his favourite words.)
7. Prof Obi has been developing a Penis Enlarger (watch out Kate) that his own Royal College has now endorsed.
8. At least one person (out of the targeted million) has paid Prof Obi the fees for his college to accredit them. Dr Michael Keet (8 Canards) of the Central London College of Reflexology handed over 'hundreds'. Do we feel sorry for out-quacked quacks? I guess we ought to.
9. For those of you wanting to see behind the grand titles and see the real human being, Joseph lists his interests as Comedy in London, Whole Food Nutrition and Christian Music. On this 'Meetup' site, he describes himself as "Just a very ordinary guy . . .". That's nice.
10. His name appears very often on the blog Abolish The General Medical Council (GMC), often reporting something he has got up to. The blog describes itself as:
An ethical blog for those who publicly feel that the General Medical Council (GMC) should be Statutorily Abolished in favour of a Medical Licensing Commission (MLC) to solely register and revalidate Doctors who practise Conventional Medicine in the UK. The Blog also recommends that the GMC/MLC hands all disciplinary functions over to an Independent Clinical Tribunal (ICT) in keeping with the EU Convention on Human Rights ; to avoid (both) Institutional Bias and Multiple Jeopardy.
Oooh. There is that word 'ethical' again. And 'European Human Rights'. No name is given for the blog author but the avatar is a portrait of the queen. Another apparent obsession of Prof Obi – royalty. Could the author be none other than the Professor himself, a little agrieved for his ticking off? I hope you all click through to the blog. Maybe we will show up in his stats and whoever the writer is can get in contact and confirm one way or another.
I rather hope is is, as the final thing I turned up would just be fantastic…
11. Is the Distinguished Provost of the Royal College of Alternative Medicine, Professor Obi now selling ethical ring-tones? I do hope so.
Watch out Crazy Frog! Here comes the Crazy Provost…
---
Postscript
It does look like Prof Obi has read this blog. He claims on the blog 'Abolish The General Medical Council' the following…
And now we have the GMC sending the 'half-wit' Quackometer Bloggers after me, who (by the way) don't even know the very meaning of the word 'Quack'.
Excellent. So I am a GMC Shill now to add to my credentials. Black ducks are not that clever, but half-witted is a bit harsh. And I don't know the meaning of the word quack. As usual for a quack, not a shred of evidence to support his claims that I have anything to do with the GMC.
I have a feeling this story will re-appear. But first, I must download that ringtone…
---