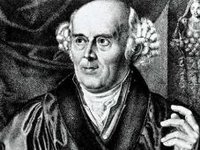 My automated scans of the internet for all things about quackery have thrown up some interesting news today. The German newspaper Bild is reporting that an academic homeopathy journal is about to publish the discovery of fragments of a new edition of Hahnemann's Organon. (translation here from "Die Entdeckung einer verlorenen siebte Auflage des Organon?") For those not familiar with the origins of homeopathy, its inventor, a German doctor, wrote about all his discoveries and musings in a big book called the Organon. During his lifetime, he published five editions of his great work. Finding a new, previously unknown, version of his manuscript is not without precedent. The sixth edition of the Organan was discovered after his death and was finally published in 1921, some 80 years posthumously.
What makes this quite interesting is that the Organon is treated like holy scripture to homeopaths. If a homeopath wants to know what is the correct way to prescribe their sugar pills, they are told to consult the Great Book. But like all scripture, disputes can break out over interpretation. Disagreements persist about how many pills to give a patient, whether homeopathic vaccines work, wether like-cures-like is always true, and if same-cures-same (isopathy) is also viable. Wilder homeopaths dabble with homeopathic electronic remedy machines and magic MP3 files. All can find justification in the Organon (or at least one edition of it.) Scientific experiments are not done to resolve disputes because they tend to show that no alternative interpretation is viable. Something has to give – and it is the scientific method in favour of the Organon Scripture. So, will the new Seventh Edition of the Organon create havoc? Is this the quackery version of the dead sea scrolls?
It would appear that Hahnemann was not beyond dabbling in wild speculation about homeopathy. Undoubtedly, if he was alive today, he too would be downloading curative homeopathic MP3 files. The newspaper article is not long and does not give too much detail, but (forgive my minor German)  appears to suggest that the 'Seventh Organon' delves off into "Animal Magnetism and Homeopathic Mesmerism". Remarkable.
The newspaper claims that (translation) "It would appear that the doctor had continued his work on replacing dilutions with mesmerism and had completed experiments on the resuscitation of dead dogs. He died shortly afterwards."
Could this be true? Well, it does indeed follow on from work he did in the Sixth edition. We are told,
I find it necessary to allude here to animal magnetism, as it is termed, or rather mesmerism (as it should be called, out of gratitude to Mesmer, its first founder), which differs so much in its nature from all other therapeutic agents. This curative power, often so stupidly denied, which streams upon a patient by the contact of a well-intentioned person powerfully exerting his will, either acts homœopathically, by the production of symptoms similar to those of the diseased state to be cured; and for this purpose a single pass made, without much exertion of the will, with the palms of the hands not too slowly from the top of the head downwards over the body to the tips of the toes,1 is serviceable in, for instance, uterine haemorrhages, even in the last stage when death seems approaching; or it is useful by distributing the vital force uniformly throughout the organism, when it is in abnormal excess in one part and deficient in other parts, for example, in rush of blood to the head and sleepless, anxious restlessness of weakly persons, etc., by means of a similar, single, but somewhat stronger pass; or for the immediate communication and restoration of the vital force to some one weakened part or to the whole organism, – an object that cannot be attained so certainly and with so little interference with the other medicinal treatment by any other agent besides mesmerism. If it is wished to supply a particular part with the vital force, this is effected by concentrating a very powerful and well-intentioned will for the purpose, and placing the hands or tips of the fingers on the chronically weakened parts, whither an internal chronic dyscrasia has transferred its important local symptom, as, for example, in the case of old ulcers, amaurosis, paralysis of certain limbs, etc.
Pause for breath. He did go on, didn't he?
But, blimey. It does indeed look like he had invented Reiki.
Hahnemann goes on some more:
Many rapid apparent cures performed in all ages, by mesmerizers endowed with great natural power, belong to this class. The effect of communicated human power upon the whole human organism was most brilliantly shown, in the resuscitation of persons who had lain some time apparently dead, by the most powerful sympathetic will of a man in full vigor of vital force, and of this kind of resurrection history records many undeniable examples.
Wow. Hahnemann believes that his homeopathic mesmerism can bring the dead back from life. Did he really spend the last years of his life experimenting with dead animals and seeing of they can be bought back to life? Did he really abandon his beloved dilutions in favour of the more fashionable mesmerism? Fascinating stuff.
If this true, it does look like Hahnemann spent his last years in Paris as some sort of role model for Mary Shelley. What monster did he create? Without access to the published 'new' seventh edition, we do not know yet. One hint comes from a rather strange source: Charles Dickens. He wrote about homeopathy in his rather obscure novel The Mudfog Papers. In this novel, published in 1837 at roughly the time these exeriments in re-animation were taking place, he introduces us to a character called Sir William Courtenay who believed that homeopathy can raise the dead.
MR. PIPKIN (M.R.C.S.) read a short but most interesting communication in which he sought to prove the complete belief of Sir William Courtenay, otherwise Thorn, recently shot at Canterbury, in the homoeopathic system. The section would bear in mind that one of the Homoeopathic doctrines was, that infinitesimal doses of any medicine which would occasion the disease under which the patient laboured, supposing him to be in a healthy state, would cure it. Now, it was a remarkable circumstance–proved in the evidence–that the deceased Thorn employed a woman to follow him about all day with a pail of water, assuring her that one drop (a purely homoeopathic remedy, the section would observe), placed upon his tongue, after death, would restore him.
Did Dickens know of Hahnemann's last works?
We shall see. Maybe some homeopaths will not want to dabble in mesmerism and call it all a heresy. Maybe others will embrace the chance to raise the dead back to life. I, for one, would like to see what Prince Charles will do with this new knowledge. Will we see his Duchy Originals creating a "Dead Dog Revival Tincture" and the Foundation for Integrated Health create a "Universal Lazarus Potion" for the NHS?
Unfortunately, the world of homeopathy is beyond satire. I try my best.