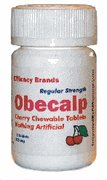 The advert begins…
I'm Jen. I am a mommy. It's what I love. It's my job to make owies go away. Whether it's a kiss or a big hug, the magic happens immediately. This is the power of placebo.
Yes, 'regular strength'
Obecalp
, from placebostore.com, is the new wonder pill for stressed parents to give to their kids when they want them to stop screaming.
Obecalp fills the gap when medicine is not needed but my children need something more to make them feel better. You'll know when Obecalp is necessary.
Some experts question whether an alternative should involve deception. "I don't like the idea of parents lying to their kids," said Dr. Steven Joffe, a pediatrician and bioethicist at the Dana-Farber Cancer Institute in Boston. "It makes me squeamish."
Dr. Geller, the bioethicist, agrees that parents should not deceive their children.
I'm not so sure. Parents lie to their kids all the time. Tooth Faeries, Father Christmas, White men with beards in the clouds. Kids grow up and learn that adults can tell fibs – sometimes for fun – othertimes, for darker reasons. It pays to not take everything at face value that people in authority claim.
Could these pills help kids realise that not all treatments are what they say they are? Could they learn that our perceptions of health can be manipulated through beliefs alone? Would it help them question the claims of homeopaths and acupuncturists a little more who are doing exactly the same thing, but to adults?
Or, would it just instill the idea in them that there is a pill for every ill? Is it just good training to swallow the pills for a future of adult pharmacological consumption?
Discuss.