BBC South West have again produced an excellent investigation into the practices of homoeopath,s this time focusing on the trade in sugar pills sold as vaccines for children. Given the alarming number of cases of Whooping Cough in the region, and the low vaccine uptake in some areas, there is concern that parents using such products could be putting their children at serious risk. The BBC found Prince Charles' favourite homeopathic pharmacy selling sugar pills labelled as vaccines and being sold as alternatives to vaccines.
Homeopaths sell such labelled sugar pills for two reasons: the vaccine labelled products are typically used to 'antidote' the effects of a real vaccine that may have been given to a child (most homeopaths are viciously anti-vax); or when labelled as the disease name, to act as a preventative agents against the disease. There are no good reasons to think these sugar pills can possible have any of these claimed effects.
The BBC reporter, Sam Smith (who also recently did the investigation into Steiner Schools and racism ) sent letters to Ainsworths Homeopathic Pharmacy to request advice on offering homeopathic alternatives to vaccinations. The email exchange speaks for itself (read here).
The BBC have reported that the regulator, the MHRA, has taken steps to have these Whooping Cough pills removed. Yet, today they are still being offered for sale.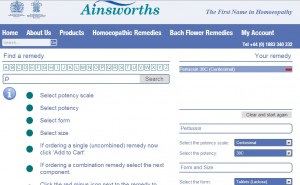 I do not believe this pharmacy will take the necessary steps to remove these dangerous products from the market.
But there are good reasons they should. The main one being that they are unregistered medicines, and, as such, it is illegal to market them in the UK.
What is shocking is that the MHRA have known about these products being sold for years. I myself first alerted them to similar products in March 2008. Seventeen months later, the MHRA told me that enforcement action had been taken and the products being complained of had been removed. This was not true. The product remained on sale for many months.
Furthermore, the products I complained about were similar to many others. The problem I complained about was not a one-off but representative of a systematic failure for Ainsworths to abide by medicines regulation. I made this clear. Yet, the MHRA failed to see a bigger problem and took a very piecemeal and very 'light tough' approach to handling the problem. They appeared to have done the absolute minimum that they could have done regarding the complaint and taken the longest possible time.   I wrote about my experience with the MHRA to the House of Commons Select Committee that was investigating the MHRA and their role in homeopathy regulation  It was only after my submission became public that the MHRA got in touch with me to say they were investigating further.
Nothing happened. As this BBC report shows.
Only the Advertising Standards Authority took decisive action. But the ASA is powerless to ensure the products are removed from sale.
As I said at the time, Ainsworths appeared to have a casual disregard for the law,
This is a business out of control. It is making dangerously irresponsible claims about medicinal products and does not appear to care whether it has the right licenses to sell and make those claims.
Again, in May last year, I complained about how Ainsworths was using a remedy finder to allow people to select the sugar pills that might go with a disease. I was particularly alarmed that recommendations were being given for the treatment of measles.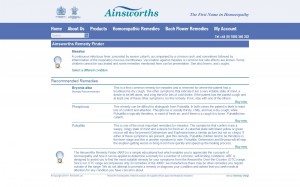 That remedy finder is still there. The MHRA never did respond to me, some changes were made to the Ainsworths site, but the very questionable remedy finder is still in full flight.
I am not alone in having lost faith in the MHRA's ability to tackle the sale of these dangerous products. The BMJ have accused them of 'clothing naked quackery'.  The Nightingale Collaboration have ongoing complaints about what appear to be flagrant breaches of regulation. The lack of responsiveness of the MHRA is apparently 'very frustrating'.
And the MHRA are not alone. Pinkus, the pharmacist at the centre of Ainsworths  previously assured the pharmacists' regulator that he had taken 'remedial action' after he was caught selling sugar pills to prevent malaria and gave assurances it would not happen again.
Well it has. The General Pharmaceutical Council dropped plans to prosecute previously. I cannot see why it should do so again. At least one pharmacist is asking their regulator to take firmer action in order to preserve the reputation of the profession.
Whilst the regulators drag their heels, and refuse to offend our future monarch who may well be dishing out goings in their direction, people are being put at risk by these products.
I see this being solved very easily. Ask the homeopathic pharmacies (there are a few of them) to stop selling unregistered products. And then do mystery shopper tests to ensure they have. If illegal products are sold, prosecute. That is what regulators should be doing, have a legal and ethical obligation to do, and I see no reason why they should not be.
Children will be harmed by this inaction. Children will die. And the fault must lie with Professor Sir Kent Woods, chairman of the regulator.