David Tredinnick has been the Conservative MP for Bosworth since 1987. During that time, he has worked tirelessly to promote the interests of alternative medicine businesses, mostly homeopathy. With the General Election approaching fast on June 8th, Tredinnick has once again put his name forward in the constituency of Bosworth, and will ask the good voters to elect him so he continue his work promoting superstitious medical beliefs in the UK.
The old Etonian is the Chairman of the All-Party Parliamentary Group for Integrated Healthcare. Through this vehicle, he lobbies the government, almost exclusively, to spend more money on quackery in the NHS. His record in Hansard speaks for itself with a continuous stream of questions and interventions in parliament suggesting the government should do more to promote the delusions of quacks (with an interlude to worry about parking places). He has famously suggested the NHS use astrology to better manage services and diagnose illnesses.
It would appear to be near certain he will be returned again. The rural constituency of Bosworth would return a donkey with a blue rosette pinned on it – and they repeatedly do. The past few elections have seen a solid, unquestioning 42% vote for him. If Tredinnick went the full David Icke it is likely he would still retain his seat. And he is not far off that level of absurdity.
So, how does Tredinnick go about his business promoting quackery? Let us look at a couple of current bizarre examples.
The Society of Homeopaths have recently published a submission [pdf] they have made to a government enquiry on 'Integrated Healthcare'.  They say,
The Society has made a comprehensive submission to the All Party Parliamentary Group for Integrated Healthcare inquiry into all aspects of complementary and alternative healthcare leading to a major report for government, agencies, press and stakeholders.
The key points the Society make are:
The current system of healthcare does not entirely meet patient demands
CAM is safe and well regulated – particularly by registers accredited by the PSA
Referrals to CAM practitioners would greatly relieve pressure on GPs
Homeopathy is widely admired and used in the UK and across the world
There is a good evidence base for homeopathy based in clinical outcome
The draconian and inconsistent regulations imposed on CAM practitioners advertising seriously impede patient choice.
These are the typical bugbears that homeopaths have and what David Tredinnick often speaks about in parliament. The Society are giving Tredinnick, through his chair of the Parliamentary Group, exactly what he wants. These points are of course nonsense. CAM is mainly unregulated. There is no reason to believe referals to homeopathics could relieve GPs. Homeopathy is widely ridiculed, not admired. Homeopath has no good evidence base and is nonsensical magical thinking. Advertising laws regarding homeopathy are exactly the same as for any other product.
Particularly delightful in their response is their answer to the clearly loaded question, "Are advertising regulations fair for CAM?",
The draconian and inconsistent regulations imposed on CAM practitioners seriously impede patient choice and all the benefits alternative medicine provides. These regulations are set by a private company, the Advertising Standards Authority, who have no mandate, no understanding of the issues and even less accountability. Their harassing and threatening of homeopaths in particular is based on poorly researched evidence and an interpretation of their guidelines that amounts to a breach of the practitioners' and patients' human rights to to treat and be treated.
The ASA is a bugbear of both homeopaths and Tredinnick. They appear to believe that the standards applied to all other sectors of advertising should not apply to them. Their views of the ASA are paranoid and conspiratorial. – mainly because the ASA has been very strict on not allowing health claims to be made for their sugar pills that cannot be supported by evidence. In other words, the ASA have been doing their job well.
This inquiry is something of a mystery. No mention of it can be found on the House of Commons web site. This is most unusual for a Committee inquiry as the public is typically invited for submissions. It looks as if a few select pro-quackery organisations have been asked to contribute. And the questions have been formulated in a way to give the answers Tredinnick wants. This is not a far reaching and balanced inquiry into CAM use in the UK – it is a lobbying exercise orchestrated by Tredinnick himself.
Another clear example of how Tredinnick essentially uses this Commons committee as a coordinating vehicle for lobbying can be seen through another consultation on whether homeopathic products should continue to be available through NHS prescriptions. This consultation was as a result of the Good Thinking Society threatening take the government to court over their  refusal to add homeopathic products to the NHS's "schedule 1" blacklist. This then, at least, is a real consultation.
We can see that the homeopaths coordinated their effort to respond though the Homeopathy PR and lobbying organisation 4Homeopathy. Web pages were set up making it easy for homeopathy 'patients' and homeopaths to respond with template postcards and letters. The template letter is designed so that constituents can ask their MP to ask the Secretary of Health questions about homeopathy such as, "How much does the Government estimate will be the net gain to the taxpayer from banning homeopathic prescriptions and giving patients a different treatment option?"
The Word template letter contains interesting meta-data though.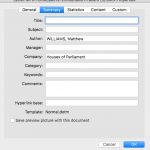 The owner and presumably writer of the template letter the homeopaths were using was a Matthew Williams, at the House of Commons. Williams is listed as a Research Assistant to David Tredinnick in the House of Commons. A biography of him, when he stood for election in Newport West, says he is Manager of the Parliamentary Group for Integrated Healthcare. It would appear that yet again Tredinnick and his team are using their position to coordinate lobbying efforts on behalf of the businesses of homeopaths and their sugar pill makers to sell more into the NHS. They are not scrutinising CAM – but lobbying for it.
It is difficult to see how in any way the people of Bosworth are best served by electing this obsessed man to represent them. He appears to spend the majority of his time lobbying actively for the interests of a pseudoscientific health cult and their associated  businesses that sell into the NHS. In a sane electoral system, Tredinnick would not stand a chance, but with our tribal, first-past-the-post system it looks as if Tredennick will be free to carry on representing the interests of quackery in Parliament for many years yet.