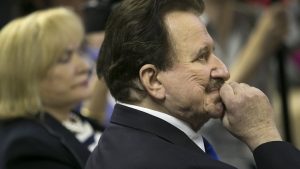 It is not possible to imagine the distress that the Sitkowska family must find themselves in as their child, Cristiano, has an aggressive tumor and they have been told there is no more that can be done to save his life. I look at my own children and imagine how hard I would fight to do something to change the situation.
Cristiano has been through treatment ordeals and it has not worked. The family though is now raising funds to send "him for pioneering medical treatment in America."
Except this is not 'pioneering treatment'. It is decades old quackery that has scammed hundreds of people out of millions of pounds. The doctor promising to treat Cristiano has been the subject of investigations and disciplinary proceedings. He was the subject of a BBC Panorama investigation and, more recently, the Texas Medial Board have put him on probabtion and fined him for his activities.
The board said,
The violations as detailed in the order, and supported by the judges' findings, show a pattern of misleading patients at the Burzynski Clinic. These misrepresentations can lead to direct harm to the public if left unchecked. In total there were over 130 violations cited.
The family are trying to raise hundreds of thousands of pounds through GoFundMe. Burzynski likes to take huge sum of money for his urine-based treatments. And no doubt, families are also supplied with services telling them how to raise this money. The local newspaper, the Huddersfield Daily Examiner have made a front-page splash and appeal for funds without the slightest examination of whether this might be in the best interest for the child.
Burzynski was the subject of this blog six years ago after similar appeals. His henchmen threatened me and other bloggers. Burzynski lives a life of luxury founded on a model of encouraging desperate families to raised hundreds of thousands of pounds through newspaper pills and then gives them worthless treatments that often extend suffering. There is no evidence that Burzynski is in possession of any novel and innovative form of treatment worth considering.
We need to repeat the same old arguments that this scam is only made possible by lazy journalism that prefers to print and broadcast 'tragic appeals of hope' rather than confront the brutal ugliness of an industry that preys on the most vulnerable, tragic and desperate in our society – a vicious industry of false hope. The tired old tropes of an NHS that will not fund such 'pioneering' treatments are trotted out. Only the 'entrepreneurial' United States can save the day. What has developed over the past five or six years is the sophistication and success of fund raising sites like GoFundMe who profit from such appeals – keeping their cut of the charlatan's cash.
I hope the doctors involved with Cristiano's care are fully aware of what is going on and the appropriate social services can become fully engaged to ensure the best interests of the child's are met. False hope is the last robber. There may be little that can be done to change the course of this terrible situation. But there is much that can be done to ensure this family do not endure more pain and suffering inflicted by the hands of the soulless.