Once again, the bonkers story of how organ transplant patients aquire the behavioural characteristics of their donors has cropped up in the more gullible papers. So, i thought I would bump up this post.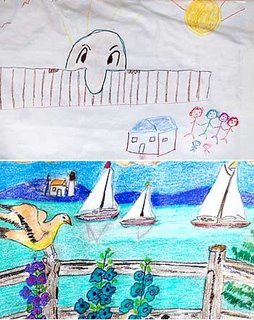 Here's a story from the Daily Mail. A man gains a miraculous ability to paint after receiving a heart transplant from an artist! Let's see what the quackometer makes of it…
0 quack points
Not too good then. Could this be real? Maybe some manual debunking is required after all.
What is being claimed here is that every cell in the body has some sort of 'soul' that can take 'memories' with it between donor and recipient – a sort of 21st Century Lamarkism.
So let's look at Mr Sheridan's new amazing ability to draw, before and after…
Well, looking at the pictures above, it appears that our patient has mastered the artistic skill of 'colouring in'. If you were particularly generous, you could say he even has got to the level where he stays within the lines. Hardly, the next Turner, Constable or even Damien Hurst. I was half expecting the report to say that after he left his hospital bed in a dishevelled state, it was derivative of the work of Tracy Emin.
Imagine the news story…
Art critics have been quick to dismiss heart-transplant patient, William Sheridan's, naïve art sketches of birds and boats, but after he has recently moved into installation pieces, the art-world has suddenly looked up. Said Dr Schwarz, "After Mr Sheridan left hospital, a Resident Consultant noticed he had left behind his greatest masterpiece yet."

Although highly derivative of the work of English artist, Tracy Emin, there is no way that Mr Sheridan could have produced such work before his heart transplant. Entitled "My Bed", the work is an installation consisting of rumpled sheets, lucozade bottles, discarded grape stalks, latex gloves and blood stained hospital gowns.

Jeannette Winterson said "This is the detritus of a life quintessentially his own; it was, above all, confessional."

Dr Schwarz commented that "this mise en scène was proof of every cells interconnectedness and that 'cellular memory' has been contextualised within an aesthetic of dirt and disgust." He added, 'We are just hoping that his next effort is not derivative of Emin's work "Every Part of Me's Bleeding".'

Charles Saatchi has denied rumours that he has expressed an
interest in buying the work.
Mmmm. A heart transplant patient. Extra time on his hands. Maybe a desire to try new things. I think that is all the explanation we require to explain our new art talent. So where did this story come from and why did the Mail publish it?

A little more digging reveals that Dr Schwartz is well known to quackbusters. Dr Gary Schwartz heads up the Veritas programme at the University of Arizona. Veritas "was created primarily to test the hypothesis that the consciousness (or identity) of a person survives physical death". Ahh! real life Ghostbusters.
I guess if you can 'prove' that your 'identity' can survive a heart transplant, then you are half-way to 'proving' that it could survive death. Well, in their minds perhaps. If this is the case, I am a little disappointed that the best-evidence so far for life after death is a hastily crayoned drawing of a seagull. (At least, I think it is a seagull.) I was hoping for better.
You can nominate Mr Sheridan for the Turner prize here.