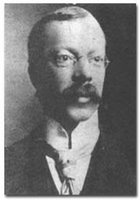 Hawley Harvey Crippen (1863-1910) was an American homeopath who was born to Andresee Skinner and Myron Augustus Crippen. He trained as a homeopath and joined a homeopathic pharmaceutical company.
In 1910, he emigrated with his second wife, Cora Turner , to England where he was unable to practice as a Doctor as the authorities would not recognise his credentials. Turner was a music hall singer who openly had affairs. The couple struggled by on a meagre income, until one day, his wife disappeared. Crippen told friends that she had returned to America and had later died there.
Subsequently, Crippen took a lover, Ethel Le Neve. However, a friend of Turner's, Vulcana the Strongwoman, had doubts about the whereabouts of Crippen's wife and alerted the police. The police searched Crippen's house but found nothing.
Shortly afterwards, Crippen and Le Neve, got on a steamer and headed back towards Canada. The police, suspicious of the sudden departure, searched the house four more times and found the partial remains of a woman under the brick floor of the basement. The police used a new fangled piece of technology called the 'wireless' to alert the steamer that they had a suspect murdered on board. On arrival in Canada, the pair were arrested and returned to England. Crippen said on his arrest "Thank God it's over. The suspense has been too great. I couldn't stand it any longer."
The trial uncovered many alarming facts, such as how the homeopath had severed the victim's head and thrown it off a ship in the English Channel in a handbag. Various other body parts had been burned and dissolved in acid.
Crippen was hanged in Pentonville Prison.
Thanks to Sue Young Homeopathy for format ideas. And a note to Dana Ullman – Maybe you can add this to the second volume of The Homeopathic Revolution: Why Famous People and Cultural Heroes Choose Homeopathy.