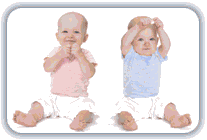 One of my repeated gripes is that the Daily Mail Health editorial policy is little more than to be a shill for quacks. Like most of the paper, you have to read it with deep suspicion. Here is the latest piece of questionable reporting on a new home pregnancy test that purports to tell you the sex on your baby only a few weeks into pregnancy.
The £189 mail-order kit works by testing a single drop of a pregnant woman's blood.

The home kit – being offered for sale online by DNA Worldwide – will give women the chance of finding out the sex of their baby regardless of their genetic history.

Mothers-to-be need only prick a finger to give a small blood sample. They then place this on a special filter paper and send it off to a lab for testing.
The Daily Mail is of course most worried that this will lead to a rise in abortions. What they ought to worried about is if the test works at all. Scams based on sex prediction have been around for a while. The thing to look for that might indicate that the test is a fake is to look and see if the company offers a money back guarantee if they get it the prediction wrong.
Why should that be? Surely this should give peace of mind? Exactly. This is how the scam works:
As the scammer, you do not need to do any test at all, or you can do any sort of unreliable test you like. Send back your result to the customer – boy or girl. This could be random or as a result of your dodgy test. If the test is right, you keep your fee. If the test is wrong, and the customer complains, send the money back. Even with a completely random prediction, you will get to keep at least half your money. At nearly £200 per test you will make over £100 per test, even if you are rubbish! The money-back scheme, far from providing peace of mind, lures you into the scam.
So, is DNA Worldwide one of these scammers or have they made a breakthrough?
Looking at their web site reveals they offer a MONEY BACK GUARANTEE!!!
They provide a reference to a published article in Science Journal no less. But on inspection, this is not a paper on this laboratory's results, but comment on this sort of test. Now, I do not have a subscription to the article, (and nor will most customers of DNA Worldwide) but the article has been cited by other scientists and the title of a paper by Bianchi is At-Home Fetal DNA Gender Testing: Caveat Emptor. This really says it all. Why would they provide evidence that their customers cannot access?
One article that we can get hold of, from the American Society of Reproductive Medicine, discusses this test in some detail. It notes that this sort of testing promises the scientific credibility of a DNA test, but without the published evidence to give us reassurance. The legal position of such testing may be in a grey area as the company claims this is not a 'medical test'. They may be right, being a boy or a girl is not a 'medical condition.'
Until such time that companies like these publish their success rates in independently reviewed journals, we should be very wary. Buyer Beware indeed.
---
UPDATE 5th May
Thanks to the kind reader who has allowed me to look at the Science article used as proof of the results for this lab. And as suspected, the article is not a paper but a discussion of the lack of good data to show how accurate home testing is and what a dodgy ethical minefield the whole thing is.
Now DNA Worldwide. I do not know if you are just one more quack laboratory or not. I was going to ask you to publish your data to show that you really are better than 99% accurate. But there is a much easier way for all of us to feel reassured that at least your tests are good.
Instead of offering a money back guarantee, like all the scammers in the past, offer ten times your fee back if you get the result wrong. It should not cost you much if you are as accurate as you claim you are. You will only loose money if you are less than 90% accurate. Resonable? A small price for real confidence in your result. But if you are not as good as you say you are, you will be out of business in 9 months.
What do you say?