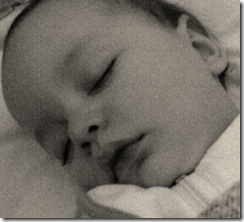 It has come to my attention that, this autumn, I will become a father for the second time. We have been very fortunate in that we are not spring chickens and achieving this feat has been quite straightforward. A near 100% hit rate.
For many couples, it is not so easy. Getting pregnant can take some time. Even if you are both healthy and you are managing to have regular sex, your chances of getting pregnant in any particular month are only about around 20%. According to the NHS Choices web site, this means that for every thousand couples, about 150 of them will not have been successful after a full year of trying.
Of course, it could be worse than that. Two people in busy careers, long commutes, social lives and so on, may find it hard to keep up the effort. And indeed, if you do have a genuine infertility problem, such as ovulation issues, low sperm counts, infections or being overweight, then conception can take much, much longer. Some couples simply have no explanation for their infertility.
Given these numbers, then there will always be a very large pool of people, who are probably quite healthy and fertile, who are becoming desperate that it is 'just not happening for them'. And other people who may have significant health issues that need sorting out. And it may well be quite difficult for any particular couple to know whether they are just being unlucky or need some medical advice and treatment.
Such a potent mix of high hopes and frustration, surrounding a problem that may well be self-correcting, provides a natural hunting ground for quacks to offer their wares and claim any subsequent success.
One such organisation that has come to my attention is the 30 year old charity called Foresight Preconception. A 'non profit' organisation, Foresight has a list of registered Foresight practitioners who "improve natural health in both parents" and so "enhance fertility and successful pregnancy".
On the face of it, there are some fairly sensible looking angles they take – looking at nutrition, cutting out alcohol and checking for genito-urinary infections. But scrape away ever so slightly and the approach that Foresight promotes starts to get worrying.
Let's look at some of those aspects.
Firstly, nutrition. The headline advice is to go for "filtered water, organic food, free from pesticides and additives." There is no good evidence that eating organic food helps with fertility. This sounds more like Sunday supplement advice rather than anything serious. But it gets worse. Instead of straightforward advice on eating a balanced diet, good food preparation tips and how to manage weight, we are presented with lists of foods to avoid, specialist foods to east (such as Alfalfa and Mung beans, Goat and sheep milk products), and a warning to look out for "individual allergies, food intolerances". This looks more like a classic nutritionists sales pitch rather than sensible eating advice, usually the prelude to selling vitamin pills. The tactic amongst nutritionists is to make diet look really hard and complicated – this softens people up for the shortcut pill purchases.
And my suspicions are raised further.
Foresight base much of what they do on Hair Mineral Analysis. They do this to look for trace element deficiencies and heavy metal contamination. However, Hair Mineral Analysis has been described as 'a cardinal sign of quackery'. I have previously gone into detail about why this technique is not useful for deciding if you need mineral and vitamin supplements. Indeed, HMA is used solely used as a sales tool, whether wittingly or not by practitioners. The results are not reproducible and reliable and there is no good way of interpreting results to allow people to decide if they need to take a supplement. Most people do not need supplements of this sort – but the practitioner's interpretation of the test will invariably say you do. (I note, for example, this one person in a forum is saying they were recommended supplements costing £130 per month.)
Foresight say that they have "been testing hair and giving supplement programmes to restore natural fertility and ensure successful reproduction for over 30 years" and that it is their "most vital component". There is no good scientific rational for why this might be so. Indeed, there are lots of good reasons to think this is nonsense and that couples will be buying lots of expensive "Foresight formulated" pills for no reason.
Hair Mineral Analysis is so popular because it looks really scientific.  Print outs of lots of data from computers and everything. Foresight say "it is an essential part of the Foresight philosophy that recommendations to clients are based on solid scientific evidence". Hair Mineral Analysis cannot provide that and it looks like they have been misled and are misleading their clients.
More worrying signs are they part of their programme is all about cutting out "Electromagnetic Pollution". We are told that 'electrosmog' can be "valid reason for headaches, dizziness, sleeplessness, fatigue, depression and we now know – ovarian failure and low sperm count."
There is no good reason to think this is true. Indeed, the idea that the electromagnetic radiation from domestic sources can be the source of such illnesses is the invention of a few characters who have built businesses from selling solutions to protect you from such 'dangers'. And indeed, they are advised by the usual suspects, including the high profile and doubtful Powerwatch.
Foresight say they will advise a 'geopathic survey' for your house. This is likely to be expensive – and completely useless as it is based on pure pseudo-science – it is a form of dowsing. Typical more 'solutions' are sold on the back of a meaningless report.
Where things start to get really alarming is on their advice on sexually transmitted diseases. Quite rightly, Foresight advise their couples to get tested. Where they go off the deep end is to advise them that a suitable treatment can be found in homeopathy. Homeopathic pills have ben so diluted that all that is left is the sugar pill. Treating infections with sugar pills is the same as leaving them untreated. And of course, it is worse than that because people may feel they have received treatment when they have not.
Foresight do say that antibiotics may be used. However, and this is a real worry, many of the Foresight practitioners are indeed homeopaths (e.g. see Rachael Leffman, member of the Society of Homeopaths, for her approach and costs.). Homeopaths believe that mainstream medicines, such as antibiotics,  can produce greater illness in people later on – they are likely, of course, to propose homeopathy as a treatment and so leave patients at risk and untreated. Such advice is not just counterproductive to Foresight's aims, it is deeply irresponsible.
There are many other worrying and dubious aspects of their approach. Not least is their homeopath fuelled rejection of vaccination. So, not only do they put their clients at risk, they advise their clients to be suspicious of treatments that could protect their child. Such are the risks of alternative medicine – it is not the treatments that are dangerous, it is the untreated illness and dangerous advice that pose risks.
But Foresight say they have lots of medical advisors to make sure they are doing things right. Looking at the list of their advisors, it becomes quite apparent that the advisors live on the fringes of medicine. We see homeopaths such as Dr. Anne Wynne-Simmons (who trained at the Royal London Homeopathic Hospital) and Dr Sheila Gibson (who used to work at the Glasgow Homeopathic Hospital) . We see 'ecological medicine' specialists such as Dr Stephen Brooke (who advises 'electosensitivity' support groups) and Dr Sarah Myhill (who was investigated by the GMC last year and had her ability to prescribe taken away).
Dr Jean Munro is also on the list. I have written about her private clinic and bizarre treatments on several occasions. Munro was the subject of an investigation by 'World in Action' in 1990 for "allegations of wrong diagnosis, useless treatment and a death following the failure of treatments."
There are some even odder characters too, such as Roy Riggs B.Sc who descibes himself as a "Holistic Geobiologist" and is "an "professional Earth Energy dowser". He guest lectures at the London Westminster University's School of Integrative Medicine and The Baltic Dowser's Association of Lithuania. (Do you see what company you keep, Westminster?)
Foresight are keen to present some evidence that they are successful, but from their figures it is impossible to tell how much of the 'success' is due to their intervention and how many pregnancies would have occurred anyway. As time is one of the best factors in achieving a successful conception, all Foresight may be doing is taking hundreds of pounds off people in the meantime and waiting for nature to take its course..
But some of their practices –such as unnecessarily complex dietary restrictions, obsessions with non-existent harms and, useless treatments for significant problems, might actually be making it much harder for couples to have a baby. Just because something sounds natural and good and someone is paying attention to you does not mean that the result will be good.
For that reason, I would suggest couples are very cautious before approaching a Foresight practitioner and go and have a talk with their GP instead. To begin with, your doctor might not do much and simply advise you to keep trying whilst cutting down on alcohol, taking a folic acid supplement and eating well, but that might indeed be the best advice you can have.