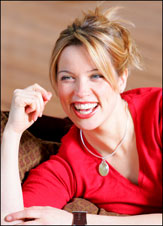 Amanda Hamilton, the Queen of Detox, is the emerging, good looking face of daytime, lifestyle, detox TV. She is a self described homeopath and expert in nutritional therapy, iridology, yoga and Ayurveda. If we were playing quack bingo, I would be shouting 'house!' Amanda has appeared regularly on the BBC, GMTV and UKTV, runs a number of detox spas in Spain and Turkey, writes books and sells home detox kits.
And now, she starts a new TV series on UKTV. Entitled The Spa of Embarrassing Illnesses, the show will take a group of people off to Amanda's Spanish Detox Spa and,
detoxify, rejuvenate and deal with the root cause of their ailments, rather than simply masking them with quick and easy remedies.
Each will receive a specially tailored programme that Amanda and her team of specialists, who range from homoeopathists to a yoga guru, have created for them. These individual plans will combine nutrition, therapy, detox, meditation, counselling yoga and massage together with specialist therapies as and when required.
What is going on here? Why is TV about people with psoriasis going on holiday to Spain such compelling viewing to so many? And more generally, what is it about detox that allows Amanda to carve out a lucrative and glamorous business empire and spearhead an industry based around the detox myth?
But first, let's get that myth out of the way. All this talk of ridding your body of accumulated toxins is nonsense. The human body is a remarkable machine that has evolved a large number of perfectly good mechanisms for getting rid of waste and unwanted substances. The thought that a few pills, a lie down and some fruit juice make much difference is rubbish. Professor John Henry, Clinical Toxicologist at St Mary's Hospital, London says,
If you party to excess it is more than likely that you won't be feeling your best. The cure? A good night's sleep, your normal diet and plenty of water. Immoderation can only be repaid by moderation. Special detox diets and products are not going to do anything to hasten this process. Chemical scientists get fed up with debunking all these detox claims.
Catherine Collins, Chief Dietician at St George's Hospital Medical School says,
The concept of 'detox' is a marketing myth rather than a physiological entity. The idea that an avalanche of vitamins, minerals, and laxatives taken over a 2 to 7 day period can have a long-lasting benefit for the body is also a marketing myth.
You can see more quotes on the Sense About Science web site. I don't want to go into this further: it has been written about at huge length. The Quackometer Search Engine will provide a good reading list.
Now popping off to a nice spa somewhere exotic may well indeed be what it takes to rest and feel better about yourself. It's what doctors technically call 'taking a holiday'. What's more, is that if you have an 'embarrassing illness', the associated relaxation of a break and the undoubted improvement in regular sleep and meals may well help to see some improvement in your condition. So there is no surprise that people report benefits from such spas. These detox holidays are no more than was practiced by the likes of Dr James Gully on Charles Darwin as we saw in my recent post. A break away from work in the spa town of Malvern enabled Charles, in the modern vernacular, to re-charge his batteries. What is questionable is whether you have to pay for actual detox or whether a renting a villa with a pool with some friends would be just as good but for a third of the price. You might even be able to indulge in the odd glass of vino without too much undue effect.
Maybe Amanda is just talking about 'detox' in some sort of metaphorical sense? Maybe all these talk of toxins is just a poetic way of describing a healthy rest? You might be able to swallow that but Amanda does not talk like it is a metaphor. She really appears to believe that our bodies accumulate toxins that only magic herbs and enemas can sort out. The proof that she is not talking metaphorically is that she sells 'home detox kits'. These consist of a set of useless pills to provide 'colon support', 'detox support', 'priobiotic support' and the 'assimilation of toxins'(?) – plus (I kid you not) a scrubbing brush. It all sounds rather Victorian and it is just plain old fashioned quackery, despite the claims that this is "cutting edge techniques and technical knowledge [that] has been the talk of the industry". This little kit will set you back nearly a hundred quid for fortnight's worth of pills. (What is odd is that a week's supply only costs £40.)
So, back to the question – what is going on here and why is detox so popular and such compelling TV? It strikes me that in out post-religious world, where we no longer believe in hell and sins and the authority of priests, that toxins are the new wages of 'sin', and they build up through our consumerist hedonism and hectic 'lifestyles'. Detox is our penance for our toxic sins and enemas and restricted diets are our contrition. Amanda Hamilton is not the 'Queen of Detox' but the 'High Priestess of Detox' and she sells us indulgences to cleanse us of our ills. The Spa of Embarrassing Illnesses is our modern day Pardoner's Tale. And just as Chaucer's medieval priest preached against greed and excess whilst pocketing money extorted from his penitents by selling fake relics, we see today's priests of detox selling expensive but worthless pills and extolling the benefits of flagellation with a scrubbing brush. The sins of our everyday life can be magically transformed away with the right incantations and trinkets.
And this is what I find most objectionable about this high profile TV detox machine. It is trading in blatant falsehoods. Despite Amanda's claim that her detox regime deals 'with the root cause of their ailments, rather than simply masking them with quick and easy remedies', the exact opposite is true. Detox is a token penance and a quick escape from reality. The underlying stresses, illnesses and dissatisfaction are still there. Just as buying a saintly relic was a shortcut to absolution, so there there is a strong, alluring belief that paying for a detox indulgence will give us a quick consumerist answer to life's complex problems. And Amanda Hamilton trades off that wishful thinking.
The Medieval Pardoners were venal hypocrites. But somehow I get the impression that Amanda really does appear to believe in what she does. Nonetheless, our televisions and magazines wallow in these dark age myths. Professor David Colquhoun wrote in the Guardian recently about the encroaching 'endarkenment'. Amanda Hamilton is one of the temple elite of the new age – dark age ignorance. And I find it embarrassing.