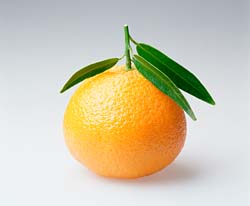 You may have noticed on several news sites yesterday that Tangerine peel 'kills cancer' as reported by the BBC, the Sun, Sky News and others. Apparently, the
British Pharmaceutical Conference (BPC) in Manchester has been shown results by a Dr Hoon Tan of the Leicester School of Pharmacy (de Montfort University) that eating fruit peel might kill cancer cells in your body.
The Quackometer was jumpy. We have seen how Leicester researchers have previously been using the media to promote their food supplement products through a privately set up company, Natures Defence. The Quackometer line has been that creating a company producing food supplements where there is no evidence that they will have any effect on people taking the pills is just quackery. And it is quackery apparently supported by the staff of de Montfort University.
So, does this press release contain the long awaited evidence that we should be popping a salvestrol pill? Er, no. The press release just creates a variation on the spin on the salvestrol story. This story has been that salvestrols are vital to stop or kill cancer in your body and you can never eat enough. This press release tells us that tangerine peel contains the right amount, but who in their right mind is going to eat lots of peel? Better pop some pills. There is no announcement of any peer reviewed papers that are to be published. There is no detail whatsoever of where we can find out more about the evidence that Dr Tan supposedly has. However, there is an announcement that:
The researchers have formed a private company, Nature's Defence Investments, to protect and promote their research, with the potential of designing a natural anti-cancer alternative based on this new technology.
Forgive me for being old fashioned, but I though Universities were there to provide environments for academics to freely research and discover new truths, publish their results and teach the next generation of future researchers and students. Not allow their employees to set up private companies to exploit unpublished hunches by selling quack nutrition pills.
This press release from the BPC is not trying to inform the world about the latest research going on in our Universities, it is a private company advertisement. And the good boys and girls of the press, such as Emma Morton of the Sun, have published this advert for free. Now, all the subsidiary companies of Natures Defense (Fruit Force, Salvestrol), and other nutri-pill stores selling salvestrols, have nice endorsements and news stories from the BBC to say how good their products are.
We should not be too surprised. Universities are dumbing down to get the funding and students in. Leiceter School of Pharmacy was recently investigated for passing MPharm students who did not reach the required standards of the Royal Pharmaceutical Society. Could these events be linked?