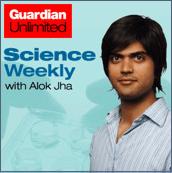 Put down your sweaty iPod Touch and slide your fingers over the downy back of the Quackometer as it makes its debut in the funky new world of podcasting.
Yes, I am the guest this week on the Guardian Science Weekly Podcast, and we discuss the language of quackery. My warm-up and support act is some Canadian academic chappie by the name of Steven Pinker. He sounds quite clever but swears a lot. If he can clean up his potty mouth then he might go far.
So, we discuss the birth of the Quackometer and why quacks feel the need to appropriate the language of science (and especially physics), the merits of organic food, and the magic watergate scandal. There is some minstrel at the end who sings about evolution, talk of elephants on acid, foul-mouthed mammals, and a serious bit about abortion. All good clean fun – well, it would be, if it wasn't for that Pinker bloke who, I think, rather lowered the tone. I doubt they will invite him back. Don't let your grannie get hold of your iPod and hear him. She will definatelty drop a stitch.
So, being a shy duck, I haven't listened to it yet. I hope they have cut out the bit where I ask, "So, how often does Science Weekly go out then?" If I have done OK, then they may be inviting me back for some more quackery podcast fun.
To listen,
If you have iTunes then click here.
Directly from your PC, click here.
If you are too cool for words, then go to the Science Weekly facebook page and give us all a poke.
Go to the Guardian Science Weekly page to read about the show here. Leave all you abusive feedback there please. Praise you can leave here.
Next week on Science Weekly: why is it always the blokes with big hair that get their photos used to illustrate podcasts?