The Daily Mail have re-printed the Guardian's homeopathic spat between Jeanette Winterson and Ben Goldacre. Both articles (trimmed down) are now head-to-head.
But not all is at it seams. I have done some photo analysis on the pictures on that page and uncovered a disturbing truth. Look at the picture below. After some photo manipulation I have been able to reveal this…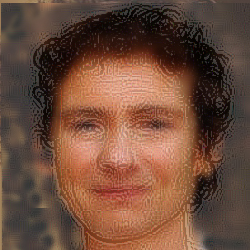 Look at the picture close up. Who do you see? Now get out of your chair and look again from ten feet away.
Proof that this is a Big Pharma stitch up by getting novelist to defend homeopathy and make it look silly. Or was Goldacre behind the whole thing? Is Jeanette Winterson for real? Who can we trust? Is Jeanette Ben's nom-de-Friday-night after a hectic week at the hospital and delivery of his Bad Science copy?