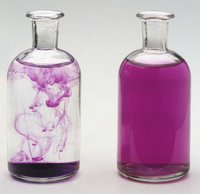 Homeopaths claim that their pills can induce predictable and distinct sets of symptoms in healthy people. That is how they prove their powerful medicine. This is basic stuff for homeopaths and my simple test asks them to prove it because I do not believe it for a minute. If this claim is not true then everything else they say falls apart. So, far no-one has the courage to come forward.
But I want to extend my offer. I have given homeopaths almost complete freedom in how they do this test. The only real basics I ask for is that the test is verifiably blinded and they do the test publicly, that is, say what they are doing in advance. I do not need to be involved.
Homeopaths are claiming that us sceptics are behind the times and there is now research from material scientists that show that homeopathic preparations are different from normal diluted solutions. I do no believe this too. I think the experiments so far can be explained by bad experimental design: either contamination or instrumentation problems. No chemist can reliably show how homeopathic water is different from ordinary water.
So, the extended challenge: exactly the same as before; any six remedies; some third party swaps the labels around; tell us which remedy is which when the labels are not on the bottle. You can use any experimental equipment you like, any conditions you like – you just have to be blinded. Simple.
As this is analytical chemistry, I think I would one further condition over the original challenge. The remedies must be 12C, or more potent. The claims of homeopaths are that post-Avogadro dilutions are recognisable.
Let's see it.
Any homeopathic friendly chemists want to do this? Your chance to punch this smart alec sceptic on the nose.