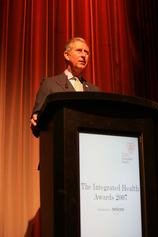 It has not been a good few weeks to be a supporter of alternative medicine. We have seen reports that GP prescriptions of homeopathic remedies are in terminal collapse. A Nutritional therapist has had to get their insurers to fork out hundreds of thousands of pounds after a patient was left brain damaged. And of course, genocidal maniacs appear to be able to shift their talents quite easily into becoming homeopaths and live unnoticed for years.
In the Guardian, Rose Shapiro described how this was the week when "alternative medicine finally gets the reputation it deserves and is seen for what it is – a massive social and intellectual fraud". Not to be disheartened, the Prince of Wales is announcing large cash prizes for quacks that do well in infiltrating mainstream medicine. Or, in his words,
[The] prestigious Integrated Health Awards shine a spotlight on outstanding examples of how integrated health can make a real difference to people's lives. Where treatment is offered they should draw on the best that mainstream medical science and complementary approaches have to offer in order to prevent illness and treat the whole person.
A Judges' Special Award is going to be made for "the project that in some way stands out from all the rest as a great example of integrated health." The prize money of £2,500 to each region is generously being provided by ConvaTec who make things like 'faecal incontinence management systems', which I thought was nicely ironic for an award for people who cannot stop spouting shit.
ConvaTec specialise mainly in 'wound care'. They are a subsidiary of Bristol-Myers Squibb; about as Big Pharma as you can get. BMS is as guilty of all sorts of dodgy commercial practices as any other Big Pharma company, including anti-competitive obstructive measures to stop the development of competitive generic versions of its cancer drugs.
I cannot wait for the results. Who in the alternative medicine world, is going to be prepared to accept the Big Pharma money? Will the homeopaths take the allopathic penny? Will the Reiki healers withstand the bad vibrations from the cheque? What a hoot.