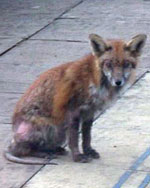 This morning on Vanessa Feltz's BBC Radio London show, the discussion was about London's urban foxes. Nothing is more likely to split opinions in the UK. For city dwellers, foxes are a common sight for early rising suburban commuters, occasionally upturning bins, but mostly tolerated and even enjoyed. For us country folk, they are vermin. They need to be destroyed along with rats, rabbits, otters, red kites, swans and unwanted litters of kittens.
One caller phoned into the radio show to warn listeners about the destructive nature of urban foxes. In particular, she was worried about foxes with mange. This is a rather distressing disease, where mites infest a fox causing severe itching, open wounds, fur loss and eventually death. The mites can be transferred to domestic dogs, and even humans, causing scabies. In the olden days, the only way to treat mange in foxes was with lead therapy. Nowadays, common urban sensitivities mean that many people try to treat them with medicine, and not with shotguns.
The next caller talked about how the National Fox Welfare Society will send out free treatments to people who spot foxes with mange in their gardens. The only problem is that the Fox Society appear to believe that homeopathic treatment is the way to deal with this.
The National Fox Welfare Society is monomaniacal about mange in foxes. This is their reason for being. They want you to report the poor foxes and then they will send you their special medicine. The NFWS is quite clear that it does not want to use real medicine on foxes. There may well be good reasons for this. The standard treatment for mange is Ivermectin. It is not licensed, however, for canids. It can also be dangerous for some species of dogs, apparently.
What the NFWS uses is homeopathic remedies. As with Derbyshire Fox Rescue, they recommend Arsenicum Alb and Sulphur 30C, a homoeopathic treatment for Sarcoptic Mange. Details at the delightfully named http://www.mange.org.uk/. What we are seeing is a difficult and distressing problem, with non-perfect medical treatments, being solved with magical thinking.
Vanessa Feltz did not challenge the caller about their magical homeopathic cure. I still believe most people do not know just how ridiculous homeopathy is. The belief is that it is herbal. It is not – it is witchcraft. And helping distressed foxes with witchcraft is not going to help.
The NFWS is quite clear though. 99% of cases can be cured with homeopathy:
The mange treatment we send out, through questioning people who have used it, letters back etc, we have found it to work in almost 99% of the cases where foxes have had up to or less than 50% hair loss. We have even had great results with foxes suffering over and above this amount of hair loss, although the results are greater in the former. Please help us by reporting back your results. If for whatever reason the treatment doesn't seem to be improving the foxes condition please let us know
They then provide a handy web form to provide feedback. Tick the box that applies to you. Homeopathy works for me – and my foxes.
Of course, this is hardly proof. The BBC provide a web site on mange in foxes. They report that moulting foxes are often mistaken for mangy foxes. Obviously, a couple of weeks later, the fox is going to be looking better, if it was just moulting. People will of course not know if the healthy fox they see now is the same as the ill one they saw earlier. 99% is pushing it, even for homeopathic claims.
It is all rather distressing that people believe they can treat sick animals with magical fairy water. What people ought to be doing is contacting a local vet, or a animal rescue charity, so that real medicine can be applied – and that is if anything can be done at all.
But what is most shocking is the depth this homeopathic myth has penetrated. Even the BBC fox mange site tells us,
Possible treatments
The conventional treatment is Ivermectin, either injected or given orally. But no product is approved for use with canids – the products used on foxes are designed for farmstock. The other approach is a homeopathic treatment consisting of sulphur and arsenicum. This requires no veterinary approval and there are fewer risks to pets when you treat foxes in your garden. Severely affected foxes are taken into captivity for treatment.
At least they go on to say that "Nor is there any firm evidence that either treatment really works."
I, for one, am very happy that homeopaths appear to want to spend more time publicising what they are and what they do. I do not think they are aware that the biggest threat to homeopathy is that people find out the true nature of it and the magical thinking required for belief. Until more people are aware, like our radio presenter above, delusional healing beliefs will undoubtedly lead to more suffering for urban vermin, I mean, wildlife.