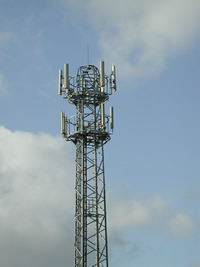 Yes, a deliberately provocative title for this blog entry. The distressing and puzzling illness of anorexia is very real. We see people convinced that their body is repulsive and overweight and they diet their way into oblivion. We feel helpless in the face of the strength of their conviction that something is wrong with their bodies. From the outside of the illness, it is clear that their beliefs are an integral and delusional part of the illness. If someone was to exploit the illness by selling diet pills, slimming aids or by setting up pro-anorexia web sites, we would be naturally alarmed, concerned and condemning.
Now, electrosensitivity, the belief that radio waves are harming your health, looks like it is also one of these rather strange illnesses that may well start in the brain. If it does not start in the brain, then it shows how many symptoms from various illnesses can be greatly affected by your beliefs about the causes of those illnesses. The placebo and nocebo effects work solely on this principle. The people who describe themselves as electrosensitive obviously suffer from quite debilitating symptoms and their lives are quite devastated by their illness, whatever the cause. However, the best evidence to date suggests that the symptoms have little to do with the real presence of radio-waves, but only by the belief that radio-waves are causing their symptoms. Multiple, repeated studies show this to be true.
With anorexics, the obviousness of their central delusion is plain for all to see. With electrosensitives, a little more thought and experiment is required. After all, many of us suffer from debilitating symptoms from invisible influences in our environments. Ask a hay fever sufferer what it is like to be struck down by your next door neighbour mowing their lawn. But, there are good reasons to believe that radio-waves just cannot cause anything like the symptoms described. Even the advocates of electrosensitivity admit that the energies involved are just too small for direct effects, and so have to rely on 'subtle' and very controversial alternative mechanisms from 'pulsed' radio emitters. There is scant evidence so far that such emissions are harmful to humans.
Meanwhile, the media friendly story that normal domestic appliances are harming us is giving quacks a whole new marketing opportunity. There is a rising exploitation of this condition in the media, as it sells good copy. The quackometer news analysis project was started after a batty story in the Independent on Sunday a year ago. The last fortnight has seen a crescendo of noise with the derisory Panorama on the BBC. But the Independent has now just about topped it.
A story today tells how electrosensitivity sufferer, and Independent reporter, Julia Stephenson, has had her symptoms diagnosed and treated by a range of quacks. It reads like a spoof, but the story is deadly serious. Whatever Julia is suffering from, the result is a terrible story of exploitation by a range of quacks and charlatans. We ought to be alarmed and appalled. The editors of the Independent ought to be ashamed of themselves.
Julia was diagnosed by a naturopath, and has subsequently been sold a whole load of quack junk to 'help' the condition. The Independent tells us that "many doctors are now convinced that this powerful technology is storing up huge problems for our future health." However, the only doctor quoted in the article is a Dr Nicole de Canha.
Unfortunately, it appears that Dr Canha is not a medical doctor, as you might expect, but has a 'PhD' in Homoeopathy. Now, I am not aware of any accredited university in the UK that would have the cheek to offer such an award. (I am sure we shall find out where that came from in due course). It would appear from her list of qualifications that she is a fully paid up quack and her score of 5 Canards is probably an underestimate. This is not the sort of person you would want to diagnose a rather new and difficult new illness, let alone be a quoted authority on such matters.
The Independent article gets worse in that it pretty much endorses the fraudulent qlink pendant and introduces us to new and emerging quack products. Worst, is the advertisement for www.subtlefieldtechnologies.com, a company that sells wall warts that supposedly cancel out all the bad EMF in your room. There is no physical way these devices could help human health and no evidence that they do. What a big boost they have got from the newspaper! The subtle field technologies devices are made by a Gary Johnson who calls himself an engineer and a homeopath. His web page also says he is an acupuncturist. The boxes claim to be,
programmed harmonising units that produce a holograph field, that is amplified through an internal aerial system. This protection field protects the human system from the negative effects of electro magnetic radiation/pulsed transmissions/EMF's emanating from man made, or natural sources.
This is of course nonsense. The boxes look more like Maplins hobby electronics boxes with some stickers on. Somehow, this homeopathist has created a whole new world of holographic electronics.
Organisations to help anorexics exist and do good work. Electrosensitives also have their 'support' organisations too, like Powerwatch and Electrosensitives-UK. However, these organisations vehemently deny the possibility of the illness being unphysical in nature. Protecting their supporters and members from quacks ought to be top priority. If they care about getting their members better, they ought to be giving clear and unequivocal advice to avoid quack product manufacturers to help them from being exploited in their time of need.
Do we hear such a cry? Will the Independent story and the products it recommends be condemned by such campaigners as Rod of ES-UK? I'm not holding my breath.