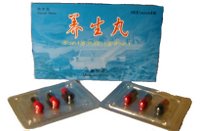 Chinese Herbal Medicine could be seen as the acceptable side of alternative medicine. It does not suffer from the utter implausibility of homeopathy, nor does it appear to rely on supernatural mechanisms such as with Reiki. Indeed, herbal medicine appears to be nothing but a primitive form of pharmacology with the practitioner diagnosing disease and then prescribing the right chemicals: the Chinese method is through herbs; the 'western' method through tablets (which may well be derived from plant sources.) I fear though that this perception might be very far from the truth with levels of fraud and dishonesty well above what is seen in other forms of CAM.
Today, the Medicines and Healthcare products Regulatory Agency, the MHRA, issued a
warning
against a Chinese Herbal product called 'Jia Yi Jian', and sold as 'Herbal Viagra', through high street Chinese Herbalists. Batches of this product had been seized and examined and they were found to contain exceedingly high levels of undeclared pharmaceutical ingredients. Despite being labelled as being only herbal in origin, the product had actually been adulterated with large quantities of real drugs that were licensed for treating erectile dysfunction and, strangely, obesity.
Now, most alternative medicine is largely inert and has no specific effects. For example, homeopathy pills are just plain sugar pills and chiropractic is just a rough massage. Alternative medicine, if it has an effect, just generates a placebo response or waits for the complaint to get better on its own. For this reason, most alternative medicine likes to 'treat' self-limiting conditions, diseases that are cyclical, or made up conditions that need 'detoxing'. However, when you claim to treat a disorder with an obvious, err, end point, such as erectile dysfunction then it is going to be pretty obvious if your potions fails to, what can I say, produce the magic.
It then makes perfect sense why the 'herbal viagra' was adulterated with tadalafil, but at many times the recommended dosage. This level of unprescribed drug might well have serious health implications. An
MHRA spokesperson
said,
The pharmaceuticals are deliberately included to make it work. People think they are getting something completely herbal but it contains up to four times the dose of pharmaceuticals found in legally prescribed medicinal products. Often, such marketing claims about the supposed natural ingredients in these unlicensed products are simply an attempt to divert the consumer's attention away from very low manufacturing and ethical standards.
It might be tempting to dismiss this as an exceptional case where the herbal product required adulteration in order for it to rise to the occasion. However, some independent research has been done into measuring the levels and frequency of adulteration in herbal medicines and the results are rather startling. Bandolier, the Oxford evidence based healthcare information journal, reports that a literature survey would suggest that adulteration was widespread and that "Chinese herbal medicines may work because of the adulterants." Surveys reported conflicting levels of adulteration, from US reports of 7% to reports showing nearly all samples containing adulterants. Bandolier conclude that  "in the absence of better information, we should assume that Chinese medicines are adulterated." A review by Edzard Ernst concluded, "that adulteration of CHMs [Chinese herbal medicines] with synthetic drugs is a potentially serious problem which needs to be addressed by adequate regulatory measures."
Alarming stuff. And of course, if your are lucky enough to have got from your Chinese herbalist some unadulterated herbs, then you are still left with the problem that you are about to take an unquantified amount of probably pharmacological active ingredient, mixed in with many other compounds that may or not be good for you, in a way that has not been tested for safety or efficacy and without any recourse should the herb not work or even harm you. And at the same time, your condition and herb taking is not being monitored by a qualified health worker.
Fraud in Chinese Medicine does not appear to be restricted to herbalism. It is not just adulteration that distorts our view of Chinese Medicine. Claims of efficacy can also be subject to fraud. One interesting review is by Kevin W Chen, Ph.D., M.P.H. of the University of Medicine and Dentistry of New Jersey. The review is into a branch of TCM called QiGong. Qi is the mysterious life-force that binds together so much of so called Traditional Chinese Medicine. QiGong was really invented in the last fifty years, but it has spawned a lot of research in China. Despite Kevin Chen being a True Believer, his review is interesting because it paints a fascinating picture of the nature of research in China into TCM. 
The review (An Analytic Review of Studies on Measuring Effects of External Qi in China) describes the various methods used to research Qi. However, the author notes that there are few randomised controlled studies and the field does not tend to replicate any results. As you might expect, there is complete publication bias with no negative results being considered worthy of publication.  Thus, any spurious results stand without independent confirmation. The reasons for this are interesting. Chen describes the "deliberate deception by qigong healers and in the research conducted by special interest groups that are determined to find positive outcomes". There is a complete lack of discussion of "potential covariates that may affect the results": positive results are assumed to be due to Qi.
Rivalry between different research teams drove bias,
Few double-blind randomization methods were used in these exploratory studies, which may greatly discount the results or conclusions, because experimenter effect and measurement bias might all become part of the observed results, especially when the specific qigong schools sponsored the research and tried to prove their own styles of qigong to be most effective.
Ten years ago, a review by Vickers et al looked at the question "Do Certain Countries Produce Only Positive Results? A Systematic Review of Controlled Trials". They looked specifically at thousands of acupuncture trials and noted that "No trial published in China or Russia/USSR found a test treatment to be ineffective." Even in England, "75% gave the test treatment as superior to control." Not publishing negative results massively distorts our view of the efficacy of treatments; it can make ineffective treatments look effective, and that is not good. Pharmaceutical companies are guilty of publication bias too, but not on the scale of Chinese researchers.
Tang, Zhan and Ernst (1999) wrote a paper on "Review of randomised controlled trials of traditional Chinese medicine". They saw a list of similar problems over all TCM. They concluded that "the quality of trials of traditional Chinese medicine must be improved urgently."
Misleading people about acupuncture has a long history. Since, the first diplomatic contacts with communist China with Nixon, reports emerged of major operations being undertaken with acupuncture being used as an anaesthetic. What was not reported was the massive levels of patient sedation and local anaesthetic. Even the BBC were fooled and, in turn, fooled their audience when Kathy Sykes broadcast her programme, Alternative Medicine, that claimed to show that "acupuncture was used instead of a general anaesthetic during open heart surgery in China". After a complaint and an appeal to the BBC, it finally admitted that it had misled the audience over acupuncture.
Why should Chinese Medicine be associated with so much fraud? I find this alarming. For the best part, I believe that most people working in alternative medicine are simply naive and deluded, and only harm people through omission and a negligence in not doing enough due diligence over their own beliefs. The examples I report here go somewhat further than this. China, being a nationalistic and totalitarian regime, will not produce the strongest incentives to produce honest and open research and industrial methods. Accountability will be low and  the rewards for producing 'success' high. Examining the research and claims of Chinese medicine in the UK is naturally made more difficult by language.
But what is more alarming is that there are signs we are approaching the regulation of much of Chinese Alternative Medicine in the belief that we simply need to uphold standards of training and ensure that traders are of 'good character'. This will do little to stop adulterated products arriving in the UK or false and misleading claims being made by practitioners. Even unadulterated products present significant risks to customers. At the heart of the regulatory problem is a double standard. Real medicine is tightly regulated. Only a few qualified people can prescribe and dispense. There are professional regulators with teeth and drug companies are not allowed to advertise to the public and make misleading claims in their literature. Somehow, we allow herbalists to imply all sorts of unproven claims. They do not have to provide proof of efficacy or safety. There is no follow up and monitoring of side effects. We do this under the mistaken belief that Chinese Medicine is "traditional, natural and safe". None of this is true. It is a business based on fraud, misleading claims and dangerous practices. I rarely say this sort of thing, but there is a strong case to be made to make the dispensing of herbal medicines illegal.