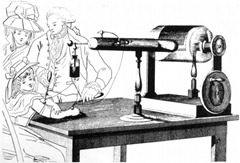 So, in a few weeks, Quackometer Manor will have a new arrival, and like all good middle class parents-to-be, we are currently attending compulsory NCT classes, to learn all the mystical secrets of giving birth and looking after a little one.
It's all a bit candles and crystals, and when we are not sat on the floor with the tips of our tongues sticking out, using crayons to express our feelings about various aspects of parenthood, we occasionally discuss facts.
At our last meeting, we were given a task. Go away and each couple should research and summarise one of the pain relief options available to women. Epidurals, gas and air, etc.
We were given TENS machines.
Oh joy.
Here is what we found out. TENS machines (Transcutaneous Electrical Nerve Stimulation) are small devices that deliver mild electrical shocks to the skin, which according to the Boots Maternity site, "stimulates your body's own natural defences against pain." The idea is that when contractions start you can attach the electrical pads to your body and the small shocks will either "block the pain signal travelling up the spine" or "promote the release of endorphins – your body's own natural pain killer".
The machines are quite expensive to buy, so Boots offer a handy rental service. For about £30, you can rent one for the four weeks around your due date, take it to the hospital, and often, the midwife will help you strap it on.
We are told:
Large reusable pads go each side of your spine in two positions to intercept the nerves carrying pain from all over the abdomen.

Boots Maternity TENS has different programs that you select with one button press to cope with the changing pattern of pain as labour progresses.

Press the built-in boost button to increase the effect during contractions
Boots claim that the TENS machine is "safe and easy to use, puts you in controls and offers significant reduction of pain."
Are these things true? Let's explore the origins of these devices and look at the evidence.
One of the first advocates of electrocution as a cure was an unlikely character: John Wesley, the founder of Methodism. His biggest selling book was not a religious text, but an 18th Century self-help book promoting natural cures for all illnesses. He believed physicians and apothecaries conspired to keep people ill with worthless and dangerous chemical medicines and saw nature as the source of remedies – available to all. In many ways, he offers us a prototype of the advocate of 'natural health', the modern day vitamin sales person and homeopath, convinced of their own findings and hostile to science.
Most of Wesley's cures consist of cold bathing and consuming turnips. But in a act of contradiction to his themes of naturalness and availability to the common man, he advocates the use of electrical devices to administer electrical shocks. All sorts of illnesses and complaints can be cured and alleviated by shocking. His list includes blindness, burns, deafness, fits, headache, lameness, leprosy, pains in the stomach, sciatica, toothache and ulcers. His instructions for using the electrical devices were to,
give fifty, or even hundred small shocks, each time; but let them be so gentle as not to terrify the patient in the least.
Over the next two centuries a huge industry would build up in quack electrical devices designed for personal and family use. Mass production in Victorian times allowed manufacturers to sell boxed electric shock machines to those who believed in electricity's curative properties.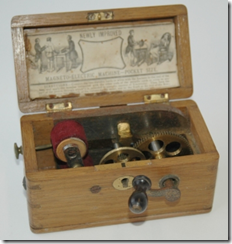 Thousands of these devices were made, often in very fine an elaborate wooden cases designed to impress. Some used rotating magnets and others batteries to produce a current capable of creating tingling in the skin. Quack doctors made extravagant claims about the healing properties of their devices.
These devices can still be bought on auction sites although prices can be quite high as there is strong demand from people who belong to something called the BDSM community.
And so to the modern day and such devices have been given a modern medical sounding name and are widely promoted and sold as pain relieving devices. But, just because their origins are in quackery and charlatanism does not mean that they might not be valuable. What is the evidence for these devices effectiveness?
The Cochrane Collaboration, a group of independent, volunteer researchers, has conducted a review of the available evidence. It is quite interesting reading. They looked over 19 reviews that considered the experiences of 1671 women giving birth. The results are pretty clear: women using TENS gave similar scores to their experienced level of pain as those in control groups – those not using TENS. This, to me, is quite surprising as, even if TENS were ineffective, it is hard to conduct fair trails as it is quite obvious if you are in the test or control groups. How do you administer placebo electric shocks? The failure to consistently show benefit would strongly suggest the TENS device was not creating a lower level of pain in women. The vast majority of women using TENS go on to use additional analgesic pain reduction methods.
The results are pretty clear: women using TENS gave similar scores to their experienced level of pain as those in control groups.
But, what is interesting is that "many women said they would be willing to use TENS again in a future labour". So, whilst TENS does not reduce experienced pain, it appears to create the illusion that it has.
This is fascinating stuff. Like so much quackery, the claims do not stand up to scrutiny and yet there may well be some side benefits that are rarely discussed. But is this side benefit of a sense of control over pain sufficient to recommend TENS? Obviously, people may not hand over hard cash if they know that all they are going to get is an illusory sense that pain has been reduced rather than a real one. Nonetheless, a feeling of control over what is happening may be important to many women.
One thing that is clear is that Boots are clearly misleading women when they state on their web site that TENS can offer "significant reduction of pain". But we have learned recently that Boots, and the pharmacists who work for them, cannot be trusted to provide clear and truthful statements of the effectiveness of their products.
Where I would stand is that a sense of empowerment over what happens to you during labour need not come from hiring expensive and worthless kit from a large pharmaceutical company like Boots. The NCT classes, to their credit, do discuss the various techniques that women find helpful, from breathing to relaxation methods, attention to position and roles of partners.
Whilst these methods may well too have large limitations, at least they are honest and claim little more than a sense of control. For that reason, I think we will be saving our £30 and spending it on some nice candles and crystals.