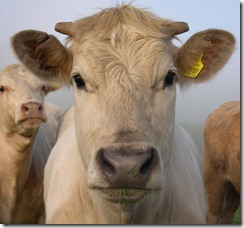 A new study has been published in The Journal of Dairy Research looking at if you can use homeopathy to treat mastitis in cattle.
The paper fails to demonstrate that you can. And as such, that is not a surprise. These cows will have been given water drops as if it is medicine: homeopathy is a superstitious hang-over from 18th Century ways of thinking about health. Of course it does not work.
What is surprising is that the homeopathic world is again leaping on this negative study as if it is proof of the positive benefits of homeopathic pseudoscience.
Dana Ullman, America's chief propagandist for homeopathic treatment, has been posting on the web that homeopathy is as effective as antiobotics for treating mastitis. Is he right? Let's look at the paper.
The paper was written by a team from Witzenhausen in Germany (a beautiful small market town, where I first kissed a girl, just to gratuitously add a little personal element.) Entitled Efficacy of homeopathic and antibiotic treatment strategies in cases of mild and moderate bovine clinical mastitis(1), the paper looked at how cows responded to homeopathic water drops, antibiotics or no treatment (placebo).
A total of 136 cows were divided into three groups and either given 'classical homeopathy', antibiotics or a placebo.The cows were tested on days 0, 1, 2 and on days 7, 14, 28 and 56 after they became infected with the bacterium that causes mastitis – an inflammation of the udder caused by infection.
Now, a word of warning: I only have access to the abstract of the paper, so everything I say is subject to the caveats that the details of the paper may be significant. [update: Thanks to several people for supplying the paper]  However, the abstract is quite revealing and contradicts what the homeopaths are crowing about.
Dana Ullman tells us that the result of the trial is that the homeopathy proved to be as effective as the antibiotics and that this effect was greater than the placebo group. What does the paper actually tell us? Here is the abstract,
On days 28 and 56, treatment strategies did not differ significantly with respect to the clinical outcomes and the total cure rate in cases of bacteriological negative mastitis (n=56). In cases of pathogen-positive mastitis (n=91), the cure rate after 4 and 8 weeks was similar between the two treatment strategies, homeopathy and antibiotic treatment, but the difference between the homeopathic and the placebo treatment at day 56 was significant (P<0.05).
The authors then make a bold claim,
The results indicate a therapeutic effect of homeopathic treatment in cases of mild and moderate clinical mastitis.
To be caveated with a most important point,
However, independent of treatment strategy and bacteriological status, the total cure rate was on a low level, revealing limitations in the effectiveness of both antibiotic and homeopathic treatment strategies.
So, what can we make of this?
The authors appear to be making the claim that homeopathy has a therapeutic effect based on the fact that they saw a statistically significant difference between the homoeopathically treated cows and the placebo group on day 56 with a p value less than 0.05.
P-values are the standard way clinical researchers use to see if a result is more likely to be due to treatment than to chance. If after doing the sums, it looks like the result is higher than 95% of the results you would get by chance, then you can start to be confident that you might be seeing something real. However, there are many ways you can easily be misled by p-values. One way is to make many measurements in an experiment and claim a positive result if one of them shows 'significance'.
This looks exactly like what the Witzenhausen researchers have done. They have tested the cows on multiple days with three different treatments. On just one of this measurements is there a statistically significant result. If you make 20 measurements with a one in twenty chance of having a random result above significance, then it should be no surprise when you get a 'positive' result, even with a completely ineffective treatment. The chance of this trial producing a false positive result on one or more of the measurements look to be greater than 50:50. Well conducted research takes account of the multiple measurement problem – the Werner mastitis trial does not look as if has done so.
And so it is not surprise that the researchers note that neither homeopathy or antibiotics appear to have created a high 'cure rate'. It looks like all arms of the trail were pretty much indistinguishable from placebo.
But, surely, shouldn't the antibiotic group have at least cured some cows? Well, not necessarily. Mastitis is a difficult problem to control. To minimise the effect of infection, you really have to take an 'holistic' approach, part of which may be antibiotic use. Proper hygiene controls, feeding and herd management are required. Antibiotic resistance may be a problem and some cows tend to suffer chronic infection which may re-infect other cows within the herd. Simple antibiotic use in itself is not enough, and low and moderate infection may remain despite treatment. It may not be a big surprise that the antibiotic use group did no better than the controls, especially if other herd management controls were not in place during the trial.
So, it looks like the best you can say from this trial was that homeopathy was as good as an ineffective treatment regime. Not a ringing endorsement.
But not so for the homeopaths.
On the Dana Ullman post, homeopaths are celebrating a new victory for homeopathy, as they can now say it is as good as conventional treatment. Debby Bruck, leader of the forum, tells us that, "perhaps more veterinary studies of this kind will provide further reason for farmers to use homeopathy", despite the fact that this study failed to show that homeopathy was effective. Dr Muhammed Rafeeque says, "Such information clearly disproves the 'placebo effect' propaganda promoted by the skeptics.", despite the study failing show a consistent effect over the placebo control. Dr. Sushil Bahl says, "the scientific world always is in denial mode", presumably thinking this study is good evidence of an effect for superstitious medicine. It is clear that none have even read the abstract, and if they did, have not critically appraised it.
This is how homeopathy continues. Weak or non–existent evidence is trumpeted as success. People who ought to know better, such as Dana Ullman, leap on poor quality evidence and pretend it proves an effect. We can be sure that this study will be dragged out into the light to show that cows can be treated with homeopathy and so "it cannot be placebo". Other people will point out the weaknesses in the study, but no homeopath will take this on board. Their religion will not be shaken. This paper will be added to the large pile of junk science that is used to promote the nonsense of ultra-dilutions. And, if any farmer is fooled by this, it is their cows who will suffer.
And more on that point soon and how an 'ethical' UK supermarket appears to be happy to have its animals treated with such nonsense.
References
(1) Journal of Dairy Research doi:10.1017/S0022029910000543 Efficacy of homeopathic and antibiotic treatment strategies in cases of mild and moderate bovine clinical mastitis Christina Werner,  Axel Sobiraj and Albert Sundrum