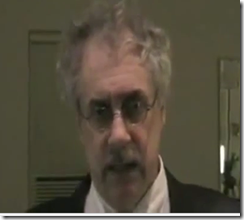 On the 1st of October, a rather unusual talk was held at the Cavendish Laboratories in Cambridge, entitled "The Supramolecular Chemistry of the Homeopathic Remedy".
The talk was at the invite of Nobel laureate Brian Josephson and was to be given by a chap named John Benneth. Josephson is a known supporter of parapsychology, telepathy and homeopathy.
Now Benneth may well be known to critics of homeopathy as he is one of the practice's more absurd advocates. He specialises in producing Youtube videos that range from the unhinged to the deeply offensive.
I was not alone in thinking that such a character does not deserve the esteem of speaking at one of the most prestigious universities in the world. Benneth is not a scientist – as he clearly demonstrates when he opens his mouth. He advocates a discredited form of supernatural medicine whose practitioners are a threat to their customers' wellbeing through their deluded beliefs about medicine.
Indeed, a mild twitter storm blew up when it was realised that Benneth was speaking and many people took to writing to the head of the Cavendish suggesting that it was inappropriate to host such a talk about a pseudoscientific subject from such an objectionable character.
The talk went ahead. It became closed to non-university people and its location became secret to all but those who were thought not to be a threat. Josephson explained that he did this "because opening the lecture to all could lead to an unacceptable lowering of the intellectual level of the discussion".
A claim that might be hard to justify, unless cattle were allowed in.
You can hear a recording of the meeting here. It is worth listening to just so that you can image the squirming that must have gone on as Benneth makes basic error after basic error.
An analysis of the talk is perhaps best left to the words of Brian Josephson himself.  He explains,
This talk was an experiment, somewhat of a gamble perhaps. John Benneth is an 'enthusiast' for homeopathy, not a scientist, and what he said in the seminar might well have made him (and myself) look foolish.
Indeed.
Josephson adds,
On a number of occasions a failure to understand particular scientific issues was apparent, but nevertheless he gave an interesting exposition, which has in fact led to discussion between an open-minded colleague who was present and myself. It was thus felt worthwhile, despite clear deficiencies in the presentation, to upload to this site the audio recording of the talk made at the time, with a link to the accompanying slides.
Should this talk have been given?
For me, there is a clear tension. Academic freedom is extremely important. And the freedom to hold academic talks within a university setting is fundamental to what universities are about. It is also quite important for people to be wrong – indeed, seriously wrong, foolish and delusional. And for that reason, 'banning' a talk should not be done lightly – if at all.
"It is a capital mistake to theorise before one has data. Insensibly one begins to twist facts to suit theories instead of theories to suit facts."
Sir Arthur Conan Doyle
But countering this is that the agreed fact that Benneth was not a scientist and not capable of giving an academic talk. He basic understanding of physics is very limited and essentially just a barely understood sequence of unrelated facts about water and structure. What was quite noticable in the talk was the complete lack of any data to support his assertions. Benneth, as is apparent in the talk, was well expecting to have his knowledge demolished by those far more capable that he. His talk was not used as an academic discussion forum, but as a platform for promoting his own standing. He can now claim that he has lectured at one of the worlds greatest universities, at the invite of a Nobel prize winner, about homeopathy and physics. This talk gave his ideas an imprimatur that they do not deserve.
The consequences of this are not slight. Fundamental to the beliefs of homeopaths is that their medical philosophy is the One True Way and that modern medicine is a dangerous force that does far more harm than good. They are fundamentally opposed to many of the key advances of modern medicine and as such are a threat to people's health. Benneth has a right to his views, but he does not have an automatic right to a platform for those views from such a major institution. For that reason, Josephson should have been far more circumspect in his decision.
Josephson's own defence of his actions are quite bizarre. He says,
If videos in bad taste are an issue, we should also ban Sacha Baron-Cohen, while if lampooning of public figures is an issue we should also ban Bremner, Bird and Fortune from speaking on university premises. Would Benneth's critics also do that? Further, on checking Prof. Colquhoun's Twitter pages to check on his current activities I was fascinated to see there hostile comment on the law firm Carter-Ruck where the 'R' of 'Ruck' was replaced by another letter of the alphabet? Is that something a respected academic should be doing, even if it is in his spare time and the Twitter pages are not hosted by UCL?
One obvious point is that Josephson does not read Private Eye, who only refer to the esteemed law firm as Carter Fuck in recognition of their role in taking on libel cases, often with doubtful merit, and using the extreme costs of libel actions as a way silencing critics – allegedly.
But to compare Benneth's homophobic rants with comedians?  It's far off the mark.
But the most bizarre aspect of Josephson's defence is his invocation of a conspiracy theory. In full,
Let me however refer to what seems to me to be a sinister aspect of the whole episode. After the lecture had been publicly advertised on the talks.cam site for a whole week, the Head of Department found himself suddenly in receipt of a large number of emails asking if his department should really be hosting a lecture by a person who had posted rather disagreeable videos on YouTube.

It seems highly unlikely that all these people just happened to see the announcement at the same time and all just happened to know about these YouTube videos, and then all thought it worth complaining about having the speaker give a lecture in the department. One might think it curious also that the people complaining about the speaker (as opposed to his subject matter) all wrote to the HoD rather than taking up the issue in the first instance with myself.

This much seems clear: someone did not want the lecture to take place and organised a campaign against it. One must assume also that whoever orchestrated this campaign advised writing to the Head of Department rather than myself, in the belief that this would be more effective (as it would have been had I not stood my ground).

Now we may enquire as to the motive of the person who orchestrated this campaign? What does the dictum 'follow the money' suggest in this case? There is a lot of money in the pharmaceutical industry, which might be harmed by too much interest in the idea that structured water could have health benefits. Might this be the thinking underlying this campaign? But that is only a suggestion, and I leave it to the reader to consider alternative explanations.
Is it not possible that a large number of people could be troubled by this dubious talk without requiring the dark forces of pharmaceutical companies to orchestrate an offensive?
There are indeed "alternative explanations". And ones that do not require fantasy, conspiracy and corruption. They are not hard to work out, and I will too leave it to the reader to come to appropriate conclusions.
Follow Up
My response to the science of clathrates and other physical mechanisms to explain homeopathy.
http://www.quackometer.net/blog/2010/10/the-futility-of-finding-physical-explanations-for-homeopathy.html