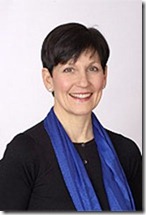 The TED talks are a treat. TED runs a series of conferences around the world where interesting people are invited to speak about "ideas worth spreading". You can view hundreds of these talks online from great thinkers, such as Richard Dawkins, the inspirational, such as Brian Cox, and the influential, such as Bill Clinton. Nobel Prize winners mix with politicians mix with innovative business leaders. And the video archive online makes a superb resource.
It was therefore something of a surprise yesterday to see that a TEDx event in Brussels had invited someone by the name of Lynne McTaggart to speak on the 'science of spirituality'. McTaggart is well known to this blog as a leading publisher of misinformation about health, and as someone who sells to those with serious, chronic and terminal illnesses, doubtful devices, dubious seminars and absurd advice. Her appearance goes against the core values of the TED conferences where they "believe passionately in the power of ideas to change attitudes, lives and ultimately, the world" – unless, of course, they don't mean necessarily for the better.
Before we continue, it is worth noting that the TEDx talks are independently run events, separate from the main high impact conferences, and run by local groups along the same themes as the main TED events. Nonetheless, they carry the TED brand and such a mistake will impact the credibility of the whole venture.
McTaggart runs the What Doctors Don't Tell You web site and calls herself a 'pioneer of medicine'. The stated goal of this site is to provide "Independent information on medicine's dangers and the alternatives that work". In fact, McTaggart is not a doctor, but a journalist and writer, and the WDDTY site is a classic expression of the pseudoscientific fantasy of the conspiracy of 'allopathy' and the suppression of 'natural' alternatives. It is full of attempts to downplay the benefits of medical treatments, highlight side effects and uncertainties, and to push people towards quack alternatives. The site serves as a wedge to be driven between people with chronic and serious illness and medical professionals. It pushes them into the hands of the ill-informed, the delusional and the unscrupulous.
As well as running this site. Lynne McTaggart has some quite staggering ideas about how the world works. She also has a site called the Intention Experiment where she tries to use mass meditation from her paying followers to affect the results of experiments in remote laboratories. Its classic pseudoscience and her ideas have gained her the dubious honour of appearing in the classic nonsense film, What the Bleep Do we Know? She also claims Dan Brown based a novel on these experiments. You can join in her in her latest thinkathon to clean up the world's water using the power of love on December 11th.
These sort of ideas could be easily dismissed as mere crankiness. But her sales web site is somewhat darker. Here McTaggart sells, as well as the usual vitamins and minerals, a range of devices that at best can be described as doubtful and, for some, indistinguishable from fraudulent. Various pain relieving devices based on unproven magnetic techniques appear on the front page of her shop as well as the nonsensical and highly dubious QLink pendant. There are quack devices that remove unhealthy electromagnetic signals from your home and water filters that "put back healthy frequencies that are lost in its processing and treatment."
Most disgustingly, in a few days time, McTaggart is holding a teleconference (£86 to join) where an ex-doctor will tell listeners that he has a way to beat incurable cancer,
What is cancer and why do you have it?

Explore the answers – and the therapies that really do work – with one of the world's greatest healers.

Dr. Patrick Kingsley and Lynne McTaggart, editor of What Doctors Don't Tell You, in a teleconference call that you must hear if you have cancer, or know someone who does.

Dr Patrick Kingsley is a conventional doctor with a difference. For 30 years, he has quietly practised in a remote village in the heart of England – dealing with 'incurable' and 'last resort' cancers.

He has treated thousands of cancer patients who have been dismissed as lost causes by conventional medicine – and he hasn't lost a single one.
Dr Kingsley is no longer registered as a doctor in the UK. He specialises in what is called 'ecological medicine' and uses nutrition to treat the untreatable. It is a form of orthomolecular medicine, the doubtful practice espoused by the likes of Patrick Holford.
These claims to be able to help people with terminal cancer are not just morally dubious but may also be illegal according to the Cancer Act of 1939,
No person shall take any part in the publication of any advertisement containing an offer to treat any person for cancer, or to prescribe any remedy therefor, or to give any advice in connection with the treatment thereof;
If Trading Standards were any good, the people involved could be in a heap of trouble.
This is petty despicable stuff – taking money of people with cancer in order to tell them they have hope in a tub of vitamins. But the real issue here is why did TEDxBrussels give McTaggart a platform at such a prestigious event?
I despair. It is great that TED encourage such independent events. But the power of their brand will quickly be destroyed if their associates cannot tell the difference between clodhopping pseudoscience and genuinely interesting and challenging ideas. Legitimising quackery in such a manner misleads people into giving these ideas credence they do not deserve.
To keep the excellent TED series alive and powerful, it needs to ensure that they are not exploited. There are some ideas that are definitely not worth spreading.