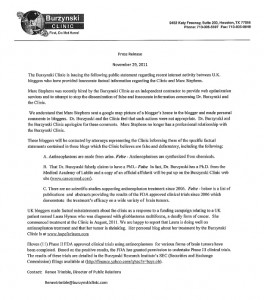 What to make of the press release issued by the Burzynski Clinic?
Well, the good news is that Marc Stephens, the PR man who threatened my family, has had his 'professional relationship' severed. In this statement, we find out that Burzynski had indeed asked Stephens to stop criticisms of his business interests appearing on the web. And to do so, Stephens resorted to threatening bloggers, with the worst example being sending an image of a 17 year old blogger's house to him. This is not 'Search Engine Optimisation'. This is not science. This is gangsterism.
But has the Clinic changed its tune? It does not look like it too much. Burzynski states that bloggers will be contacted by his attorneys. So, instead of engaging in debates about the science of his questionable antineoplaston therapy, he is sending in his legal troops.
I await their communication. I hope to get a full apology and a bunch of flowers for the wife.
In the meantime, Burzynski has stated that bloggers will be told about 'false and defamatory' statements they are making.
We are told that Burzynski does not make his antineoplastons from piss. The drug is synthesised from 'chemicals' apparently. Yes, chemicals. What the statement does not mention is that originally, urine was used.
We are told that bloggers have accused Burzynski of falsely claiming to have a PhD. I am not aware of anyone who has done that. People have questioned his PhD, and we look forward to seeing the evidence that he holds a higher degree and the details of it.
We are told that Burzynski has published plenty of evidence for his treatment since 2006. To me, the list of publications looks misleading as the vast majority of them are conference presentations – not peer reviewed original papers published in high impact journals. The central concern over Burzynski is that he has no good evidence his treatments work. By publishing this list, he makes himself look either incompetent or uncomprehending, or at worst, firing off a smokescreen of 'referenciness'. I hope he will correct this misleading representation of the state of research done in recent years.
What is most alarming is his choice of attorneys. Far from taking a more measured approach, his legal team appear to specialise in silencing bloggers to protect commercial interests.
The web site of Doziers Law is quite explicit. From their web site,
"Attack bloggers" need to be reined in. We are having pretty good success dealing with these types without having to file lawsuits all the time, but when it comes to push, we usually will pull the trigger and sue the "attack blogger". It's not free speech to create outrageous lies and propagate them all over the web. So, if you get a communication from us, be it a letter, a copy of a lawsuit, or a telephone call, consider the consequences that are about to ensue. The great majority of you already get the picture and agree to our demands. Smart move.
They go on,
And, for many of those intellectuals who relish this new toy called the web, and you are in high school or college, or have a life and a career and an employer, consider how it is going to look when, for the rest of your life, a lawsuit describing your misconduct in vivid and creative terms shows up on the first page of Google results for your name. Do you honestly think that a business is going to take a chance on hiring someone who has exhibited such poor judgment and inappropriate conduct? No. The business is going to move you to the bottom of the stack of applicants.
So, when you get a communication from us, understand the consequences. These lawsuits will show up on the front page of Google results under your name. SEO is not the sole province of bloggers, by the way. While your lawyers, particularly those involved with the public interest groups, use your case to gain attention and raise contributions, your reputation is being ruined forever. Your reputation as an employee, your reputation as a college applicant, your reputation as a job applicant, your reputation as a private person, your reputation as a husband, and your reputation as a father or mother.
Charming.
I see Marc Stephens may have learned a thing or two from them. I shall allow my readers to draw their own conclusions about the moral worth of these people.
A glimmer of humour may be gained from the fact that they do not appear to be able to manage these techniques for themselves. A google of 'Dozier Law' returns a number one hit of "Dozier Internet Law SUCKS".
It would appear the Dr Buzynski is making a number of increasingly bizarre and bad decisions.