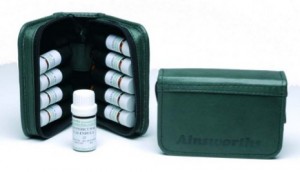 Have you over-done it this Christmas?
Don't worry. That homeopathic pharmacy to the Royals has the perfect remedy kit to see you through the following days.
Ainsworths Pharmacy is pleased to bring you the following remedies. Remember, these are homeopathic medicinal product used within the homeopathic tradition for the symptomatic relief of Christmas overindulgence.
Turkey 30C – Do you have an ubiquitous feeling of never ending dryness? Feeling that even spiced chutney cannot restore your appetite? Homeopathic Turkey will restore your taste buds and make you wish you were back in your staff canteen.
Sprout 12C – Mother-in-law still sat on the sofa blowing her trouser trumpet? From a single sprout, every year, we make a million remedies that cure all those Boxing Day fumes. No more need to blame it on the dog.
Norway Spruce 30C – Just wishing it was twelfth night and all over? Worried you will be vacuuming until June to get rid of all these non-drop needles? This is the remedy every family needs come January 6th. Don't forget your Amaryllys 12C to help get rid of unwanted plant matter from your home too.
Mouth feeling like the bottom a bird cage after the office party? Parrot Droppings & Feathers 30C will make you forget that rather uncomfortable pass you made to that new person in admin. If you have not yet been to the office party and fearing that someone might slip you a mickey fin, take a Rohypnol 30C the day before.
Of course, homeopathy needs to be individualised according to how you have overindulged, so we include a selection of our favourites, all in 30C potency: Potato Crisp, Roast Beef, Cooked Pork, Dates, Brazil Nut, Gin, Whisky, Tobacco Ash, Cocaine, E. Coli and Tyrannosaurus Rex.
And let's not forget our annual favourite for coping with that feeling that you could not eat a single thing more: Homeopathic Twiglet 30C. Yes, twiglet. Homeopathic twiglet. That is how freaking holistic we are. Twiglet. Sticky, marmity twiglet. Twiglet. With the memory of twiglet. Just for you.
"Twiglets have the effect of causing stomach nausea & intestinal pain due to the high fibre content if consumed in High Volume."
Twiglet.
It's what we use to treat AIDS in Africa.
Homeopathic Twiglet.
Using the finest nanobollockules to form the memory of twiglet.
As the Society of Homeopaths say, homeopaths are, "trained to high standards and agree to practise according to a strict code of ethics and practice". Yes, homeopathy is an evidence-based medicine that uses diluted twiglets.
At least we sell one thing that is not completely batshit misleading: Homeopathic Tap Water.
Happy Christmas
And a Happy New Year
I need a drink.
UPDATE
If you want to see a more measured critique of Ainsworth's Pharmacy and how it runs into trouble with medicines law, read about how they have run into trouble here.