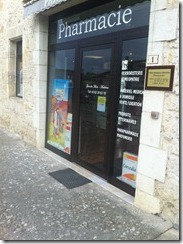 I have long contended that homeopathy does so well because people do not know what it is. Homeopathy thrives on the esoteric nature of its beliefs: tell customers one thing, but believe something weird within the cult.
Indeed, last week I was at dinner with French friends where the subject of homeopathy came up. (It's huge in France. The picture is of the local Phamacy window – the big advert is for Boiron's flu remedy Oscillococcinum.) I explained how Oscillo is made – the repeated dilution of a single duck's liver 200 times. I explained that this was equivalent to taking the liver and diluting it in a sphere of water 10320 times bigger than the observable universe.
Of course, I was not believed. This is obviously absurd and so cannot be true.
But Oscillo and other Boiron homeopathic remedies are big business making hundreds of millions of dollars per year. In the US though, Boiron has been attracting a large number of class action law suits as it has become known just what is (or is not) in its remedies.
Here is a rather humorous video that has helped raise awareness of the Boiron problem in the US.
So, faced with six consumer class actions, Boiron has now decided to set aside $5 million to refund customers who are not happy with the sugar pills they bought. The suits claimed that Boiron "violated California's unfair competition and false advertising laws". They claimed that the products, including Oscillo, Arnicare pain reliever, Chestal cough remedy and Coldcalm cold remedy did not work as claimed. It looks like Boiron had little choice but to settle since these products do not have any active ingredients are are just sugar pills and powders.
These are also expensive powders. During recent winter trips to the US, Oscillo was always displayed alongside conventional cold and flu remedies. It was always the most expensive, costing about $18 for six sachets of sugar.
Importantly, the company says,
The company just decided at the end of the day that consumers need additional information that we're happy to provide.
What this means is that in future, Boiron will be adding a disclaimer to say that their claims have not been evaluated by the U.S. Food and Drug Administration, and, importantly, an explanation of how their active ingredients have been diluted. This re-labeling is likely to cost Boiron about $7 million.
If this is an honest description of the dilution process, then consumers will no doubt have a similar reaction as my dinner party friends – complete disbelief that anyone would have the cheek to sell this nonsense.
Over the past year, Boiron stock had been trading at over $30. After suits were filed, the price dropped to below $20. This morning, there is a little recovery to about $22.
Just where this leaves Boiron remains to be seen. No doubt they will do the minimum they can get away with in describing the true occult nature of their preparations. We shall see how consumers react.