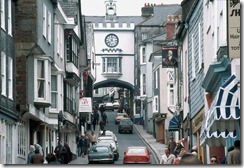 England has a rather odd piece of legislation prohibiting the advertisement of cancer treatments. It is odd because, on the whole, England is a pretty tolerant place when it comes to allowing people to set themselves up with health businesses. There is a Common Law right to practice. And anyone can treat a sick person, even for money, as long as there is informed consent.
There are exceptions. You must not claim you are a registered medical practitioner, you may not use a few protected titles such as Dietician and Speech Therapist, and you must not claim to be able to treat cancer and venereal disease.
The Cancer Act of 1939 specifically prohibits that "No person shall take any part in the publication of any advertisement containing an offer to treat any person for cancer, or to prescribe any remedy therefor, or to give any advice in connection with the treatment thereof."
It is worth noting from the outset that this law applies to all forms of treatment, conventional or alternative, proven or unevidenced, scientific or superstitious.
Given this law, it is rather odd that Dr Stephen Hopwood has recently set up the Totnes Cancer Health Care Centre, an apparent spin off from his practice at the Artcurus Clinic.
Totnes is one of those towns that tries exceedingly hard to compete for the title of the "Most Alternative town in England". Like some of its competitors, such as Glastonbury, it is a haven for alternative medicine and hosts its own Steiner school and a college that offers an MSc in 'Holistic Science'. The Society of Homeopaths runs its 'Education' Department from here.
And Dr Hopwood indeed fits in very well here with his specialisms in acupuncture and Chinese Herbs. The Artcurus clinic employs the full range of alternative therapists including another doctor, Sarah Parker, who practices the absurd craniosacral therapy, Rowena Rowen with her emotional freedom skills, Caroline Baker, who uses something called Colour Mirror Oils, and other homeopaths, hypnobirthers, reiki therapists, reflexologists and energy healers.
The new Cancer Centre has been set up with nutritionist Barbara Wren and 'world-renowned' psychic healer, Matthew Manning. The Clinic promises to "establish your individual needs, build a personal programme and refer you to the appropriate practitioners". The various techniques will "increase your ability to return to complete sustainable health." and are "well founded in good science, extensive research and rational analysis". I see no evidence from the treatments offered that this is true.
But then, Dr Hopwood would probably see me as part of a big conspiracy against 'natural medicine'. The site contains a warning against the evils of mainstream medicine, how their 'synthetic drugs' have huge side-effects, and how there is a "war" on natural forms of treatment.
Hopwood is indeed an interesting character. His ideas about conspiracies are not limited to medicine. Indeed, he heads the "Totnes Truth Movement", an organisation devoted to exposing how the 9/11and 7/7 attacks were performed by shadowy government forces and how global warming is just government propaganda designed to enable more control and taxes. He is a producer for a TV channel called BBC5 (showing you the stuff that the propaganda channels of the BBC will not show you). BBC5 broadcasts conspiracy documentaries, including the Burzynski movie.
Later this month, the Cancer Health Centre is holding a conference in Totnes with an interesting list of speakers. Attendees will have the pleasure of listening to Dr Tullio Simoncini, who believes cancer is a fungus and can be treated with baking soda and who was struck off in Italy and convicted for wrongful death and swindling, Dr. Robert Verkerk who runs the Alliance for Natural Health, a vitamin pill industry lobby group, and Dr Sarah Myhill, who has recently been battling with the regulators after she was forbidden from prescribing during an investigation into questionable claims on her website.
But so what? Leaving aside the issue of whether all this falls foul of the Cancer Act, surely people have a right to choose to believe in these superstitious and pseudoscientific forms of cancer treatment if they wish? And surely people who have little hope from conventional medicine should not be denied these alternatives?
As the father of a daughter of a little girl with an incurable cancer said today about his decision to send her to the very questionable and hugely expensive Burzynksi cancer centre in Texas, "My daughter needs the best chance to survive, and conventional medicine cannot give this. Does the money ultimately matter? It is the opportunity to try to save her life that is important, whatever the cost."
This form of argument is very alluring.  And indeed, I see similarities with the argument that you should believe in God, even if you have severe doubts as the reward of an eternal life is too big to ignore. This sort of argument is a quack's form a Pascal's Wager:
that since the existence of God can not be proved (or disproved) through reason, but since in his view there was much to be gained from wagering that God exists (and little to be gained from wagering that God doesn't exist), a rational person should simply wager that God exists (and live accordingly).
As such, if I put myself in the pace of someone with cancer, I have nothing to lose from trying unevidenced treatments and everything to gain if they actually turn out to work. But, I would suggest, this argument falls apart in the same way that Pascal's wager falls apart.
Pascal's wager says nothing about which god I should believe in. Since there are many claims to religious truth, how do you know which god or gods you should believe in? Since belief in Zeus is not compatible with your belief in the Abrahamic god, how do you decide? The answer is you cannot. All gods can neither be proved or disproved therefore all are equivalent from this wager's perspective.
If was dying, there would be hundreds of unevidenced and dubious claims as to how I should try to heal myself, and so how should I decide how to spend my limited time and money? Homeopathy, acupuncture, herbalism, miracle cures from the US, ozone therapy, a myriad of anti-cancer diets, B17, and on and on.
Unlike the religious version of the wager, I can keep trying another therapy if the last one turned out to be futile. This argument risks putting me on a treadmill of false hope and unable to get off.
The escape from this hell is to recognise that my life is not the only factor in how I make decisions. I must also take into account the lost opportunities I will be having as I pursue the dream of a cure at all expense. I must recognise the cost and effects on my family. If I choose wrongly here and invest my savings and time in the wrong protocols, that will impact those who survive me.
I would argue that it is quite rational to decide that since there are no good reasons for any of these approaches – and all will deprive me of time and money, and I am better off concentrating on living my life to the full right now, as best I can given my condition. Indeed, over the years I have been writing this blog, I have had a number of letters from the partners of those with cancer who describe the aftermath of the futile search for a cure in the New Age promises of alternative medicine. Precious months were wasted on the chase. Time that could have been spent with family. And only when it was just too late, was it realised what had been missed.
And this is why I think the Cancer Act is a vital protection. Those with cancer are not in a position to be good consumers of health care choices. Informed consent and measured choice is difficult to achieve when the overbearing pressure of imminent death looms. The allure of another chance, no matter how slim, will always drive towards the futile.
That is not to say that there cannot be a role for complementary therapies in cancer care. But the approaches I would advocate would not be based on superstition and conspiracy, would not generate false hope, would support me and my family at the gravest of times and would not empty a bank account at a time of great need.
The tragedy of alternative medicine is its total failure to find an ethical role for itself. By clinging to its delusions, it risks creating only overall harms. And, as such, it appears that legislation is the only way to protect people. If only Trading Standards were a little bit more on the ball in implementing existing laws.