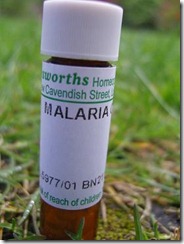 The medicines regulator, the MHRA, has been conducting a project to review UK medicines legislation. It hopes to consolidate the hundreds of separate pieces of legislation that currently exist, to make it easier to understand and enforce.
This will be delegated legislation, and as such, will be made by the regulator as an executive authority. The MHRA have been consulting for many months and hope for the new regime to come into force this Summer. However, before it can do, Parliament will have a chance for some scrutiny through its Joint Committee on Statutory Instruments.
And homeopaths have gone into panic mode as they believe this new regime will make things very difficult for them.
And so, look what fell into my inbox. It is an appeal from homeopathic pharmacy, Ainsworths, for a mass lobby by patients and homeopaths of their MPs and the Joint Committee on Statutory Instruments. They are clearly very frightened. My understanding is that the main homeopathy member groups, such as the Society of Homeopaths and the British Homeopathic Association, are conducting similar and coordinated appeals. (See Homeopathic Action Trust here.)
Your access to homeopathic medicines is under threat

Why?

The Medicines Act is being simplified, which is a good thing because much duplication is being removed. However, as a result there are some key elements which could adversely affect your access to homeopathic medicines if the proposals go into force.

What will happen to my access to homeopathic medicines? If the current proposals by the MHRA are endorsed by government the following would occur:

– You would no longer able to get homeopathic medicines by phone or online

To get any unlicensed homeopathic medicine a face-to-face consultation would be required at a registered pharmacy. Unlicensed medicines number in the thousands and make up the majority of homeopathic prescriptions, while there are only 50 licenced homeopathic medicines. This will also mean you cannot legally buy unlicensed homeopathic medicines online or over the phone as you currently do.

– Homeopaths would not be able to dispense or prescribe medicines to you

Homeopathic practitioners would not be able to dispense unlicensed homeopathic medicines to their patients. This arises because homeopaths are not recognised by this law as being supplementary prescribers and it will be illegal for homeopathic pharmacies to supply them with the essential (unlicensed) medicines required for their patients

– You would have to get your homeopathic medicines personally at a handful of licenced homeopathic pharmacies in Britain

Hundreds of thousands of people who currently have prescriptions filled for unlicensed homeopathic medicines will be unable to obtain their urgent medicines. The estimated 6 million users of homeopathy in Britain cannot be expected to be supplied medicines face-to-face by less than five licenced premises.

What you can do to stop this from happening!

Write to your MP and tell him or her – especially if your MP sits on the Joint Committee on Statutory Instruments or is involved with Health.

We are not asking to move mountains. All that needs to be done is a small change to paragraph 195 of the proposed new Medicines Act to allow greater freedom to dispense remedies to practitioners and could also overcome the face-to-face issue which is unworkable.

On the next page you will find a few helpful bullets and links to assist you in contacting your MP on this issue. The new Medicines Act will be put before the Joint Committee on Statutory Instruments for approval in late May/early June for implementation in July, so your swift action is critical!

Write to your MP: Medicines Act consolidation 2012

You can identify the name of your MP by using this website:
http://findyourmp.parliament.uk/

Joint Committee on Statutory Instruments:

David Maclean MP (Chairman), Penrith and The Border, Conservative
Dr Roberta Blackman-Woods MP, City of Durham, Labour
Mr Peter Bone MP, Wellingborough, Conservative
Nigel Dodds MP, Belfast North, Democratic Unionist
Jeff Ennis MP, Barnsley East and Mexborough, Labour
Judy Mallaber MP, Amber Valley, Labour
Chris Ruane, Vale of Clwyd, Labour
Lord Campbell of Alloway, Conservative
Lord Clinton Davis, Labour
Baroness Jones of Whitchurch, Labour
Lord Kimball, Conservative
Countess of Mar, Cross Bench
Earl of Mar and Kellie, Liberal Democrats
Lord Walpole, Cross Bench

A few helpful points that could be used in your letter:

It is not necessary or recommended to include all the text suggested here. It is critical that you personalise your letter with your own views and experiences. Overall, try to keep the letter short (a page or less), and emphasise any points that are relevant to the particular MP.

I'm deeply concerned a draft proposal set out by the MHRA as part of its consolidation and review of the Medicines Act 1968 could have a significant impact on my ability as a patient to access homeopathic medicines in the UK.

In its current form section 10 of the proposal would only allow unlicensed homeopathic medicines to be bought directly from a pharmacist face-to-face, in effect outlawing the purchase of these medicines over the telephone or via online ordering. This would mean I would be deprived of the medicines that I have found to be so beneficial to my health.

There are only five homeopathic pharmacies in the UK, so most homeopathic medicines are ordered from these specialist pharmacies either by phone or via the Internet. Therefore the enforcement of section 10 in its current form will have serious consequences for the six million people in the UK who choose to use this form of complementary medicine.

If not revised the proposal would also have serious consequences for more than 2,000 homeopathic practitioners, many of whom would find it impossible to treat patients like myself because they can no longer obtain the appropriate homeopathic medicine.

I understand that a central plank of government health policy is to increase patient choice. Section 10 will eliminate choice for people like me who want to be treated with homeopathy.

I would like to call on your support in getting the Health Minister to revise slightly the proposed language of the revised Medicines Act to ensure that I have continued access to a full range of homeopathic medicines and my right to choose homeopathic treatment is maintained.
So, why are Ainsworths so concerned? One might naively think they would be in a near monopoly position of dispensing the vast majority of homeopathic products.
The concern is of course is that their business model will be severely disrupted. There are a handful of companies that provide homeopathic products in the UK. The biggest names, like Nelsons, tend to concentrate on the High Brand products like Rescue Remedies and Bach Flower Remedies and sell a handful of homeopathic products into stores like Boots. The legislation presented here is unlikely to affect them a their model is a direct to consumer mode.
Ainsworths supply lay homeopaths however. They provide the full range of mad-as-a-box-of-homeopaths remedies, from Dolphin Sonar, Shipwreck and Light from Venus. Check out their site, if you don't believe me. It is these unlicensed sugar pills (for that is all they are) that they will not be able to dispense through their normal distribution channels.
For lay homeopaths, access to the full range of homeopathic remedies (and not just the handful of licenses ones) is essential for their practice. Their cult beliefs are that the exact remedy must be selected for a patient in order for it to work. If they cannot get hold of homeopathic Sheep Dip, Washing Powder (Persil Automatic), Fossil Trilobites, Berlin Wall and Raccoon Hair, then they cannot be homeopaths.
It's game over.
Hence the Panic.
There is a bit of me that would lament the cultural loss from our society of being unable to buy ultradiluted Map, Marzipan and Mastitis. Or even Viagra, Violin Bow Resin and Vodka.
They are constant reminders of the infinite folly that humans can so easily fall prey to.
And there is another bit of me that is amazed that our regulatory authorities even entertain talking time to regulate homeopathic sugar pills as if they are medicines. They produce guidelines, licenses and regulations and have committees discussing the medical safety of sugar pills. It's a pantomime that does nothing to address the harms posed by homeopaths by their bizarre and antagonistic beliefs about mainstream healthcare. It merely dresses homeopaths in the garments of respectability and in doing so, hides the safety concerns that really do need addressing of having untrained and deluded conspiracy theorists pretending they can provide primary care for the unwell. But EU regulation insists our laws treat homeopathic products as medicines. And our government is unlikely to seek an exemption in this area. They need their exemptions for bankers.
On some reflection, maybe a massive restriction of the supply of homeopathic products is the best way forward. Homeopaths will still exist. People will be free to choose homeopathy is they so wish, but it will no longer really be able to exist 'above the line'. Many homeopaths may try to make the remedies themselves using 'Remedy Machines' – fraudulent devices sold to homeopaths where you 'dial in a code' and place 'blank' sugar pills in the machine and then out come your Canis Testes or Hyena Saliva. Although, I suspect, this will still be illegal as under EU law, these remedies cannot be classed as homeopathic and nor can a homeopath legally dispense them.
But all of this depends of course if the MHRA are prepared to uphold their regulations. And, on current form, that is not a forgone conclusion. Only last week, I was able to take a screenshot of Ainsworths promoting sugar pills for the treatment of a notifiable disease – measles.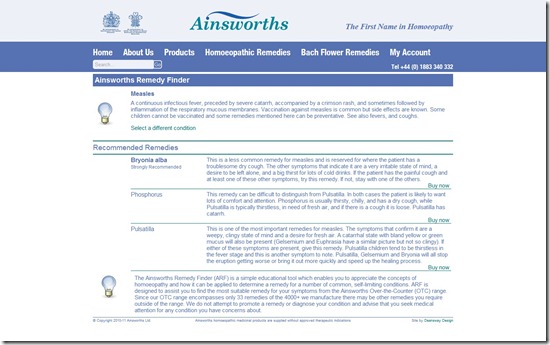 If Ainsworths are capable right now of casually ignoring patient wellbeing and medicines regulation without fear of the MHRA prosecuting, then there is no reason to suppose they will change after the new regime comes into force.
Ainsworths have form. I wrote a year ago about them after the ASA found they had been promoting sugar pills for the prevention of lethal travellers disease. The ASA pulled them up on this – the medicines regulator should have prosecuted – they did not. As I wrote,
This is a business out of control. It is making dangerously irresponsible claims about medicinal products and does not appear to care whether it has the right licenses to sell and make those claims.
But Ainsworths has Royal Warrants from Prince Charles and Ainsworths is undoubtedly his favourite pharmacy. Charles has been lobbying the MHRA over homeopathy legislation. And his influence will undoubtedly still be felt now.
The MHRA have systematically ignored the wide-scale abuse of legislation carried out by homeopaths. From selling anti-malaria pills to ignoring labeling requirements, homeopaths have not had to fear from regulation. Homeopaths exist in an ethical and legal vacuum. Why they should be so tizzy right now is not clear to me.
The Committee on Statutory Instruments has at least one member who has previously spoken out strongly in favour of homeopathy. That member's influence may still be influential. With such lobbying, and friends in high places, it is anyone's guess what will happen to this legislations. But I would bet the final outcome has more to do with protecting business, special interests and future gongs than patient safety.