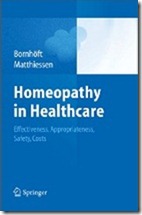 Homeopaths are buzzing with news that a report has been supposedly published by the Swiss Government that shows that there is a large amount of evidence for homeopath and that it should be included in the universal, compulsory Swiss insurance plans as a cost effective treatment.
This is in stark contrast by a report by the UK's House of Commons that came to the exact opposite conclusion – that homeopathy was a placebo therapy that the balance of evidence did not support its claims of effectiveness.
Over at Zeno's blog, much the truth behind this report has already been exposed. It was not written by the Swiss government, but by a group of homeopaths under the editorship of academics at the University of Witten/Herdecke in Germany. This is a private University that specialises in training doctors in alternative medicine, including homeopathy, and is closely associated with the Anthroposophy movement – the esoteric, 'ecofascist' sect founded by early 20th Century Austrian mystic, Rudolf Steiner.
It cannot be relied upon to be a dispassionate, scientific examination. Indeed, we should be most careful that the authors are presenting the available evidence and science without preference to their own vested interests. Indeed, the Swiss government, when they received the report, agreed with an overall review panel that stated,
[I]t is very obvious that all or some of the authors have a positive attitude towards the treatments in question or are convinced about their efficacy. Unquestionably, strict proponents of the usual hierarchy of evidence will regard the presented evaluations as scientifically untenable and unreasonably positive…
This reflects the opinion of the House of Commons report that was unhappy about homeopaths had submitted evidence to the inquiry that,
P. 73 We regret that advocates of homeopathy, including in their submissions to our
inquiry, choose to rely on, and promulgate, selective approaches to the treatment of
the evidence base as this risks confusing or misleading the public, the media and
policy-makers.
So, the Swiss report is quite long and examining it all would take considerable effort. So, for now, lets just look at one area: Chapter 3, and specifically, the area that deals with the mode of action of homeopathy.
The UK parliamentarians were quite clear on what they would expect from the science and evidence, "that it is both scientifically plausible and demonstrable." Does the Swiss report come close to demonstrating this?
The Swiss Report does not start well,
The dilutions' mode of action requires a homeopathic explanation. Homeopathic remedies are backed by 200 years of empirical observation of millions of patients which shows that high potencies are often particularly effective if they are optimally matched to the patient's individual symptom picture. The mode of action of homeopathic remedies cannot be demonstrated with modern scientific methods. Due to a misapplied positivism that sees the reality of nature merely as the sum total of its measurable and quantifiable phenomena, a 'lack of evidence' is often seen to mean the same as 'lack of effectiveness'.
When I first read this report (which I would bet most homeopaths promoting it have not) I was amazed at this assertion, near the beginning, that homeopathy was effective because it had been around for a long time. I suspected the rest of the report would be used to support this prior belief. We were not in for a dispassionate review of the evidence since the conclusion was assumed from the start.
The writers are quite right to state that the mode of homeopathy cannot be demonstrated with modern scientific techniques, but then muddy the waters to suggest that this is due to some misapplied philosophical position.  We should note, that no matter what philosophical position you take, homeopathy still cannot demonstrate any specific effects that might hint at a mode of action.
More muddying ensures by then conflating this with the idea that this shows a lack of effectiveness. Yes, a lack of evidence does not mean that there is a lack of effectiveness, but we might expect after 200 years to have found some. Indeed, there comes a point when the failure to produce evidence itself becomes evidence that there is no effect. How long do you have to search the room before you can conclude there is no elephant in there?
We then get some insight into the authors' thinking,
The current thinking and research of mainstream medicine are influenced mainly by Newton's mechanistic and strictly causal-analytical physics (classical reductionist biomedical model), which ignores the more complex phenomena of nature, the organism's systemic correlations, its life processes and overall regulation, and life as a whole, as well as qualitative experiences and the phenomena of spiritual science.
It is not clear what it means to be influenced 'mainly by Newton's mechanistic' model. The last hundred years has transformed much of physics, chemistry and indeed biology with a detailed and very successful view of how nature works. When looking at chemical and biochemical interactions, quantum physics is the foundation of understanding. And, it is also a straw man to presume that biologists do not look at or try to understand complex systems in biology.
To understand what the authors are alluding to here, and especially the 'spiritual science' throwaway remark, we need to understand who the authors are.
This chapter was headed by a group of writers by Marco Righetti who appears to be associated with something called the PanMedion Foundation. The web site directs us to the Edith Maryon Foundation. Now, Edith Maryon was an English sculptor who was included in Rudolf Steiner's innermost circle of the founders of Anthroposophy.
Steiner professed what he called spiritual science, which was a belief that science was insufficient to understand the word on its own and that deeper insight could be gained through clairvoyant revelation and direct connection to the spirit world. What we see in this report is essentially a masked statement of Steinerist esoteric beliefs paraded as science.
Steiner's clairvoyance led him to many beliefs including his views on astrology and agriculture which led to the Biodynamics movement. He claimed the literal existence of Atlantis and Gnomes. His views on reincarnation and karma included ideas that the white Nordic races were the most spiritually advanced and good souls would find themselves moving up the racial hierarchy as they reincarnated. He embraced homeopathy and its 'like cure like' philosophy and added his own "spiritual insight" to include things as using mistletoe to treat cancer, because it grew on trees like a cancer.
So, the authors of the Swiss report appear to making appeals to Steiner's views of seeking spiritual insight into how the world works. But they want it both ways. They go on,
Modern physics with its theory of relativity and quantum physics has long overtaken Newtonian mechanics and is paving the way for an understanding of the homeopathic mechanism of action.
Here they combine an obvious assertion with what amounts to a hope. Yes, we need quantum mechanics to understand matter and energy, but this does not mean that it will shed any light on homeopathy. Indeed, quantum mechanics is not shedding any light on homeopathy – but many homeopaths, who do not understand the subject, are indeed trying to make it look so.
At the heart of their arguments is that somehow quantum processes help water form a 'memory' of the substances that are diluted out of homeopathic preparations. In this way, homeopaths state that clusters of water can somehow take on the properties of molecules that are no longer present in the solution.
Quantum mechanics actually tells us that this cannot happen. For many reasons.
Quantum mechanics tells us that materials have their specific properties because of their unique spatial distributions of charges and the quantised energy states within the molecules. Another molecule, such as water, and even in clusters, cannot arbitrarily assume these states and substitute itself for another molecule. This is a fundamental understanding that quantum physics gives us, yet homeopaths who pretend to understand the subject never mention it. Quantum physics is used as a fig leaf – the mysteries of the quantum  world is used to hide any mystery that the New Ager wishes to justify.
Research into the natural and possibly also spiritual scientific phenomena that underlie the biological systems is still in its very early stages.
Of course, Anthroposophists cannot openly declare that they believe in homeopathy because of the clairvoyant revelations of their cult's founder, but instead have to couch their beliefs in a appeals to be more 'broad minded' about the nature of evidence.
So, more claims,
Despite the problem with measurability, unexpected and inexplicable changes have been observed in recent years in physical-chemical experiments with potentized solutions, even though it has not yet been possible to present hard scientific evidence. Potentized remedies certainly comply with wave and quantum physics, the results of cluster research, and the chemistry of solids, as well as with modern chaos theory. On the basis of this, a mode of action that is conveyed by specific electromagnetic, energetic and structural changes in the potentized solution is conceivable; but homeopathic phenomena might well rest on processes that cannot be ascertained by natural science.
This is contradictory. The authors want us to accept that homeopathic solutions have 'inexplicable' effects whilst admitting there is no good evidence for this. They make more unsubstantiated claims about quantum physics but then hedge their bets and say homeopathy might well be outside of 'natural science'.
This view is then compounded by the statement that,
The vital force, just as vitality in general, cannot be measured and quantified by science, but it exists as a phenomenon.
The vital force is a superstitious and prescientific explanation for what animates living bodies. Here we see the Spiritual Scientists asserting its reality despite there being no evidence for it. And indeed, several hundred years of enlightenment thinking that would suggest they were utterly wrong. No doubt, they are convinced of the existence of this mystical force through clairvoyance.
The authors, in the end, are desperate to sandbox homeopathy. To exclude all forms of rational enquiry that might jeopardise their business. Without explaining why, the report makes an appeal to only allow their own pseudoscientific methods of evaluation,
Homeopathy has its own particular research tradition and has always relied on empirical research. Its system-immanent research includes drug provings on the healthy subject, the exact phenomenological observation of symptoms and reactions, the individualized treatment of the patient on the basis of the similarity principle, evaluation of the healing processes,and observation of numerous individual cases and – in epidemics – collectives as well as its special drug manufacturing techniques. From the point of view of homeopathy, this is the only kind of research that is relevant to its practice.
and,
Future research methods must respect the unique qualities of homeopathy by attaching more weight to single case evaluations, by including practically and expertly applied homeopathic treatment into research and clinical practice in order to identify its real potential and limitations. The recently introduced outcome studies are promising in this respect as they do not focus on specific effect but on the overall practical treatment and patient care in homeopathy.
There is much more in the so-called Swiss Report. All of it is special pleading, attempts to lower the standards of evidence, exclude contradictory evidence and cherry pick studies that suit. I shall leave other, if they have the strength, to look at other chapters.
But for me, this dismal appeal to superstitious ways of knowing, the blatant disregard for facts and the attempts to muddy the water of evidence based medicine, are all I need to ignore this advert for homeopathic medicine.