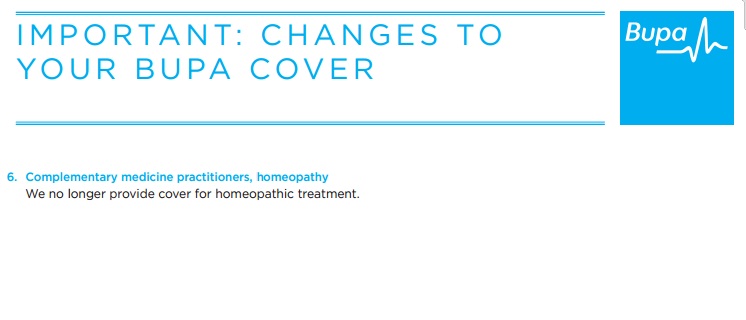 So, a quick note to mark that the latest changes in T's & C's from Bupa simply state that they will no longer provide cover for homeopathic  treatment.
Aside from the NHS, Bupa is perhaps the most well known health care provider in the UK. Many people will receive extra cover through Bupa through work place schemes.  Bupa, formerly the British United Provident Association, is a private company, but with no shareholders and with profits reinvested back into the business. It has over ten million members in its schemes.
As NHS homeopathy is severely limited, access to homeopathy through this insurance scheme is one way people could afford to visit a private homeopathy GP. My understanding is that Bupa would not fund lay homeopathic treatment (Non-medically qualified homeopaths, such as represented by the Society of Homeopaths or the Alliance of Regsitered Homeopaths), but would if you were a member of the Faculty of Homeopaths – the body that represents those small number of doctors who believe in magic fairy pills.
So, a blow for homeopathy. One more, at such time when the very supply of much of their products is under pressure from the medicines regulator.
The reasons behind this decision are not yet clear. But it would be likely to assume that the huge negative publicity for homeopathy, its unethical antics and its lack of scientific rationale, must have been included in the decision.
This is a change from their previous stance. After calls from the BMA conference to stop funding homeopathy, Bupa said,
Dr Katrina Herren, Medical Director for Bupa Health and Wellbeing said: "Bupa believes in the use of evidence-based medicine. However we understand there are many commonly used treatments that aren't evidence-based, including homeopathy. As long as these treatments aren't used to replace effective treatments prescribed by a doctor, they will do the person taking them no harm and some people may find them helpful.

"Currently at Bupa, some of our policies cover complementary therapies, including homeopathy. However, in light of the doctors' vote at the BMA conference, we will be reviewing our position on homeopathy."
It would look as if indeed, they have agreed with the BMA.