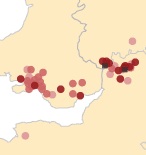 The UK is currently experiencing outbreaks of measles. Many children have been hospitalised and there has been one suspected death. This is an entirely preventable situation and would not be happening if there were sufficient levels of MMR uptake.
However, as I discussed in my last article  levels of vaccination can vary enormously in the space of just a few miles. To blame the media and their positive reporting of Wakefield's fraudulent scares is insufficient to explain the variations in vaccination rates. Other factors must apply, most probably local community beliefs regarding vaccination and alternative medicine.
We saw how some towns like Totnes have very low rates of MMR uptake probably due to the high levels of alternative medicine practitioners and beliefs within the town. One other strong factor might be the presence of a Steiner school or some other anthroposophical community.
The Health Protection Agency views Steiner Schools as "High Risk" and as "unvaccinated communities". As such, they pose direct risks to the children within them and to the surrounding community. This is astonishing given that Michael Gove is currently considering at least 13 application for Steiner Schools to gain Free School status and to be publicly funded.
And Steiner Schools do suffer measles outbreaks. Michael Hall School, in Forest Row, last year held the inter-Steiner School Olympics. The Health Protection Agency asked them to not allow the expected visitors because of an outbreak of measles.
Steiner Schools deny they are anti-vaccine.
Hereford Steiner Academy, a state funded school, states on their website,
The decision to immunise or not is a matter of parental choice. Opposition to immunisation generally or to any national strategies forms no part of our educational approach.
Hereford link to the European Council for Steiner Waldorf Education who have  issued a very strongly worded press release on the subject,
It has come to our attention that uncorroborated statements have appeared purporting opposition to childhood immunisation as the official or tacit policy of Steiner Waldorf School Associations and the institutions they represent.

We wish to state unequivocally that opposition to immunisation per se, or resistance to national strategies for childhood immunisation in general, forms no part of our specific educational objectives. We believe that a matter such as whether or not to inoculate a child against communicable disease should be a matter of parental choice. Consequently, we believe that families provide the proper context for such decisions to be made on the basis of medical, social and ethical considerations, and upon the perceived balance of risks. Insofar as schools have any role to play in these matters, we believe it is in making available a range of balanced information both from the appropriate national agencies and qualified health professionals with expertise in the field. Schools themselves are not, nor should they attempt to become, determiners of decisions regarding these matters.
How do we square such seemingly strong denials with the HPA's view that Steiner Schools are unvaccinated communities? We have to remember that Steiner Schools are anthroposophical organisations. That is, they subscribe to the esoteric and initiated beliefs of Rudolf Steiner. As with all occult organisations, how they present themselves to the outside world may differ from internal initiated beliefs. The justification is that such beliefs can only be imparted to people who have undergone the right levels of preparation and initiation.
Strikingly, both statements above emphasise the role of parental choice (who is saying that this should not be the case?) and that schools have no role in their decision. The only role of the school is to make "available a range of balanced information". Crucially then, we need  understand what anthroposophical information might be on vaccination and how much of this is given to parents.
A recent Freedom of Information request shows us the impact of such approaches from Steiner Schools. "MIchelle" made a FoI request to Wye Valley NHS Trust asking for a list of schools that had opted out of the HPV vaccination programme. Specifically, a question was asked if any schools had  "refused to allow either clinicians or school nurses to administer the HPV vaccine?".
Only one school had refused: Hereford Steiner Academy. It may be worth going back and re-reading their statement.
So, whilst we can see that Hereford Steiner Academy issues statements that appear to refute the idea that there is either explicit or tacit opposition to vaccination, their actions are consistent with an antivaccination stance.
Where does anti-vaccine thinking come from in Steiner Schools? The answer is in the medical beliefs of Rudolf Steiner. Associated with most schools is an anthroposophical doctor who has received a mainstream medical education but then trained in Rudolf Steiner's occult and spiritual medical visions.
St Paul's Steiner School in London makes it clear what the school doctor will do,
The school doctor, a medical doctor with further anthroposophical medical training, visits the school twice each term. The child's teacher makes referrals in consultation with parents. Children may be referred for pedagogical, health or developmental reasons. There is a nominal charge of £10 for a consultation and parents are expected to attend with their child. The doctor may prescribe anthroposophical or homeopathic remedies or therapies such as art therapy, massage or curative eurythmy sessions for which the parents are administratively and financially responsible.

The school does not carry out dental checks, hearing or sight tests, nor does it provide immunisation boosters.
One should understand that in the anthroposophical world, child develop problems are to do with issues of the spirit and soul incarnating properly into the child. Eurythmy is a form of dance that can aid in this spiritual maturation. Homeopathic remedies are just sugar pills. So whilst, the administration of sugar pills and magic dance lessons are high up on the agenda of the school doctor, actual health practices with real benefits, such as hearing tests and vaccinations, are not offered.
The rejection of vaccination is guided by a number of esoteric beliefs. Firstly, that childhood illnesses have a role in shaping the body and spirit and that these are a natural, if not vital part of growing up. Secondly, that the manifestation of illnesses is a consequence of karma or destiny. Interfering with either of these aspects can have calamitous results.
Steiner wrote that vaccination was an interference in 'karmic activity", That is, by interfering with karmic processes, delays in spiritual progression may occur. He said, "If we destroy the susceptibility to smallpox [by vaccination], we are concentrating only on the external side of karmic activity". Corresponding spiritual lessons may not be leaned.
Steiner also believed childhood illnesses had a role in shaping a child both physically and spiritually. Here we see beliefs that coincide with those of homeopaths: that vaccinations are part of 'allopathy' and work by suppressing the natural healing processes. Steiner was an advocate of a form of homeopathic medicine and so it is no surprise we see convergence in these attitudes.
Dr Michael Evans is an NHS GP in Stroud, Gloucestershire, where there is currently a large excess in the number of measles cases and a large number of Steinerist organisations. He is an anthroposophical doctor and a member of the MHRA Advisory Board on the safety and efficacy of Homoeopathic Products. He wrote in a book on Steiner's medicines that,
Against this background, the role of illness during childhood, particularly in the first seven years, can be seen in a quite different light from the conventional view. The opportunity for remoulding the physical body is provided by the constant dissolving and reforming of its structures. During feverish illnesses, all the metabolic processes speed up and the high temperatures can offer a special opportunity for a more intensive reshaping.
He sees diseases such as measles, mumps and whooping cough as part of the maturation of the child's immune system and as a chance for the 'ego' to make a 'stamp' on the individual.
He says,
It follows from this that a suppression of the natural course of an infection will have detrimental consequences as well as short-term benefits.
Modern medicine, in the anthroposophist's eyes is as much as the cause of illness as anything else,
The appearance of new illnesses [such as] Aids — might also be taken to suggest that the increasing number of people suffering from such disorders may be connected with the widespread and indiscriminate use of antibiotics and paracetamol, which weaken the immune system.
But what do parents in Steiner Schools think? Much of my criticism of Steiner Schools has been about how these schools do not reveal much of their internal beliefs and motives to prospective parents. With vaccination issues though, it would appear that these ideas rub off.
One research paper, wrtten in 2001, showed how Steiner parents viewed measles and their child's experience of the disease. After a measles outbreak in Evan's stomping ground of Gloucestershire, parents were asked about their attitudes to vaccinations and measles.
The research suggested that parents had fully absorbed Steiner's teachings,
This type of medical practice [anthroposophy] is in favour of letting the body experience certain infections and is against the overuse of antibiotics, antipyretics and certain immunisations. Many adherents oppose the measles vaccine because they believe children gain physical and mental robustness from natural measles infection, when supported by appropriate nursing care. Indeed, as Hanratty et al note "the avoidance of immunisation in these communities is more than a refusal to accept conventional medicine
Indeed, parents were asked if they experienced differences in their child after infection,
Some 62% of these respondents reported a change in their child's personal development subsequent to the measles infection, with many claiming a strengthening and maturing of their child both mentally and physically. Of the cases, 87% were reported to have been previously unimmunised with the measles vaccine.
That community was fortunate at that time. There were 126 responses in that survey. Only one child was hospitalised. The current outbreaks may prove to be much larger and more serious complications will occur with some of the children.
Steiner Schools, despite their reassurances that they are in favour of parent choice and do not tacitly or explicitly adopt anti-vaccine stances, are in fact places of anti-vaccine beliefs which manifest themselves in low vaccine uptake and pseudoscientific approaches to treating dangerous childhood illnesses.
As such, they do not just represent risks to the children unfortunate enough to be in those schools, but to the surrounding communities. Even with successful general vaccination campaigns, such as being conducted at the moment, anthroposophical pockets of unimmunised children are unlikely to be reached due to the cult-like nature of their world. As such, programmes to create community immunity will fail in areas associated with Steiner Schools.
There is, therefore, a case to be made for mandatory inoculation for children attending state-funded schools. Whilst, this will not reach the larger number of private  Steiner Schools, the new influx of children to the Free School programme, whose parents may not be aware of, or share the anti-vax beliefs, will at least be better  protected from the type of beliefs inculcated within such schools. More practically, mandatory school participation in public health vaccination drives should be part of the conditions of receiving public funds. This would at least stop the sort of refusals seen by Hereford Stainer Academy to allow parents to use in-school vaccination programmes.
Mandatory vaccination programmes are perhaps the only way of protecting such children from these beliefs. Under this government, there is virtually no chance such ideas will be entertained.
Follow Up
I have been sent the consultation report that was made for the Frome Steiner Academy before it received public funding.
The submission from the local NHS Somerset Health Protection Coordinator echoes my concerns. I reproduce it in full,
Appendix A
Response to the consultation on the proposal for the Steiner Academy
Frome, Somerset.

Following discussion with our partner organisation Somerset County Council, NHS Somerset would add the following comments to the consultation on the proposal for the Steiner Academy Frome from a public health perspective. Whilst our organisation cannot make any comment on the educational approach of the school we would like to raise awareness of the potential health protection issues for children attending this school and also potential
implications for the wider local population. We are aware from our knowledge of other Steiner schools in our area that a significant number of parents elect to opt out of the routine childhood immunisation programmes offered to children across England. Whist we can identify no direct reference for this approach in the Steiner philosophy our experience suggests such attitudes to immunisation might be applicable to the parents choosing this type of education. Whatever the rationale for such a decision, we respect the right of parents to choose how they wish to care for their child including choices in respect of immunisation.

However, we are aware that where groups of unvaccinated children exist in close proximity this potentially poses a number of risks to their health and to
that of other siblings who might attend other schools. Whilst the primary aim of vaccination is to protect the individual who receives the vaccine, there are also wider community benefits. Vaccinated children are unlikely to be a source of infection to others. This reduces the risk of unvaccinated children being exposed to infection and means that children who cannot be vaccinated will still benefit from the routine vaccination programme. This concept is called population or 'herd immunity'.

For example, babies below the age of two months, who are too young to be immunised, are at greatest risk of serious morbidity or mortality if they catch infections such as whooping cough. These babies are however protected from catching whooping cough when older siblings and other children have been routinely immunised as part of the childhood immunisation programme. This also applies to people who are living with a compromised immune system, such as children undergoing chemotherapy for cancer, who are not able to safely receive vaccination themselves. 

If a high population wide vaccination rate is not maintained, it is possible for diseases which were previously thought rare to re-emerge and threaten the
health of the wider community. For example, the number of cases of Measles has doubled across the South West recently, something which we only saw occasional cases of in the past. If an unvaccinated class of children is exposed to a case of measles it is highly likely that the majority of those pupils will catch measles and then become a source of infection for other vulnerable people in the community.

Evidence of outbreaks of preventable disease has previously been published relating to similar establishments in both the UK and also Europe.
References for these papers are detailed below for information. These papers demonstrate both the potential susceptibility in these unimmunised
populations and the implications for further transmission to the wider population within which the establishment is sited.

It is not possible to quantify the level of these risks for either the school or the community as too many variables exist, however, it is important to recognise that the potential risks do exist and increased surveillance by all parties will be required to mitigate against these should this application be approved, which may therefore potentially increase demands on both local health and education services.
Further Updates
The HPA report difficulties in getting cooperation from a Steiner School.
Confirmed measles cases in England and Wales

In England and Wales, 777 laboratory confirmed measles cases have been reported so far in 2011 to the end of July (table 1 and figure). One-hundred cases had onset in July compared to 133 in June and 176 in May, although the number for June is known to be an under-estimate as around 80 unvaccinated children with clinical measles associated with an outbreak in an anthroposophical school declined to be tested for measles infection.